Your Guide to Creating a High Win Rate, Low-Risk Football Betting System
At Predictology, we are all about helping members grow their bankrolls sensibly with a low risk of ruin. Both Jon and I believe in approaching sports betting as an investment. By taking it seriously, you cut down on mistakes and learn how to nudge your bankroll in the right direction.
It is a lesson hard learned for me as I took far longer than I should to accept that multiple restrictions had killed my edge. It is time to find a different way, and going down the strict 'investment' route is the way forward.
As such, Predictology hopes to unveil a football betting portfolio in the next few months. It will contain a multitude of systems with different strike rates for varying risk appetites. The goal is to create a balanced investment strategy that combats the inevitable downturns and achieves long-term profitability.
If you have the time and desire, you can develop your own portfolio using Predictology's system builder. We plan to publish several articles showing you how to create a system based on how much risk you're willing to take.
Today, we focus on risk-averse individuals and outline a way to develop high strike rate systems.
---
But High Strike Rate Systems Are Boring!
The trouble with marketing high win rate betting systems is the perception that they are dull. After all, the elevated win rate means the odds are rather low. The vast majority of punters enjoy the thrill of a big win. It isn't a coincidence that the vast majority of punters operate at a substantial loss!
Opinions may vary, but a high strike rate system for me is one that wins at least 70% of its bets. The main advantage is short losing streaks. For instance, in a 100-bet sample, you shouldn't lose more than three in a row. In a 1,000-bet sample, the maximum losing streak is typically about six bets. However, a flawed selection process or run of extreme misfortune could increase it slightly.
What's really good psychologically is the process of winning quite often. A 70%-win rate could see a winning run of 11+ in a 50-bet sample! This extends to 19 in a 1,000-bet sample. It isn't unusual to extend this run significantly with careful selection.
Finding a system with an 80%-win rate means you could see a winning streak of 31 across a 1,000-bet sample. If you try proportional staking or compounding, you derive enormous benefits as your bankroll swells unexpectedly on a diet of cleverly backed bets at odds of 1.20 – 1.60.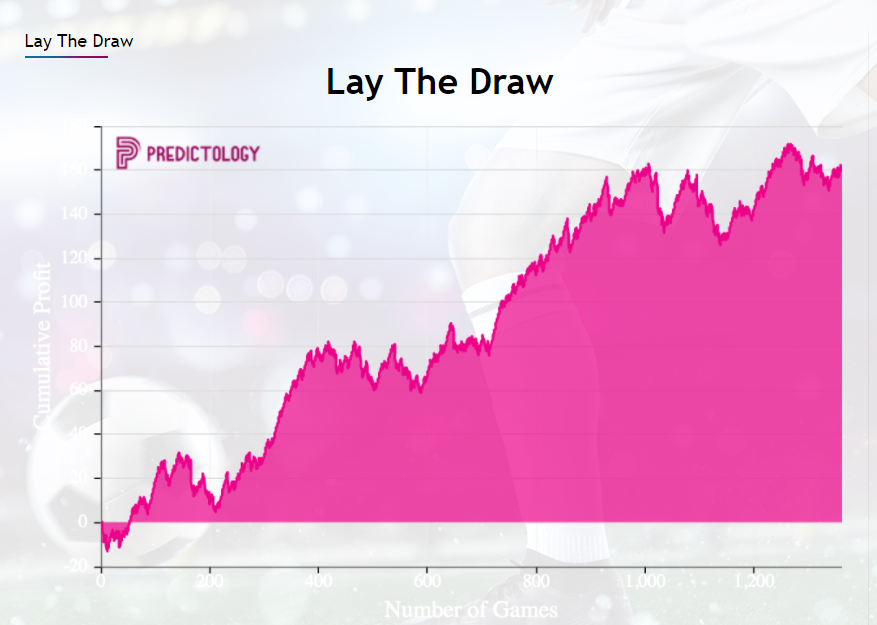 Jon's main Lay the Draw, available to all Predictology members, system on Predictology is a prime example of a high strike rate system doing the business for a long time. With almost 4,800 bets, its win rate is 76.3% and offers an ROI of 8.4%. The maximum drawdown was just 56.3 units, not bad for so many wagers!
The longest losing streak is just four bets, while there was once a winning streak of 30 and multiple other double-digit ones. The graph above shows that, after a relatively slow start, this system has continued to grow steadily with minimal downturns for years!
You can also find similar systems available in the Predictology Marketplace
---
Let's Find A High Strike Rate System of Our Own!
This guide is only designed to show you how to create a high strike rate system. However, what we develop here is only a rapid overview, and anything you create must still undergo rigorous analysis before you risk money on it.
We plan to publish further articles on how to proof a system soon.
As the goal is to enjoy a high winning percentage, the best type of bets includes:
Laying draws.
Backing short odds favourites.
Laying underdogs unlikely to win.
Backing over 1.5 goals in a game.
Laying under 3.5 or 4.5 goals in a game.
We would advise you to steer clear of ultra-low odds bets of 1.10 or below unless they represent excellent value. Such wagers have merit, but losing one or two in quick succession damages your bank balance and confidence.
Once you have logged in to Predictology, go to 'System Builder' and click on 'Create.'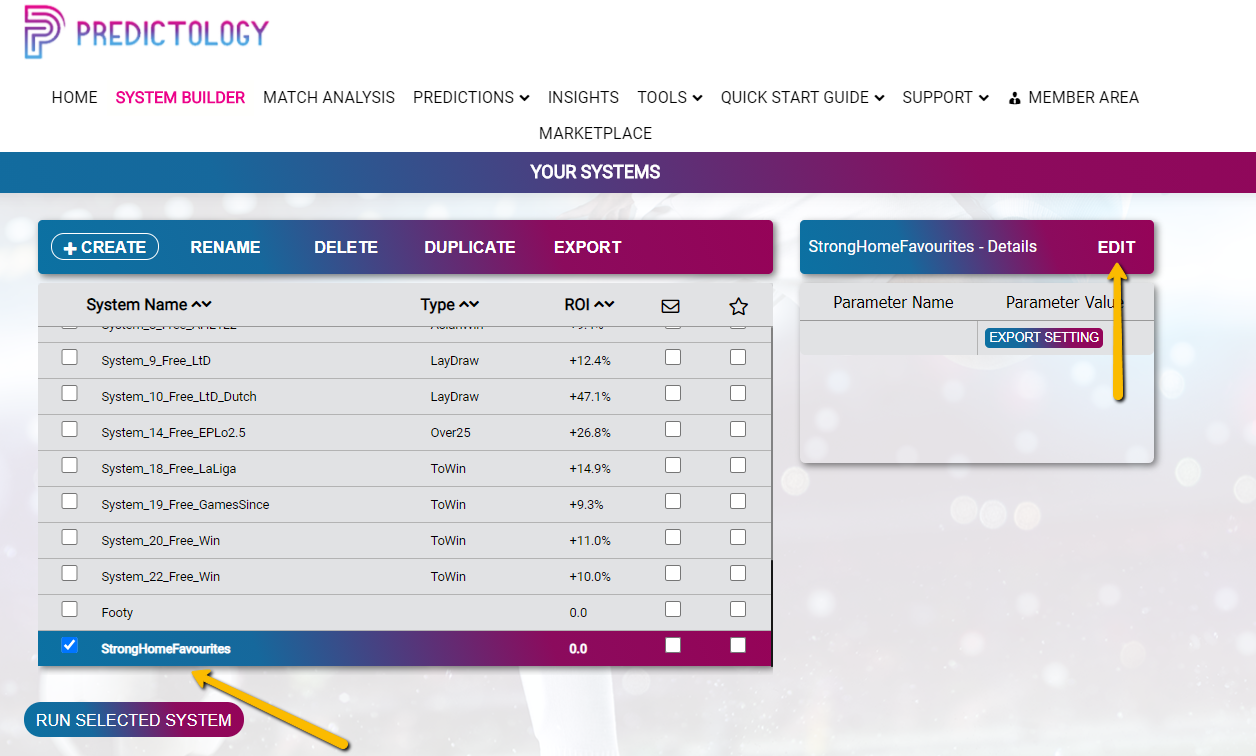 Scroll to the bottom of the page, and you'll see the new system, which I called 'Strong Home Favourites.' Now, you click on 'edit' on the right-hand side and include your system parameters.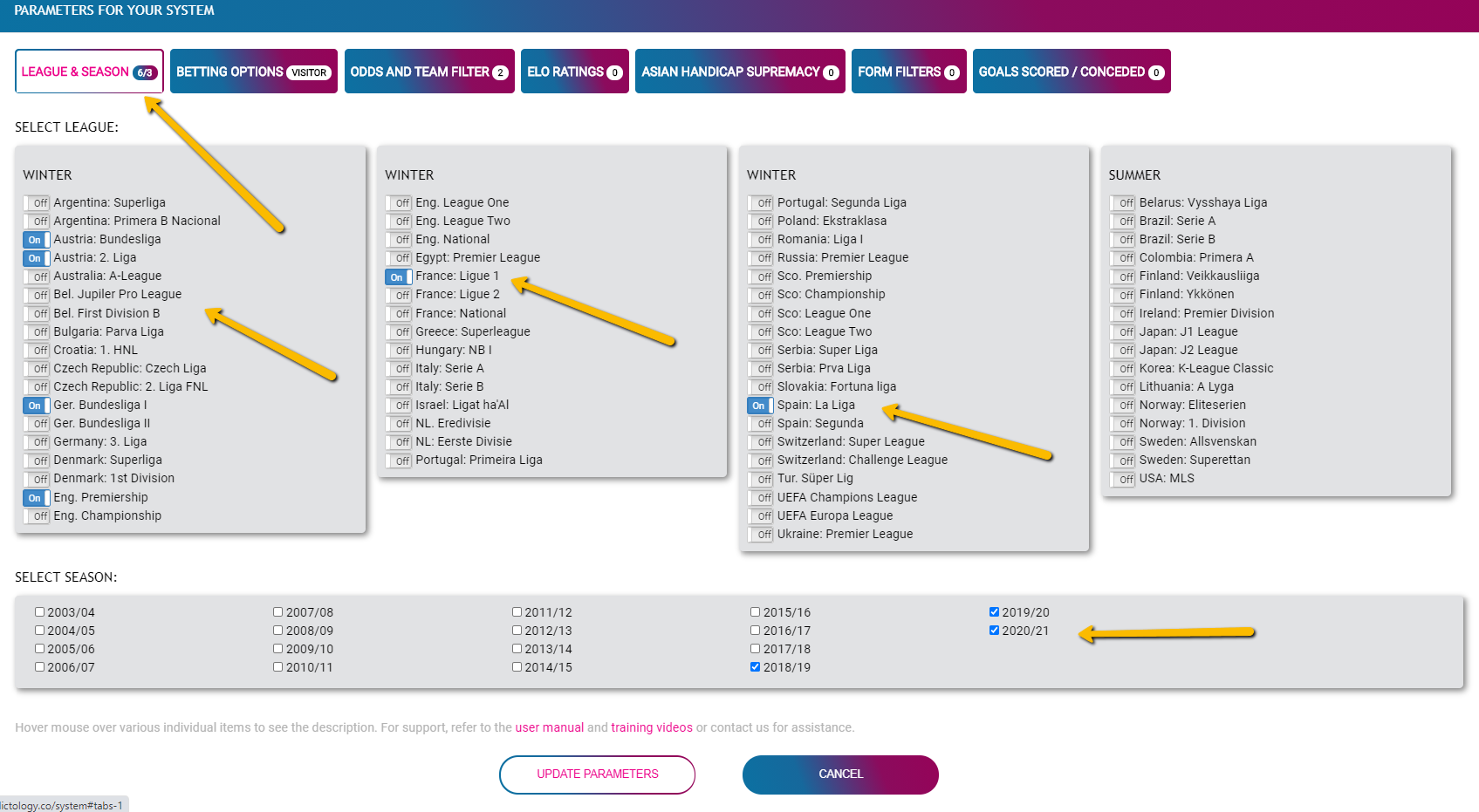 You are greeted by a series of tabs that look intimidating at first. However, once you have got the hang of it, it will soon become second nature.
Begin by adding in the leagues you are interested in checking out. Next, click on the seasons you want to include in your analysis below. We recommend looking for at least three seasons' worth of data.

The 'Betting Options' tab enables you to decide whether you want to bet on the home team, away team, or both. You can also decide if you want the maximum pre-match odds available or the average odds. I elected to look at maximum odds and back the home team.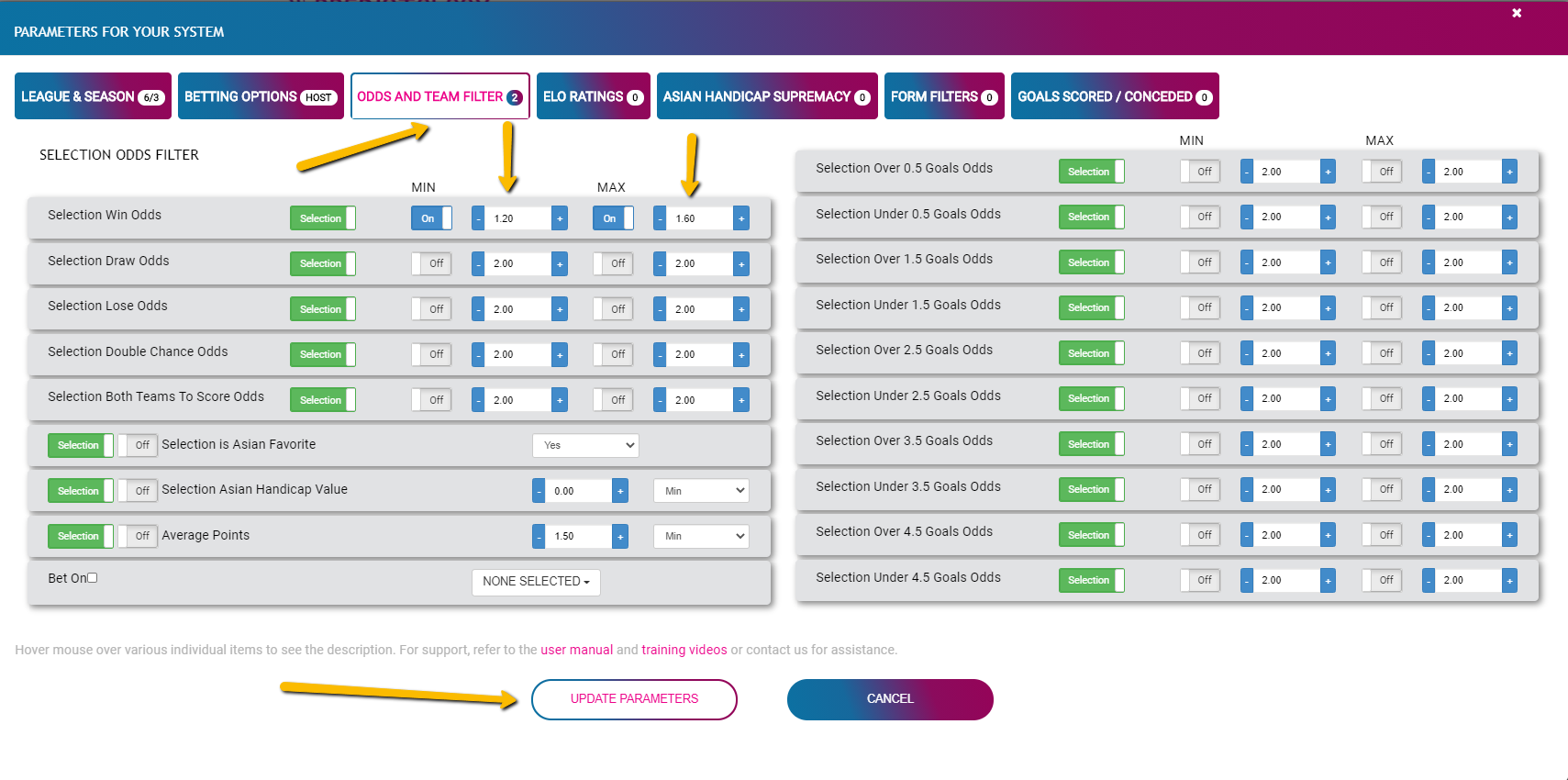 The 'Odds and Team Filter' is a feature you'll grow to love. As you can see, there are a huge array of options. I decided to keep things simple and focus on teams with odds of between 1.20 and 1.60. This is the section that could keep you enthralled for hours, however!
When you're done, click on 'Update Parameters.'
Click on 'Run Selected System' and allow the page to load. After a couple of seconds, you will get a quick rundown on whether it is a profitable system. You can also see the parameters outlined in the box on the right.
Overall, the system has close to 600 bets but is running at a loss. On the right, the chart shows you that the system performs poorly, barring one spike between the 200 and 280 bet mark.
However, we also discover that backing strong favourites in La Liga is profitable, with a small positive ROI for the English Premiership and France's Ligue 1.
If you like the look of La Liga, you can return to the system builder, remove the other leagues, and leave the Spanish top flight. Hit the 'Run Selected System' button again, and this is what you'll see. From over 100 bets, the profit is 9.97 units with an ROI of over 77%.
There are plenty of peaks and troughs, but it seems to have potential as a microsystem, at least. You can add other leagues to the system to increase the number of bets.
You may also notice the 'View Extended Analysis' button above. This provides a much more detailed overview of any system you create. We will go into that in detail in a future article.
For now, why not play around with the Predictology System Builder, and see if you can find any high strike rate strategies worth considering?
Remember this is just a first look at how to build high strike rate betting systems. And we'll be going much deeper both in terms of different approaches as well as how to measure the strength and confidence of your system.
---
Want more?
 

> How to profit on the Under 2.5 goals market

> Using Artificial Intelligence To Find Winning Bets

> Advanced Lay The Draw Strategies

> CASE STUDY: How A Member Landed A 77/1 Winner With Predictology