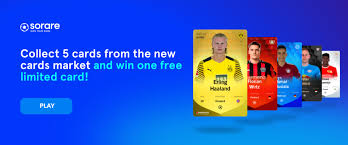 The other day I sat down to reply to a Predictology member who'd asked me a few questions about the Match Shortlists, which are available to all Predictology Members, and before I knew it I'd actually put together a pretty lengthy reply.
I read through it again and thought, you know what, I think this would be beneficial for all Predictology Members!
So with very few edits, I have pretty much copied my reply to him directly below.
Hope you find it useful!
---
Jon, what is the best way to use the Match Shortlist? I trade where I can but often I'm short on time and need an easy set and forget approach – what you recommend? Thanks, Alan
---
As a quick recap, the Match Shortlists are available in the members area in the Match Analysis section.

They provide a list of games that use our own filters to laser in on the games with the best profiles for each of the major markets.
First Half Goals

Over 1.5 / Over 2.5 / Over 3.5

Home / Away Winners

Exposed Favourites – Home and Away
Whatever your trading strategy or the markets you want to trade bet or build an Acca around, you now have a quick and easy reference point to to hone in on the right matches to focus on.
With the set + forget and mini high-frequency acca bettors – you can literally get set up and bets placed in 10 minutes a day:
Right, here is what I sent back to Alan… hope you find it as useful as he did..

---
First Half 0.5 Shortlists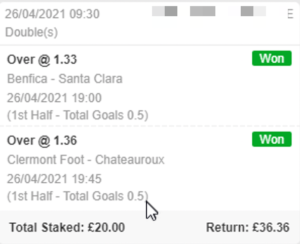 I love this particular shortlist for its very high propensity for picking games with goals and in particular the first half
Whether you are a bettor or a trader, there is usually value to be found here:
– 79% of matches shortlisted have a first half goal
– 42% of matches have TWO first half goals
– 83% have Over 1.5 goals
– 63% have Over 2.5 goals
---
For the Bettors
A simple way is to follow these selections is combine these into mini Acca's of two or three bets, with the objective of getting roughly an even money return on your Acca.
With the high strike rate, you should be collecting on a regular basis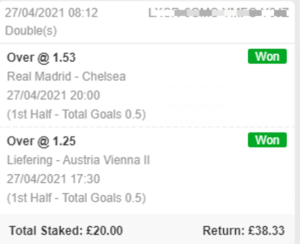 For the Traders
If you are looking to play these in-play then the recommended approach is to drip feed your stake into the market. I'd usually use 1 point and divide it into three parts staking 0,33 points at each interval.
I'd usually enter around 10 minutes, 20 minutes, and 30 minutes.
As this is a straight win or lose outcome, you can even place those trades pre-kick off and use the 'keep' function on Betfair.
As these matches predominately have very high propensity for goals you can also look to either drip feed the Over 1.5 or Over 2.5 goals markets, OR, if the result is 0-0 at half time (losing our FH trade), you can look to trade the second half at very attractive odds for 2 or 3 goals, safe in the knowledge that you have a very good chance of a goal or two coming in the game.
> You can find more First Half betting and trading strategies here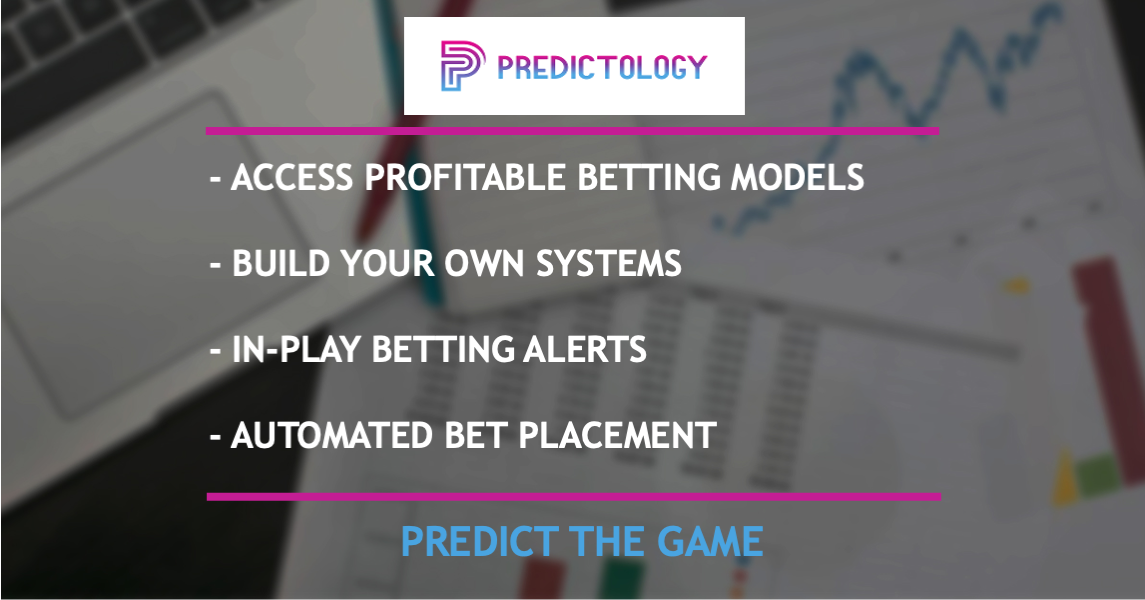 ---
Over 1.5 / Over 2.5 / Over 3.5
I've combined these three markets in our advice as the principals are the same for each. You will simply have a higher strike rate, lower profit on Over 1.5, with a lower strike rate but potentially higher returns on Over 3.5.
There is also nothing to stop you playing all three markets and letting the profit snowball up the markets as more goals are scored:
Over 1.5 goals
– 86% of matches shortlisted have at least 2 goals
– 77% have at least one first half goal
– 41% have at least four goals
Over 2.5 goals
– 64% of matches have at least three goals
– 47% of matches have at least four goals
Over 3.5 goals
– 80% of games have at least two goals
– 60% of games have at least three goals
– 44% of games have at least four goals
– Average odds of 2.70 meaning you need a targeted strike rate of 37% – meaning we are comfortably beating the market
---
For the Bettors
For Over 1.5 you can look to adopt a similar strategy to the First Half markets, combining selections until you get odds in the region of 2.00.
For Over 2.5 / 3.5 you can decide based on the odds whether to do as singles or doubles.
The strike rates here should again see you collecting on a regular basis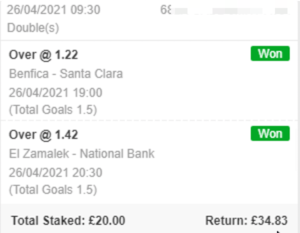 ---
For the Traders
If you are looking to play these in-play then the recommended approach is to drip feed your stake into the market.
I'd usually use 1 point and divide it into four parts staking 0.25 points at each interval, with a quarter point held back to back Over 0.5 goals at around 2.5 should the match remain 0-0.
I'd usually enter around 20 minutes, 40 minutes, and 60 minutes.
When a goal is scored, you have a few options
– Let it run
– Hedge for equal profit
– Trade out, leaving all the profit on the Over 1.5 goals side
The last option is my preferred option as in my experience, this provides the best ROI over the long term.
For Over 2.5 / Over 3.5 you can adopt similar strategies but I would normally stay in the market until at least two goals are scored.
A final option is to monitor these games in-play and if the score remains 0-0 at half time, I'd then enter with either a back of Over 1.5, Over 2.5, or Over 3.5 at very attractive odds – which one you choose would depend on confident you are that the game is likely to contain goals in the second half.
>> For more inspiration, check out this advanced guide to Over 2.5 goal strategies
---
Home / Away Bankers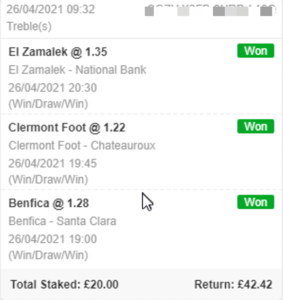 For the Bettors
Depending on the odds you can either back as singles or look to combine into mini-accas that pay around even money.
Once again, with the success rate on these selections, you will be see a regular collect.
You also have the option of utilising the Asian Handicap markets to increase your returns on the single bets, like this one: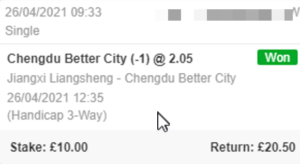 For the Traders
You have a few options available to you here with us recommending letting the game go in-place first.
Entry Points
Favourite goes 1 goal / 2 goals down – back favourite or lay opposing side. Look to trade out our liability at the earliest opportunity to create a free bet on the favourite for the rest of the game
Favourite drawing at half time (or late in second half) – you can either do a straight back of the favourite at this point, or lay the draw for 0.75 points and back the favourite for 0.25 points. (One of My Favourite Trades – see below)

0-0 first half – if it is 0-0 around 30 minutes and the favourite is attacking and in the ascendency in the first half. Then you can consider going to the Half Time Match Odds market and backing the favourite for 0.25 points and laying the draw for 0.75 points.
>> You can find other ideas that can be applied to these selections here
---
Exposed Favourites (Home or Away)
These are nice, low risk betting and trading opportunities and present us with the opportunity to use one our of favourite staking approaches, which is to lay to a fixed risk (liability) rather than a variable liability.
Most people when they consider laying odds on is the fact that they can have a lower liability. E.g. if you laid £10 at 1.50, you'd be risking £5.00
However, if you choose to use a fixed liability stake, you risk £10, with the chance to win £20.00.
All logical so far and a similar return in a like for like bet. However, where this comes into its own is the variability of the odds on selections pool – because if we lay something a 1.10 to risk £10, we can win £100.
It allows us to leverage the shorter odds favourites for a larger return when they do – and it happens more than you'd expect – we get a much bigger pay out.
For the Bettors
There are several ways in which you can follow these selections.
1. Lay to risk 1 point, as mentioned above, on the betting exchanges
2. Use the Asian Handicap and back the non-favourite at +0.5
3. Use the Double Chance market and back the draw and non-favourite
As an example of how these perform, the average odds from our selection pool have been around 1.59, meaning we just need a strike rate of 37% or higher to be profitable and we are achieving around 44%. Or to put that another way, if we had laid all selections we'd be in profit to the tune of 324.39 points from over 1,800 bets.


---
For the Traders
Your first option is it to take a pre-match position similar to the bettors and look to trade out if the non-favourite scores.
Alternatively, you can look at laying the favourite if they take the lead – really low liability but your will have long out of non-winners.
Or you can wait too late in the match – post 60 minutes – and if the non favourite is within one goal of the favourite, then lay the favourite and look for the non-favourite to get an equaliser. Again a low liability approach.
>> Interested in strategies for Double Chance Acca's – check this out!
---
Bonus Angle for Exposed Away Favourites
For both Bettors and Traders, another thing we have noted in our data pool is the propensity for these selections to be under 2.5 goals, particularly when the away side is the favourite.
You can look to place a bet on under 2.5 as cover for your lay in the match odds, or look to trade the Under 2.5 goals market to again create cover and protection against you main bet and trade.
>> Read more advanced betting and trading strategies for Under 2.5 goals
---
So there you have it – the ultimate guide to the Predictology Match Shortlists, giving you an almost limitless number of ways to use and profit from the Daily Shortlists.
If you'd like to access the Match Shortlists and the full Predictology Platform – you can get started here
Like this post? Have you found other ways to use the Match Shortlists? Let us know in the comments below!
---