English Championship – Betting Angles, Betting Trends and Betting Tips
As always, let's begin by outlining the initial value bets at first glance. Remember, the onus is on you to perform further research. What Predictology does in this instance is narrow down the field.
QPR are potentially value to beat Brentford.
Bristol City have a reasonable chance of winning away to Reading.
Millwall could come away with the points against Birmingham.
Barnsley may win away at Blackburn.
Luton are possibly value to win at Cardiff.
Wycombe have a decent chance of winning at Derby.
Middlesbrough could win at Huddersfield.
Coventry could triumph at league leaders Norwich.
Rotherham to secure a home win against Bournemouth.
Sheffield Wednesday to win at home to Stoke.
Preston to win away to Watford.
Nottingham Forest to beat Swansea at home.
You might have noticed that none of the 12 games favour a draw. However, we can expect four games to be draws based on the stats so far this season. Remember, this is based purely on our calculated probability, which is then converted into a decimal odd. We then compare this price against the market odds available with the bookmakers, and this weekend, we can clearly see that the bookies are offering poor value on each of the home teams this week – doesn't mean they won't win, but we may have to look a bit harder to find some good value bets.
Missed Part 1? Read our in-depth guide to the Championship right here
---
Where's the Value in the English Championship This Weekend?
As always, it is best to begin by dismissing as many games as possible. This process ensures you put your focus on a handful of possible value bets rather than spreading yourself too thin.
Most match days are tough to predict in the English Championship, and this weekend is no different. On the face of it, however, Luton Town seem overpriced to win away to Cardiff. The Welsh outfit have lost three home games already this season. Luton have a reasonable away record with three wins at the time of writing.
It is likely to be a low-scoring affair. Cardiff have scored 1.00 goal a game at home, Luton have managed 0.66 goals a game away from home.
The other game of interest involves two of the basement dwellers. Again, the odds of 4.54 on Wycombe seem extremely high. Yes, they are third bottom with one win and five defeats on the road. However, Derby were bottom at the time of writing with a single point earned at home. The Rams have also scored only one goal in their home games to date.
The reason why I believe it is value is due to a significant uptick in Wycombe's form. After losing their first seven games in a row, Wycombe are beginning to adapt to life in the Championship with only one loss in six. Again, a low scoring game is likely, but Wycombe have a better chance of winning than what the bookies suggest.
You could play it safe and lay Derby at around 1.80 – 1.85 on the Exchange. If Wycombe score first, it is hard to see Derby winning.
---
What About Goals?
As we discovered in part 1, the English Championship is bereft of goals this season. Blackburn, Stoke, Coventry, and Reading games average at least 2.92 goals, but it is quite a drop after that.
There are few games with goal potential, though Watford versus Preston is a possible exception. Watford home games have averaged 3.00 goals a game. Preston away games have averaged 3.50 goals per match.
One possible issue is that only 50% of Watford home fixtures have had 3+ goals. However, 83% of Preston away matches have achieved the feat. Moreover, 50% of Watford home games have also had 4+ goals, against 33% of Preston away games.
Therefore, the odds of 2.10 for over 2.5 goals, and 3.50 for over 3.5 goals are worth considering.
Finally, 67% of Watford home games and 67% of Preston away games have seen both teams scoring. Perhaps BTTS @ 1.80 may tempt a few punters?
---
Exact Scorelines
There is a multitude of games that are likely low scoring. Derby vs. Wycombe could potentially end goalless on paper. The away side's last two games had no goals, but all of Derby's games have had at least a single goal. However, only 58% have had 2+ goals, with just 17% involving 3+ goals.
Wycombe's improved form suggests they could squeeze a narrow win. 1-0 at @ 12.00 is appealing, as is 2-0 @ 23.00. The popular 1-1 scoreline could definitely come into play and is available at 6.50.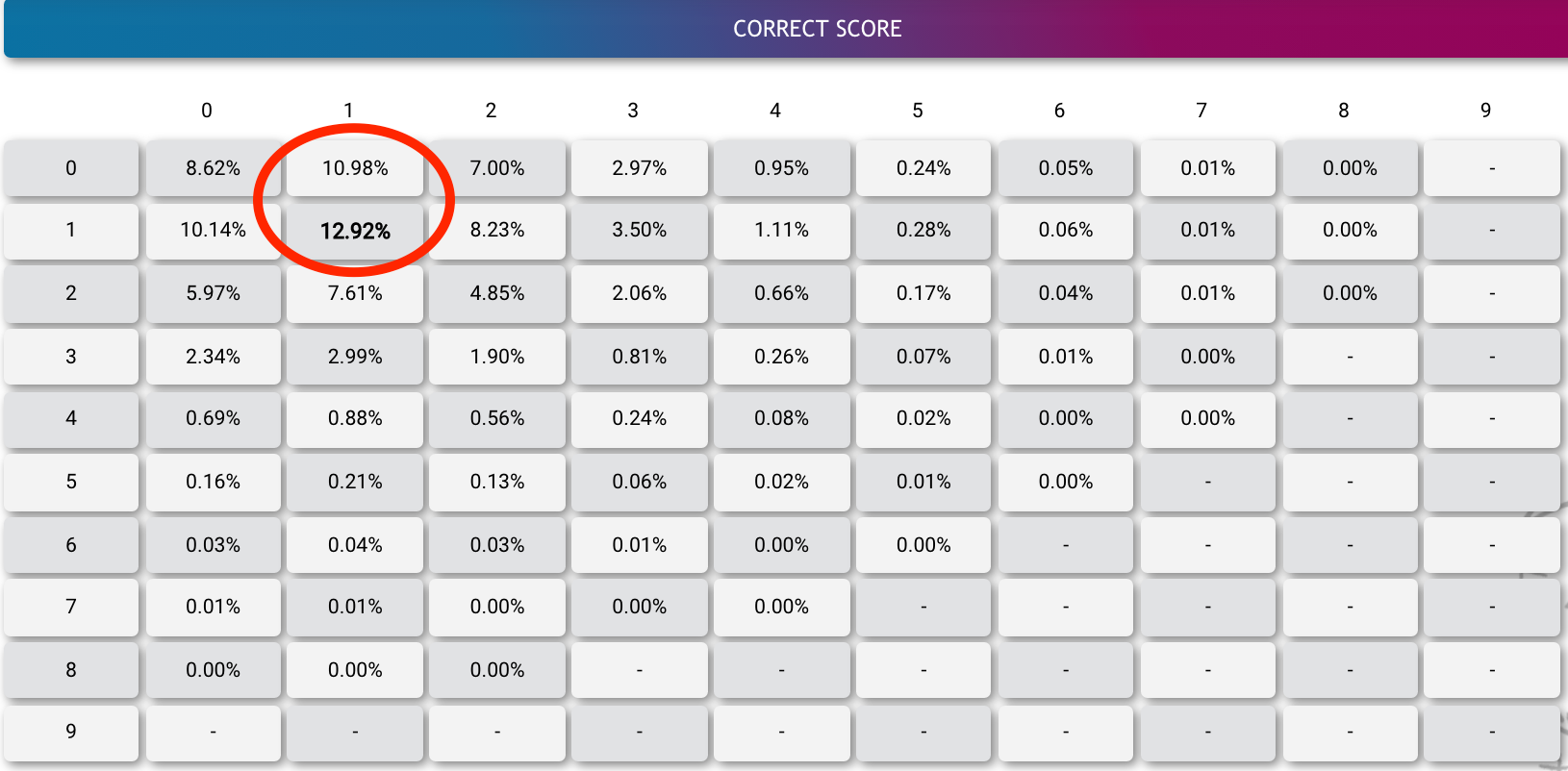 Birmingham vs. Millwall is another game where goals could be at a premium. Remember, you have the option to back scoreline or over/under bets and trade out if there is a profit to be had. This is especially the case for wagers on scoreless draws!
---
What Do the PR Ratings Say?
The competitive nature of the English Championship is apparent when you look at the PR ratings. Just 203 points separate top-rated Norwich and bottom-ranked Barnsley. That is extremely close when you consider that there are 24 teams!
Norwich are 50 points clear of the next best team, so it becomes even more congested. In fact, there are less than 100 points between fifth-placed Swansea and Barnsley. There are generally few fixtures each week with a major gap between the sides. Here are three matches where the gap is 100+ points:
Norwich (1668) vs. Coventry (1481) – 187-point difference
Brentford (1618) vs. QPR (1480) – 138-point difference
Rotherham (1493) vs. Bournemouth (1616) – 123-point difference
Norwich should win based on the ratings and league positions. The Canaries are 1.53 to win, and some may take them on the -1 handicap. However, they have scored just six goals in six home games. Brentford are also strong favourites at 1.62 but have won only two of their six home fixtures. Bournemouth are also hard to fancy too strongly at 1.91. The Cherries have just two away wins this season.  
---
Summary – Possible Value Bets
Luton Town to beat Cardiff City @ 5.40
Wycombe to beat Derby @ 4.54 or lay Derby @ 1.80 – 1.85
Wycombe to win 1-0 @ 12.00
Derby vs. Wycombe to finish 1-1 @ 6.50
Watford vs Preston – over 2.5 goals @2.10; over 3.5 goals @ 3.50, and BTTS @ 1.80