How to Create a Betting System with a Medium Strike Rate
Continuing with our portfolio theme, today is all about using Predictology to develop a system with a medium-strike rate. I would place that in the 40-65% range or thereabouts, though I don't expect universal agreement!
A good system of this nature combines a reasonable strike rate with decent odds. While you can develop high win-rate systems with an ROI of 5-10%, a medium strike-rate system could yield 15-20%. However, it comes with more risks attached, including longer losing streaks and a higher rate of drawdown.
---
What Kind of Winning & Losing Streaks Can I Expect?
The maximum winning and losing streak will increase as you place more wagers within a system. For example, at 40%, you may experience 12 consecutive losses and 7 straight wins within a 500-bet period. At 60%, the winning streak could hit 12, while you may endure 7 straight losses.
After 1,000 bets, you may have suffered from 14 straight losses in a 40% system against 8 losses. At 60%, you may have 14 wins in a row against 8 consecutive losses.
Predictology has touched on bankrolling and staking in the past, and I may provide a more detailed outline in the future.
The plus side is that you could benefit from a healthier ROI in the long-term than using a high strike rate system.
Let's take Jon's Goals, Goals, Goals, system as an example, which is available to all Predictology Members. (Not a member yet? Get started for just $1)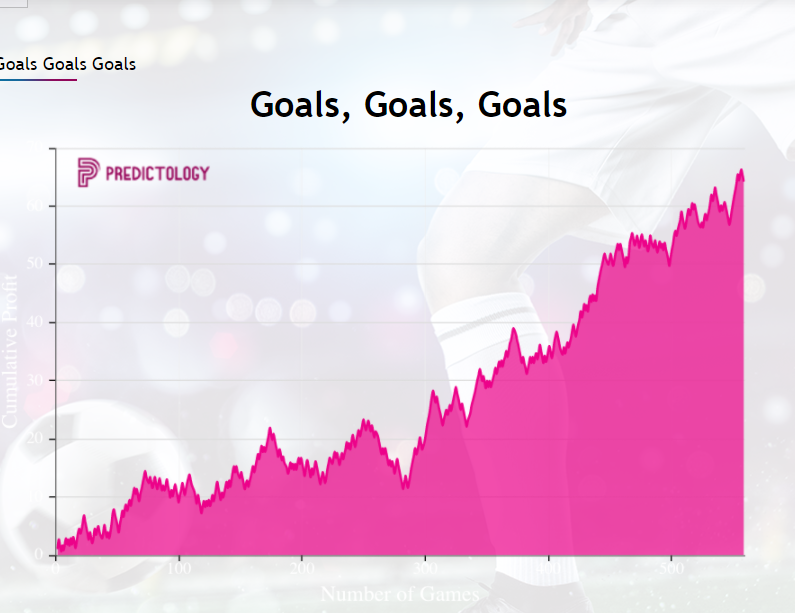 What's immediately apparent is the relatively small downturns. They are greater than with a 70+% winning system, but with a s 54.6% strike rate after over 550 bets, it is certainly nothing to sniff at. Neither is the 12.5% ROI. Overall, this is a system that's worth including in the medium-risk category of any betting portfolio.
For the record, the A/E is 1.11, which means you have an edge of 11% with this system. Get slightly better odds than advised and that edge increases. (Learn more about A/E here)
---
Creating Our Medium Strike-Rate System
As always, simple is usually the best way to go when trying to build a winning system. Adding too many parameters and  filtering the results too much,  usually leads to relatively few bets and the risk of back fitting. (learn how to avoid back fitting your system here)
The Goals, Goals, Goals system does nothing of the sort. It selects games from the Polish and English top flights and the UEFA Champions League with a better chance of over 2.5 goals than the bookmakers believe.
Logically, if you want a 40-65% strike rate, you want bets in the 1.50 – 3.25 price range to take advantage of any instances of bookmakers overpricing an outcome. Feel free to look for the right lay bets in similar ranges. The over 2.5 goal market is the classic example of a wager that fits within this particular strike zone.
You could try and find over 3.5 goal bets in particularly high scoring leagues as an alternative. Other ideas include backing a half-time draw, no goals in the first half, over 1.5 goals in the first half, or straight home/away win bets.
Remember – our number one advice is always try to do the opposite of what the market things. For example, if you want to back goals, try looking at games where goals are NOT expected and build out from there
For now, let's see what the System Builder can do for us today…
---
Patience is Key!
Creating a winning system is extremely challenging, even with the help of Predictology's software. You will often see something worth considering, only to discover that it isn't a consistent earner.
For instance, you might find that a system has a 40-unit profit across the last three years. Then you find that one year earned a 60-unit profit, while the other two sustained losses. Such a system is not something you want to rely on!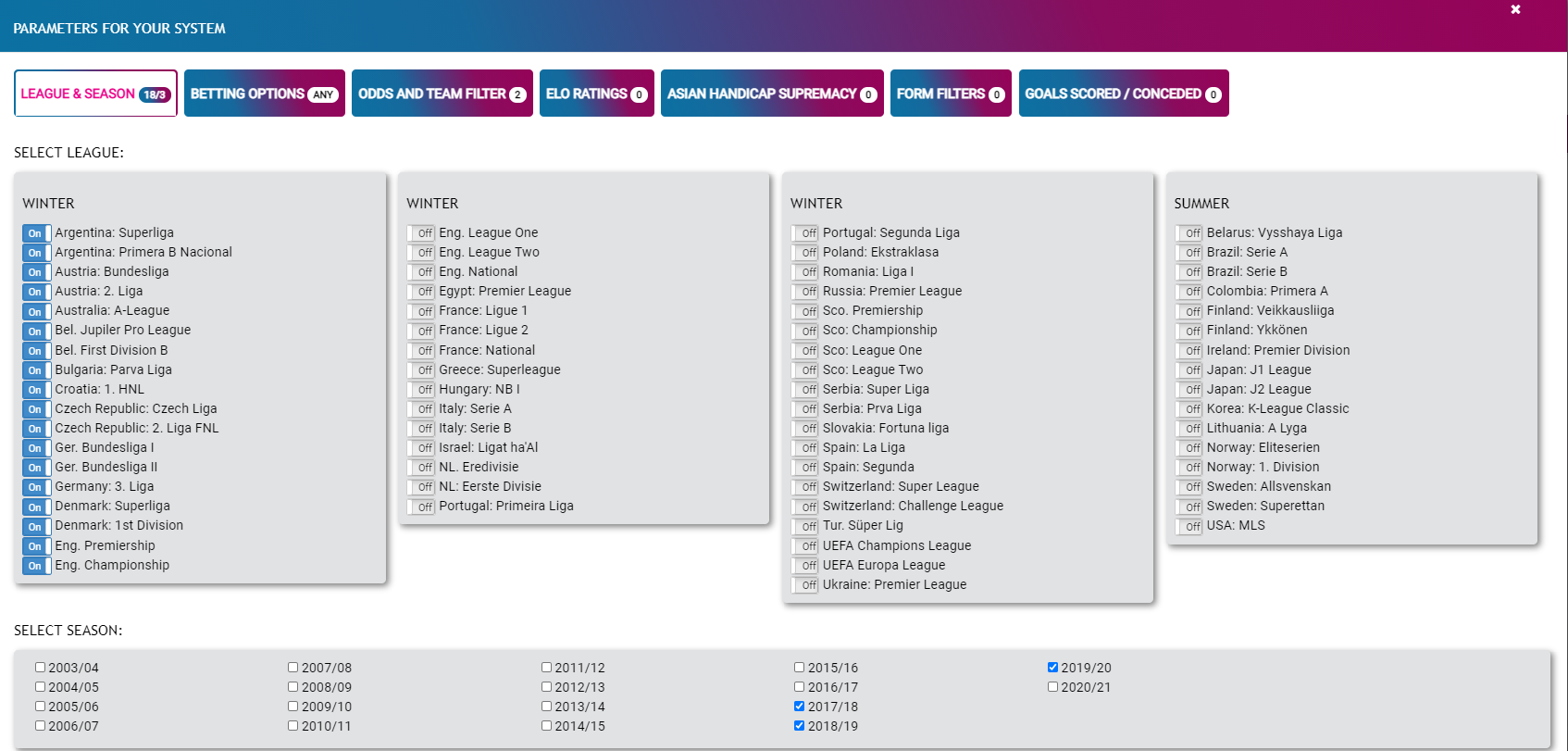 One trick is to click on multiple leagues at once, to filter things down rapidly.

Like last week, I have chosen 'Average Odds,' which makes it harder to find profitable systems but ensures they are of better quality.
In the interest of keeping it simple for the sake of this demonstration, I wanted to see if I could find a winning system for over 2.5 goal bets where the odds were between 1.60 and 2.20.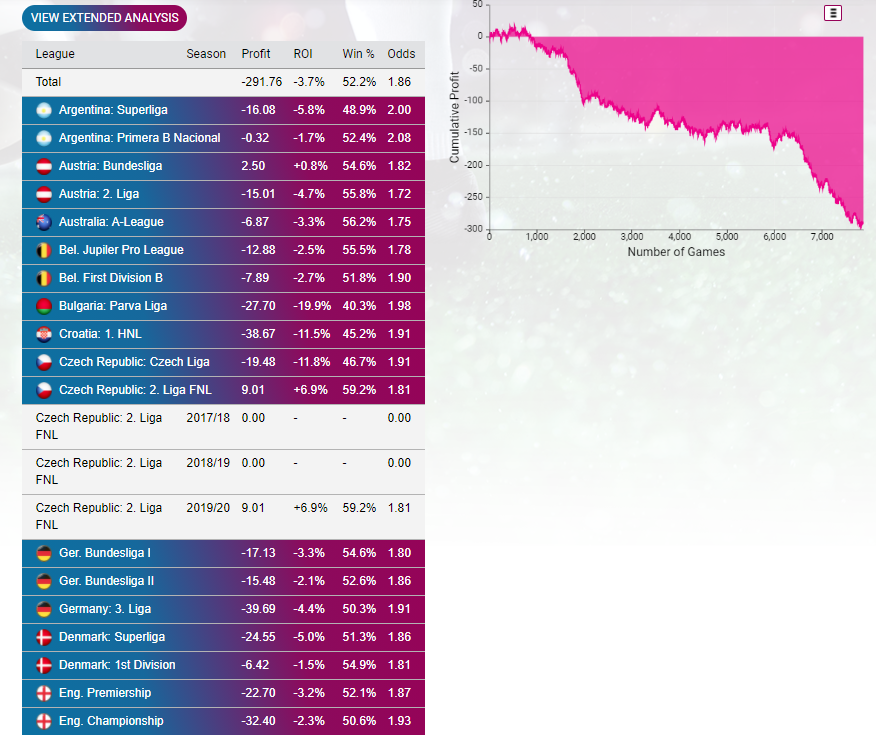 Only the Czech second division is even worth looking at! Click on the league to get a breakdown of the seasons you chose as your parameters. Although it shows a profit, Predictology only has data from last season.

After some time, I finally uncovered something useful. I looked at backing a half-time lead for the home team in games where their odds to win the match were 2.00 or less. You can click on the 'Extended Analysis' tab (which is a bit obscured) to learn more about your system.

In this case, you can see that the system, which I imaginatively called 'Footy,' is rated at 3.5 stars. This means it is an 'okay' system. Of course, the goal is to find five star systems as much as possible. As you can see from the screenshot above, the system has a 49.7% strike rate from 351 bets. The edge is an impressive 14%, and the ROI is close to 11%.
However, it is certainly medium risk as it has a maximum losing run of 9 so far, against 8 consecutive wins. The chart on the previous screenshot showed many peaks and troughs, so take this into account when using the ANY betting system.
What's also important about this system is that it has provided a profit in each season for all three leagues. The data only covers two seasons apiece for each league, but that equates to six seasons' worth of small profit. It means the downturns won't last too long, and the average win odds are 2.25.
Look at what happens when you use 'Maximum' odds instead of 'Average.' The ROI swells to 15%, with a slightly small maximum drawdown. Also, the edge increases to over 18%! The strike rate goes up to 51%, and it becomes a 4-star system!
---
Final Thoughts on Building a Medium-Strike Rate System
I'm here to tell you that creating a consistently profitable betting system with a medium strike rate is challenging. Predictology makes the process easier and more fun, but you still need to put a LOT of effort into it. Next week, I look at building a low strike-rate system which offers high risk and high reward.
Next month, I will show you how to determine whether your system is likely to be a long-term success or whether it is destined to fail. This includes analysing the mini-systems I create in this series, and also Jon's!
---
Looking For More?
Why not check out some of our most popular posts, including:
> How to profit on the Under 2.5 goals market

> Using Artificial Intelligence To Find Winning Bets

> Advanced Lay The Draw Strategies

 
---
We've got you covered – Predictology: The Ultimate Football Betting Toolkit