Predictology – The best investment I have ever made in gambling or trading – I use it every day
​

"Predictology – The best investment I ever made – I use it ever day!  – Chris E."
---
Predictology – How to Pay Your Way in a Single Day!
I joined Predictology a few months ago and, probably like a lot of you, I'm still learning new ways to use the platform every day.
As I'm a writer by trade, Jon and the Predictology team asked me to share some of own experiences with Predictology, and a guide to how to use all the many tools and features through the eyes of a member.
I was delighted to this because it has given me the extra impetus to test more ideas out, while I also hope that by doing these guides, I can help other members benefit and profit more from their Predictology membership.
---
First a little bit about me.
My name is Patrick and I graduated from the National University of Ireland, Galway with an MA in Literature and Publishing but decided I would rather have the freedom of a freelance writer than be stuck in a publishing house all day. I've really enjoyed the freedom this has provided since 2009 and I've now literally written thousands of articles on a variety of topics but sports betting is my true passion.


My specialty is finding mismatches in obscure football leagues, I also likes to use my research skills to provide punters with detailed winning strategies in horse racing.
You can check out his personal blog on www.lynchthewriter.com or Twitter @pl1982 where I've written content to help many small businesses achieve success in a variety of fields and markets.
---
While sitting down trying to decide what to focus my first article on, I was quite fortunate to pick a big winner this week (77/1) thanks to Predictology, using one of my favourite features on the platform, which ended up making the decision about what to write pretty easy.
One of my favourite Predictology features enables me to narrow down the list of games I want to focus on at a glance. In this article, I will provide an overview of what it does.
Then, I will show you how one bet helped me earn two years worth of Predictology membership fees in one go! 
---
Analyse Global Matches At a Glance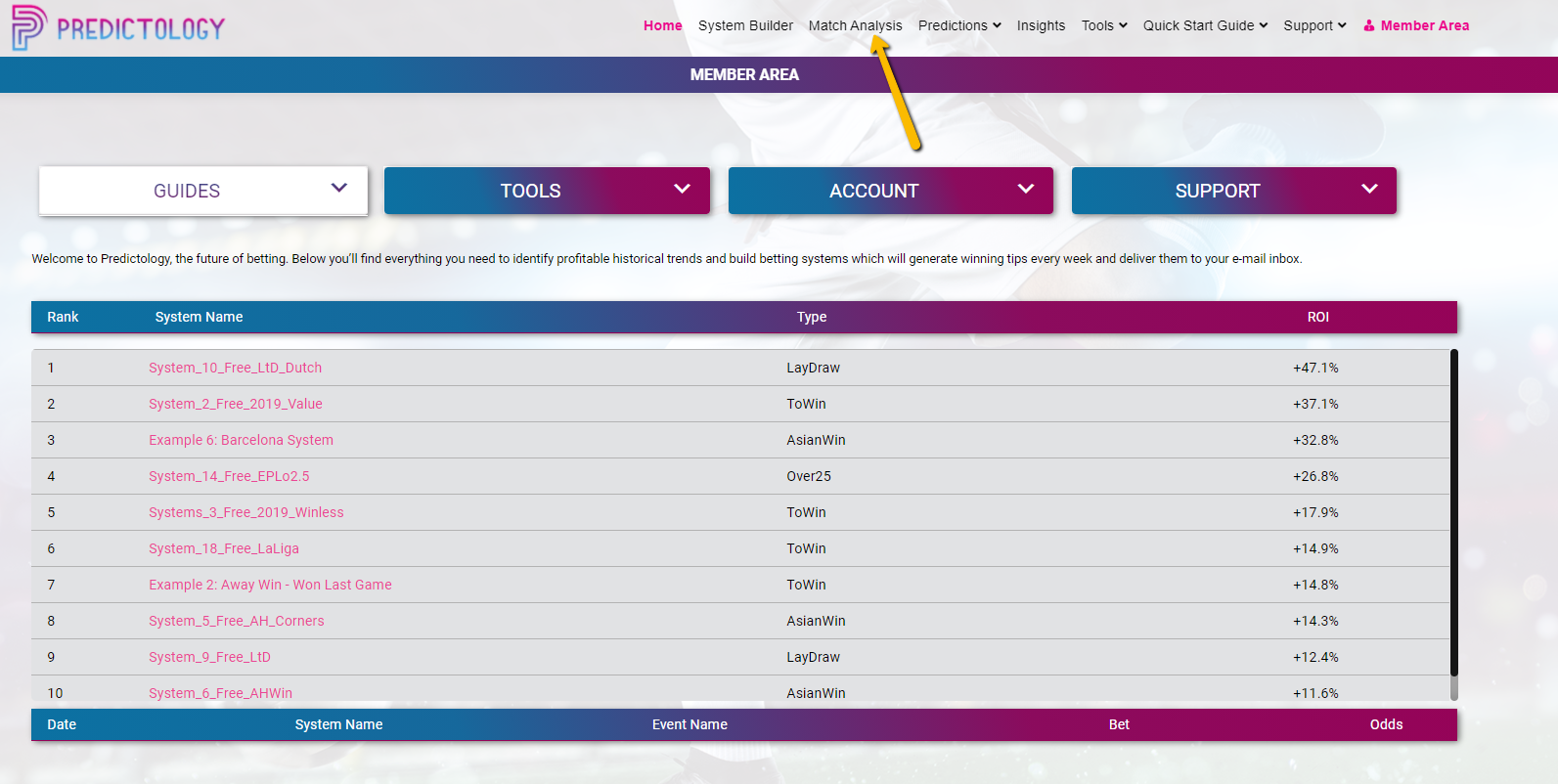 Once you become a member and login, you should see something similar to the above  on the home page. I plan to create several articles to help you understand Predictology's many features. Today, as mentioned, I will focus on the Match Analysis tab. 
The Predictology team also wrote a very interesting approach to the AI predictions found on the match analysis tab, You can read that here.
There is SO much to the Match Analysis feature alone, but I will keep it simple today. Once you click on the tab, you will see a screen like the above. You can see the date and time of the match, not to mention the league.
Beneath the home, draw, and away sections, you can see two sets of figures. The percentage relates to the chance of the outcome occurring, according to Predictology's analysis. The small numbers underneath refer to the odds available at the time across a large sample of bookmakers.
---
How Do I Use This Information?
The simplest way is to divide the odds into 100 to see if the answer is lower than the percentage chance of victory, according to Predictology. If it is, it means you have a possible value bet because the bookmaker is giving better odds than they 'should.' The site helpfully lets you know a possible value wager at a glance. Keep your eyes open for green decimal odds; these warrant further inspection.
For example, Predictology suggests that Jagodina has a 61.85% chance of beating Radnicki Pirot in the Serbian second division. Divide this percentage into 100 and it indicates that the away side's fair odds are 1.62. Before the match, the available odds are 2.08. We can immediately see that the home side are a potential value bet.
However, it would behove you to consider the bookmaker's 'vig' or overround before proceeding. At the odds available, the bookmaker overround on this game was a whopping 10.22%. Also, Betfair takes a commission of up to 5%. Therefore, you need to find out if the odds on Jagodina overcome this 15% deficit.
Those who play it safe may decide to see if the odds represent value at 85% of the current price. In this case, the answer is 'yes' as the odds go down to 1.77, still above the fair price according to Predictology.
---
Don't Go in Blind!
When there is a LOT of matches, I personally implement a strict 10% rule that allows me to narrow the field quickly. I determine the Predictology fair price and add an extra 10%. It isn't necessarily the perfect system, but I have found success using this method.
Using the Jagodina game, I would add 0.16 to 1.62 (the chance Predictology gave the Serbian side when converted into decimal form) and only consider the bet if the available odds are 1.78 or over.
It would help if you did further digging at this stage, which you can do with Predictology or another outlet. Look for home/away records, form, and even head-to-head records. The software gives you a wonderful base, but you must add a few minutes of research to get the best possible results.
I spent quite some time deliberating three matches in the Peruvian second division, and it paid off wonderfully.
---
A Years Membership (And then some) Paid In One Day!
Predictology covers a wide range of leagues, including a few you may never have looked at. The Peru Segunda Division is one, and I am glad Predictology brought it to my attention!
Away sides have enjoyed a very brief resurgence in what is historically a league with a major home bias. The software has discovered that the chances of a home victory are much higher than what bookmakers tend to think, at least for now. I ended up focusing on three games with the following win percentage chances for the home team and their odds:
Unión Huaral vs. Molinos El Pirata – 62.75% (2.50)
Comerciantes Unidos vs Santos – 60.16% (2.40)
Alianza Atletico vs Sport Chavelines Juniors – 88.03% (2.20)
As you can see, there was a huge potential edge. Further research showed me that all three sides had a great chance of victory. I believed that Huaral was the most likely bet to let me down, and so it proved. Their game ended in a wild 5-5 draw. Unidos had beaten Santos 3-0 the last time they met and went 3-0 up before being pegged back to 3-2 at the end.
The 88% chance of victory for Alizana is the highest win percentage I have seen in several months of using Predictology. The odds were unbelievable given they had won 12 of the last 13 at home, all of them by a two-goal margin or more. After an even first half, which ended 1-1, Alizana took over and won 3-1.
I bet heavily on that particular game and was slightly disappointed with the Huaral game as I had an 11/1 treble bet. Fortunately, I also had the foresight to back a 3+ team goal treble for the home sides as they all had the potential to score plenty. Here is the result: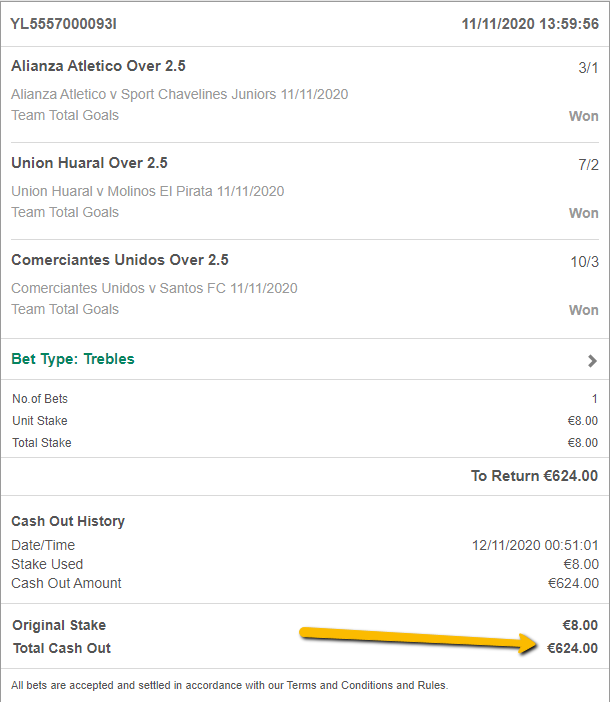 The profit of €616 is almost double what a years Predictology membership would cost. This doesn't even include the €400+ earned from the separate match and team goal bets.
The above scratches the surface of what you can do with Predictology, but it is a great way to analyse games when you are stuck for time. This bet is a 77/1 shot, which is a rarity, and you shouldn't expect it to happen. However, this software can help you build your bankroll slowly, steadily, and sensibly.
I'll be back again next week where I will start to share my experiences with the System Builder.
---
Not a member of Predictology and want access to these AI Predictions and more? You can get started here for just $1.