Complete Guide To Trading And Backing Over 2.5 goals:
The over 2.5 goal market is one of the most popular on the betting exchanges. It is especially intriguing because, in the majority of leagues, the average goals per game is in the 2.50 to 3.00 range. Here's a look at the average goals per game in a handful of first division leagues for the recently completed 2019/20 season:
Belgium: 2.56
Switzerland: 3.01
Germany: 3.21
England: 2.72
Spain: 2.48
France: 2.52
You can access detailed match and league statistics via our AI driven, match analysis engine here.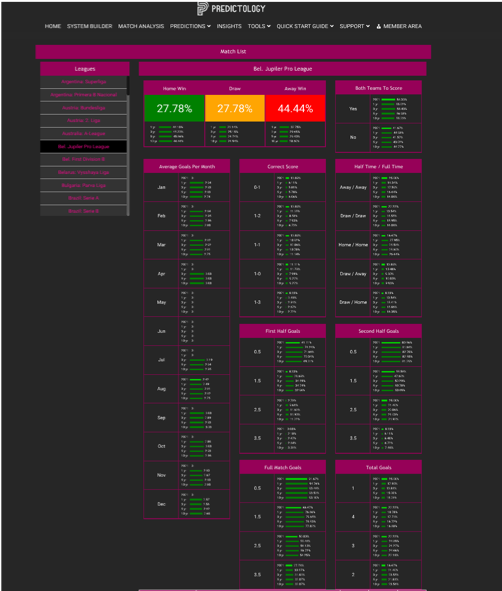 As you can see, backing over 2.5 goals becomes a battle of wits with bookmakers. Also, the liquidity for the market is generally strong and very liquid. To win your bet, the game must have at least three goals, while sometimes just one goal can be enough to secure an all green screen when trading. Now, let's check out a few things to look at when making selections.
---
Things To Consider When Backing Over 2.5 Goals
– Time Of Goals Per Team
Suppose you are getting involved in a game with two teams that like early goals, it pays to make your bets by kick-off. In last season's English Premier League, for example, games involving Liverpool had 16 goals in the first 15 minutes. In contrast, only seven goals were scored in the opening quarter-hour in Aston Villa games. Therefore, you could potentially afford to allow a game involving Villa to run for a few minutes to get better odds. Although a potentially a better move involving teams like this is to look at the first half goals markets instead, which we'll cover in more detail in a future post.
That said, generally speaking you can get much more value in the goals market by waiting 10-20 minutes into a game. And if there is an early goal, simply move on to the next match, we're rarely short of games to bet and trade into.
---
– Head to Head
Although I'm not personally the strongest believe in what happened previously, will happen again. There are certain fixtures that undeniably suggest the probability of  pleny of goals. For instance, Liverpool vs. Newcastle, Liverpool vs. Arsenal, and Spurs vs. Arsenal are games that have all been known to produce plenty of goals.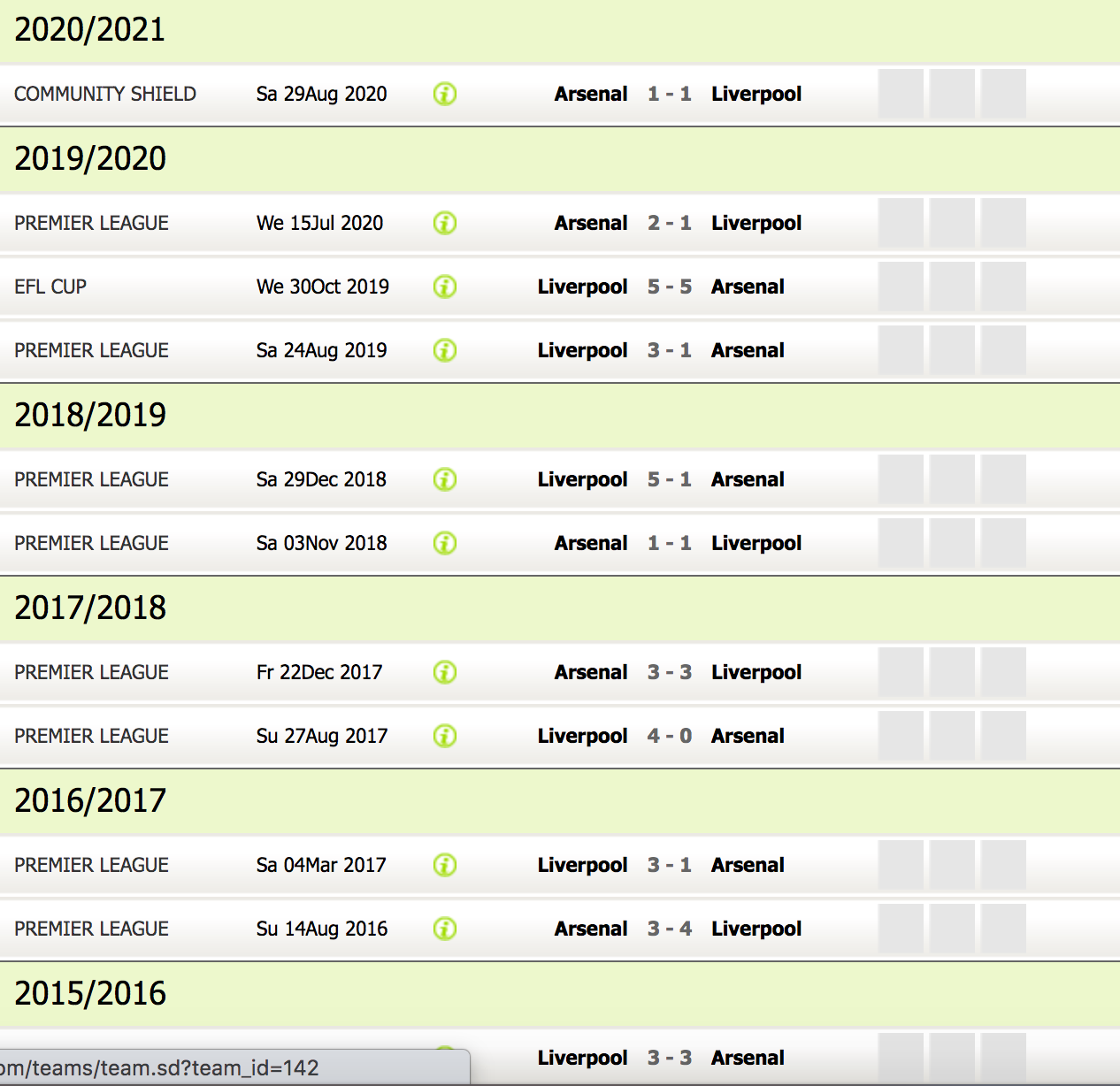 ---
– Percentage of Games with Over 2.5 Goals
It is a mistake to focus solely on a team's goal per game average. It can be a mirage. Some teams score a glut of goals in a handful of games but are not consistent scorers. For example, last season, Man United had 2.68 goals per game, but only 42% of games had over 2.5 goals. In contrast, Watford games had 2.63 goals on average, but 55% of games had 3+ goals.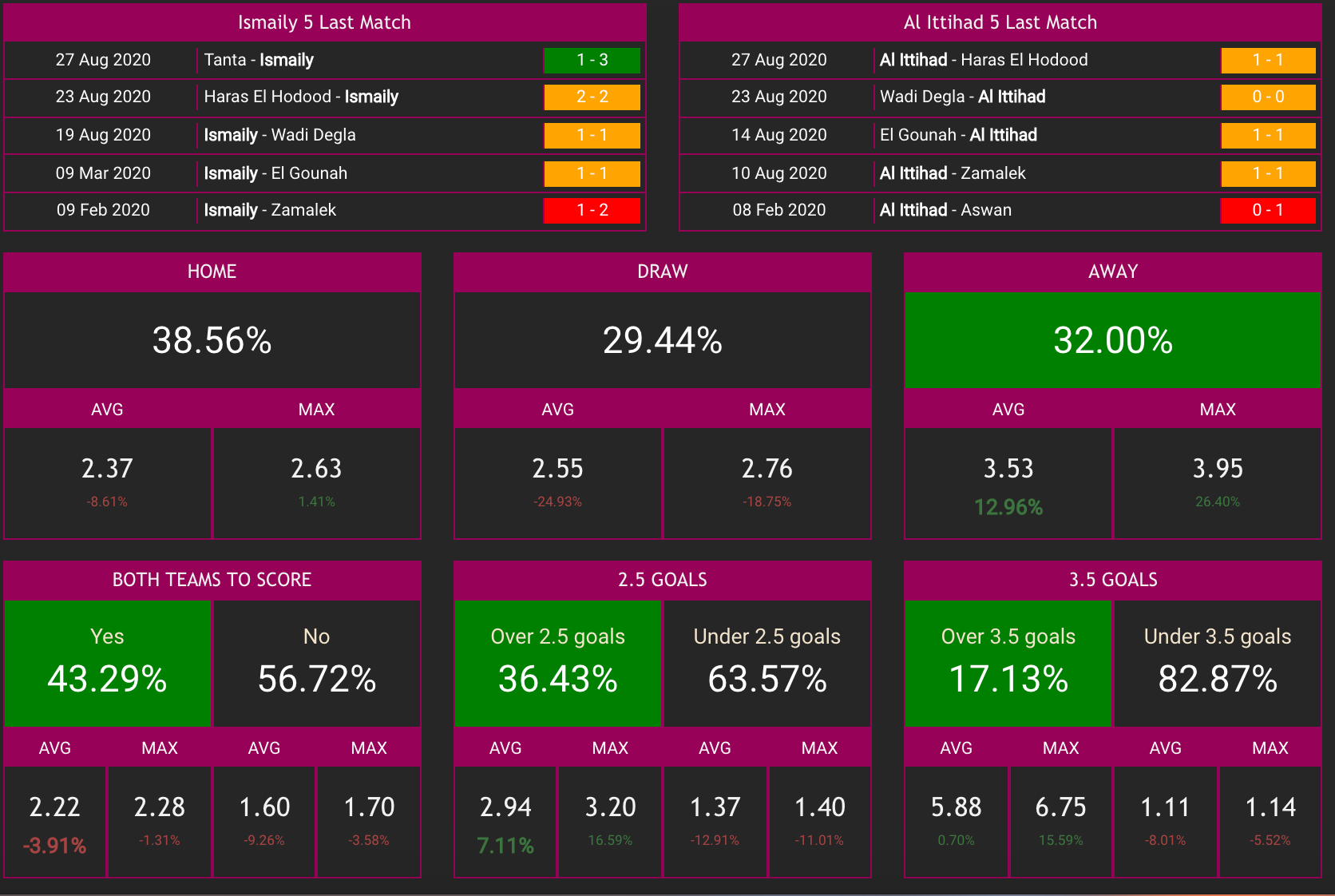 ---
– Recent Form/Injuries
All teams go through periods where their attack is firing, and their defence is tight. Likewise, there are times when strikers couldn't hit a barn door, and defenders forget their art. Take advantage of these streaks when they happen. Also, take note of significant injuries that could impact a team's attacking or defensive prowess. A team may even change its style of play for a short while if it is missing numerous players.
Conversely I am a big advocate to taking a contrarian opinion on games where there are particularly sequence of results. For example, if a team had gone under 2.5 goals in their last four games, would you back unders again or, just perhaps, the value is going the opposite and backing overs. After all, a sequence can't go on for ever.
If you are interested in checking out major sequences, whether it be 1X2, goals or otherwise, we have a section dedicated to hot and cold streaks right here in Predictology.
---
– Incentive
Does a team have a reason for aggressive play? Towards the end of the season, in particular, you may see teams attacking more often out of a desperate need for points. It could be due to a relegation fight, looking to secure Champions League football, or trying to win the title. A prime example was the thrilling 5-3 game between Liverpool and Chelsea at the end of the season.
That said, if you've been watching Amazon's "All Or Nothing", it would be hard to think any Elite sportsman at one of the major sides would ever treat a game with less than a 100% intensity is almost laughable. To get where they are, they are so focused and determined to the best, it's quite incredible to watch. I'd recommend the documentary to any football trader, as it's a great insight into the mentality side of the game.
---
Strategies For Backing Over 2.5 goals
This is a more entertaining option than the under 2.5 goal market because you want goals to get scored. Here are a few options for backing and trading.
– Back-to-Lay (B2L) In-Play
This is the basic 'classic' strategy and involves placing a bet on over 2.5 goals while the game is still 0-0. In an ideal world, you will be able to watch at least the start of the game. It is possibly worth placing the bet if you see at least one team attacking aggressively.
What a lot of traders do is cash out if there is an early goal. For instance, they may back over 2.5 goals at odds of 1.87. If there is an early goal, the odds could fall to 1.25 or lower. At that stage, you can leave the market with a guaranteed profit. You could also place a lay bet on over 2.5 goals (or a back bet on under 2.5 goals) in a fashion that ensures you get a free bet. It increases your potential profit but also leaves open the possibility of winning nothing.

Int the example I had actually waited until around the 55th minute. The first goal went in on 60 minutes so I removed my risk from the market, when the second goal followed on 72 minutes, I was able to move profit on to both outcomes, while leaving the bigger potential return on Over 2.5 goals. The game finished 0-2 so I collected £75.00 profit.
---
– Splitting Your Stakes
In the likely event that a goal isn't scored soon after your bet, you will find yourself in a losing position. Experienced traders often split their stake in the knowledge that Time had a significant impact on prices once a goal is scored. For instance, let's say you back over 2.5 goals at 2.00 at kick-off. If the first goal is scored after 40 minutes, you may find that the price is very close to the pre-match odds.
---
– Choose Your Exit Point
It is essential to determine your 'escape plan' before entering the market. Otherwise, there is a danger of you losing your entire stake. In general, most traders begin their exit strategy after 60 minutes. You could also decide on a 'stop-loss' strategy. For instance, you leave the market when you lose 30%, 40%, or 50% of your original stake.
---
Pitfalls When Trying to Trade Over 2.5 Goals
– Ignoring Game State
Too many traders resolutely and stubbornly remain in the market even when a game shows no signs of life. If a match is 0-0 after 55 minutes with hardly any shots on goal, it is highly unlikely to burst into life. Likewise, it is potentially a mistake to exit in an end-to-end match.
Also, you are more likely to see goals in a game where a firm favourite is losing. For instance, Liverpool have shown a tendency to control game state when leading by a goal in a tricky game. However, they are more aggressive when losing a game, which means more goals are likely.
Remember, if you are trading (rather than betting), determine your exit point and stick to it. To help with the mental side of things, you should treat a loss in this scenario as a WIN because you have "Won" some of your original stake back by trading out, rather than staying in a bad trade and losing your full stake. It's these simple mental tricks that can make all the difference to a successful trader and one who is not.
---
– Going in Too Early
Unless the game involves a team known for scoring early (like Manchester City), it is unwise to make your bet right at kick-off. It is common for the price to increase by several ticks within the first 5-10 minutes. Yes, an early goal kills your potential wager, but you'll have dozens of more opportunities in the next couple of weeks.
By waiting for a much better price, you place yourself in an excellent position when a goal is scored. Again, stake splitting works well here. In some cases, there may be no goals at half-time, and suddenly, over 1.5 goals represent an excellent betting opportunity.
In the next part of our goal betting series, we'll show you in-depth the many ways that Predictology can help you bet and trade the over 2.5 goal markets. 
---
Want more?
> How to profit on the Under 2.5 goals market

> Using Artificial Intelligence To Find Winning Bets
---
We hope you enjoyed the first in our new series of ways to "Profit With Predictology". We'll be sharing more ideas in the coming weeks and if you've found a great way to profit on Predictology, feel free to share in the comments or in our private Facebook group here.
Not a member of Predictology and want access to these AI Predictions and more? You can get started here for just $1.