Football's Back! Your Quick-Start Betting and Trading Guide for the English Premier League – Part 1
The 2020/2021 English Premier League season has begun just 48 days after one of the longest seasons in history ended. We are releasing a host of guides to different leagues, and it made sense to begin with England. This guide was written before the season started, but it will have likely already begun the time you read this.
That's okay because, ideally, you will take a few weeks to get to grips with the respective strengths and weaknesses of each team. It is a season like no other with the possibility of every match being played behind closed doors, regardless of what Boris Johnson says!
This is an intriguing season because there are many questions to answer:
Liverpool comprehensively won their first title in 30 years, but will a lack of transfer activity cost them this time around?

Are the signings of Ake and Torres enough for Manchester City to make up the ground?

Will Chelsea's new attacking signings propel them into a title race, and will Kepa save a few shots?

Can Manchester United continue to win penalties, and can they mount their first title challenge in years?

Which teams are heading for the drop, and will there be any surprise packages such as Leeds United?
Let's see if we can make sense of the available data in this guide.
---
How to Profit from the English Premier League
The BIG issue we need to get to grips with is the impact of no home crowds on matches. Conventional wisdom suggests that teams will win a lower percentage of home games in empty stadia. When the German Bundesliga resumed, this theory was apparently confirmed with a slew of away wins in the early weeks. However, things reverted to 'normal' towards the end of the season.
In the English Premier League, the percentage of home wins fell by 1.4%. It dropped 1.6% in Germany, a similar level in Spain, but increased by 0.2% in Italy. Researchers from Reading University collated the above data.
The researchers suggested that home advantage is more about familiarity than having a noisy crowd behind you. Anyone who has attended an early morning or afternoon kick-off will also point out that the ground is quiet for about three-quarters of the game!
We have to remember that the data sample size is minimal. However, it already seems as if we can continue to rely on data from the last few years when analysing home advantage.
---
English Premier League – Home Win Percentage

Predictology members can see an enormous array of data at a glance, such as the percentage of home wins, away wins, and draws in a variety of leagues. The above screenshot relates to the English Premier League.
As you can see, the percentages are pretty constant across a full decade. A 46% home win rate shows that you can expect 4-5 home wins per round of fixtures on average, and only three away wins.
We can also tell you that the home team is ahead at half time and wins the match 27.7% of the time in the last ten years.
What you might find is that games between two evenly matched mid-table sides may only provide the home side with a slight edge. In reality, it should be significantly larger. Last season, for example, only Southampton gained more points away than at home. 13 of the 20 sides earned at least 0.4 points more per game at home than away. That equates to over 15 points across the season.
It is perhaps worth looking at sides you expect to finish in the mid-table area and look for value in their home games, especially against one another. Last season, Arsenal had 10 home wins and just 4 away en-route to an eighth-place finish. Ninth placed Sheffield United also had 10 home, and 4 away wins.
Yet you may find such teams priced at over 3.00 to win a home game against a fellow mid-table side. You might even get odds greater than 2.00 for them to beat a struggling side.  
---
Premier League Goal Betting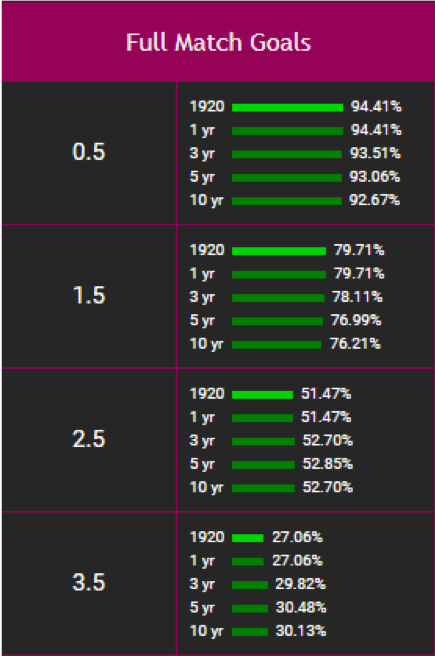 As you can see, the rate of goalless draws has decreased slightly in the English Premier League in recent times. Over the last 10 years, 7.33% of games have ended 0-0. However, just 6.49% of games have had no goals in the previous three years, and only 5.59% of last season's matches ended goalless.
The classic over 2.5 goal bet would win over 52% of the time most seasons but had a 51.47% success rate in 2019/2020.
You may also be surprised to learn that over 70% of games have at least one first-half goal, while 35% have at least two. Apart from games assumed to be mismatched, the bookies tend to price over 0.5 first-half goals at odds of between 1.30 and 1.40. You will likely get a few ticks extra on the Betfair Exchange. You can also expect the price to rise slightly within the first few minutes.
One possible angle here is to wait 5-10 minutes and place a bet on over 0.5 half-time goals. For the record, just 11.1% of goals last season came in the first 15 minutes. Almost 35% of goals came in the 16-45 minutes range.
Another tactic is to look at backing a goal before half time after the 31st minute. The last 15 minutes of the first half accounted for almost 20% of goals last season. Indeed, it was only 2.1% behind the last 15 minutes of a match in terms of goals scored. Remember, there is far more stoppage time played in the second half on average.
The odds of a goal being scored from 30:01 to half time is around 5.13, according to the data. However, you can increase your chances of winning by being selective with your bets. Logic states that you should look at strong teams that have finally taken control of the game. Last season, Liverpool outscored opponents 22-8 in the period before half-time. Man City managed a 20-4 scoreline in the same period.
---
Slow Starters in Both Halves
Another possible angle is to focus on teams with a penchant for being slow out of the starting gates. Last season, Crystal Palace scored just once in the opening 15 minutes but conceded seven times in that period. Wolverhampton were outscored 9-2 in the first quarter of an hour, while relegated Norwich and Watford sealed their fates with poor starts, being outscored 9-3 and 11-5, respectively.
Specific teams are also relatively slow at getting into the groove after half time too. Palace were 'beaten' 13-6 across the season in the 46-60-minute period, while Everton 'lost' 12-5 in the same spell. Newcastle scored 6 but conceded 13 last season. Norwich were appalling after HT, conceding 16 and scoring just 2!
Incidentally, Palace were outscored 13-5 in the first 15 minutes after half-time in 2018/19.
---
What About Corners?
The corner market remains a treasure trove for the savvy punter. Bookmakers have caught on a little and no longer offer the same lazy generic odds on each game. However, it is still possible to make money from the occasional bookie error. Last season, Manchester City, Liverpool, and Chelsea were the top three sides for winning corners. Newcastle, Norwich, and Watford won the fewest corners.
When a dominant home side faces a team looking to defend all game, it is arguably better to back the home side on the corner handicap than the goal market. You'll often see a situation where a team like Manchester City wins five corners in the space of five minutes.
Focus on the teams that take the most shots, but also pay attention to a team's style of play. Liverpool use the width of the pitch and try to get crosses into the box regularly, for example. They are also a dominant team in most games, so this combination can result in lots of corners.
You also need to look at the state of the game. If Liverpool are drawing or losing, they will obviously be more likely to win corners as they attack furiously against a packed defence. Man City have been a reliable winner of corners for the last few seasons, and this is unlikely to change.
---
Final Thoughts on the English Premier League Betting Angles
It is best to be cautious at the start of the 2020/21 season. Although the lack of a crowd may not play as much of a role as we think, most teams have had a less than ideal pre-season preparation. The likelihood of a few upsets in the first month of the season is arguably higher than usual.
One final point: The old saying suggests that we shouldn't look at the league table until 10 games are played. However, it is perhaps more accurate to take a peek after six matches. Since the introduction of the 38-game season 25 years ago, only three teams who were outside the top four after six games went on to win the league.
Also, at least one of the bottom three in the league after six matches have been relegated in all but two of the last 25 seasons.
Predictology members can check out English league fixtures at a glance along with our software's calculation of a team's chances of victory. You can use this data to see if there are value bets available.
---
English Premier League Summary
The loss of crowds will likely make little impact on home win advantage in the long-term

46% of matches are won by the home team, against just 30% by the away side.

It is common for mid-level sides to be underrated at home and overrated away by bookmakers.

Consider backing over 0.5 half time goals after waiting a few minutes to get a better price.

Focus on strong teams that are dominating the first half, and look to bet on a half time goal after 30 minutes have passed.

Look for teams that start slowly in the first half and second half for possible back to lay angles.

Bookies occasionally blunder in the corner market, so look at the respective strengths of teams and their playing styles.

At least one team in the bottom three after six games has been relegated in 23/25 seasons.
Access Part 2 of our Premier League Betting guide here
---
Want more?
> How to profit on the Under 2.5 goals market

> Using Artificial Intelligence To Find Winning Bets
---
We hope you enjoyed the first in our new series of ways to "Profit With Predictology". We'll be sharing more ideas in the coming weeks and if you've found a great way to profit on Predictology, feel free to share in the comments or in our private Facebook group here.
Not a member of Predictology and want access to these AI Predictions and more? You can get started here for just $1.