Advanced Strategies For Profiting On Under 2.5 Goals
In a recent article we took an in-depth look at how you utilise low scoring teams and low scoring games to maximise profits from the under 2.5 goals markets.
Today we are going to expand on this topic and look at some real world examples of how you can develop Profitable Under 2.5 Goal Strategies with Predictology.
---
Under 2,5 Goal Strategy Number 1 – Watch The Game And Scalp
I'd already ear marked the Montreal Impact vs Toronto game as a potentially low scoring one thanks to our AI Match Analysis Engine. I'd originally decided to implement a scalping method for this one.
However, I was a little late and missed the first few minutes of the game but that didn't deter me as the odds were, I felt, still very attractive at 2.20 and nothing in the early match stats indicated a cause for concern.
I opened a trade with a £40.00 back at 2.20
I then placed staggered lay bet requests into the markets and different odds points, gradually reducing my liability, with the intention to have removed all risk from the market by the 20th minute.

As you can see, following my £40 back, I then laid a proportion of my stake back at three different points
2.02 – £15.00
1.77 – £12.50
1.50 – £12.50
This left me with basically a free bet on Under 2.5 goals with less than 20 minutes gone.
---
Looking at the in-play statistics, it was clearly a low action game and under 2.5 goals looked likely early on, supporting the pre-matcha analysis.
In fact, we were able to reach half time without any shots on target whatsoever.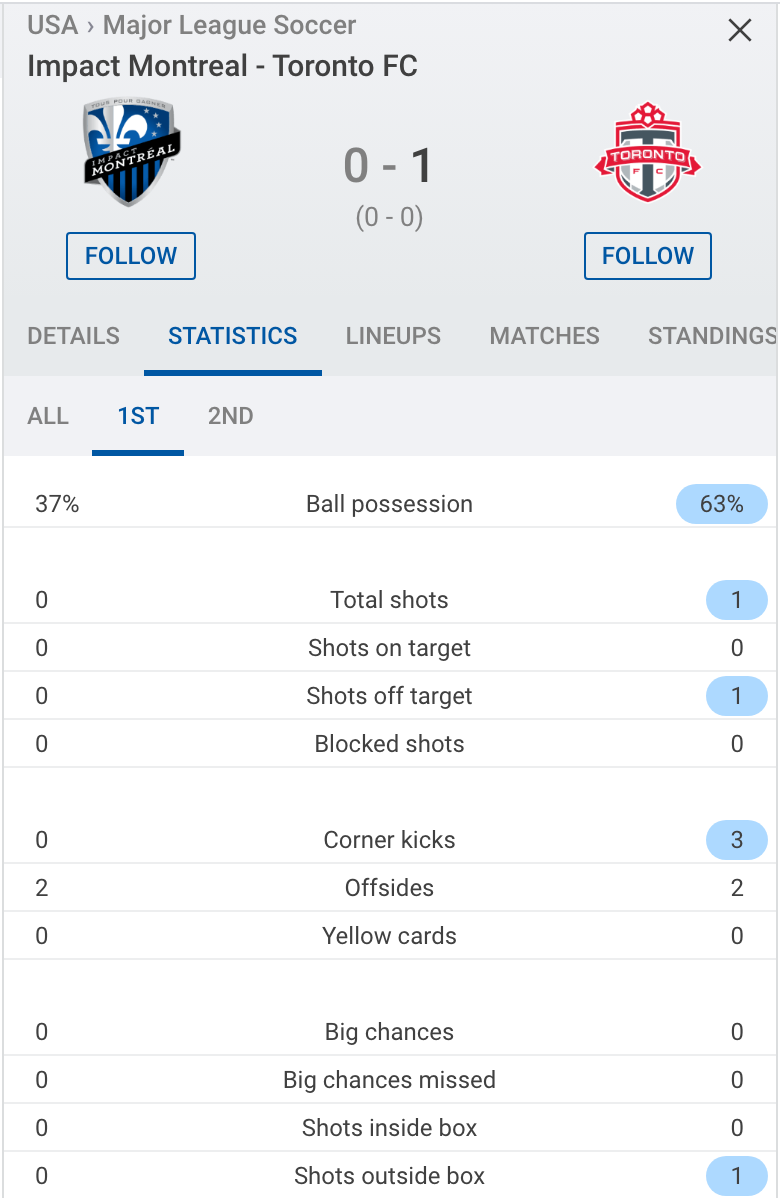 To be truthful, I could have stayed in this strategy much longer as the prospect of goals was low. However, I've learnt over the years to stick to the rules of your approach and not to deviate. So I was happy to be out of the trade on twenty minutes with a good chunk of green on the Unders, This meant that I could confidently move on to other trades and not worry about this one.
---
As it happens, Toronto did get a quick goal right after half time, so I decide to equalise my profit with a small back on Over 2.5

This left me with a guaranteed £12.03 (30%) profit no matter what else happened in the game. Not bad for 20 minutes work.
---
Under 2,5 Goal Strategy Number 2 – Develop A Strategy In Predictology
As we have mentioned in previous posts, with over 300,000 matches, 56 leagues and over 100 form and betting variables, there is almost limitless potential on the strategies you can develop and create inside Predictology.
For the purposes of today's article, I have put together a quick system example as a starting point to show how easily this can be done.
I've chosen English League Two to test my theory out as I have a feeling that it's a league that due to the varying degrees of quality, you are just as likely to see a game with a ton of goals, as you are one where the attacking play is lacking and the strikes can't hit a barn door.
In these lower leagues, the bookies can be quite lazy and price all the markets up in a pretty standard formualised, it's certainly not as efficient as say the Premier League, allowing those willing to do a bit more research to identify great value at times.
---
In terms of the actual system, I've decided to take the contrary route and looking for both teams to have a recent trend line for goals. It might seem counterintuitive to be looking for high scorers, but I feel, at this level, that consistency is perhaps the hardest thing to maintain and we could find the odds over backed based on recent form.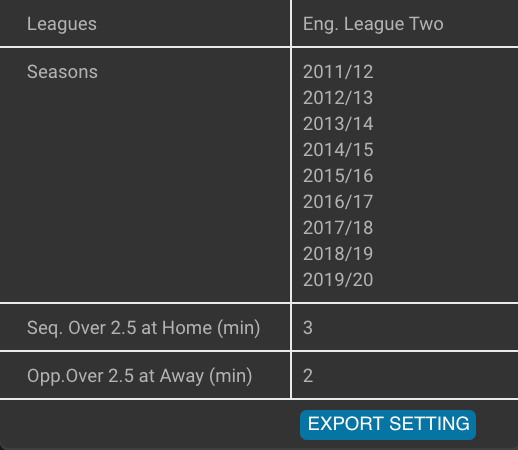 ---
After running the system on the platform, we quickly got the results back and it looks like my theory was correct – at least to a point.
Looking at the performance chart, we can quickly see that a few seasons ago this would have been a very profitable but perhaps the edge has been erroded in recent times. 
That said, this is purely meant as an example to give you ideas on how you can test and develop strategies. It also still retains real interest from a trading and scalping approach, as mentioned in point 1 above.
Things you could look at including or tweaking
Including other leagues

Play with the filters, perhaps 3 Over 2.5 goals for the home side is too many – or not enough

Consider adding another filter

Consider assessing the odds bands – perhaps we are only interested if the odds are above or below a certain level

Perhaps consider other markets like Over / Under 1.5 or Over / Under 3.5, or even betting the draw
---
Under 2,5 Goal Strategy Number 3 – Us Our AI Match Analysis Recommendations
There are a number of ways that you can use our Match Analysis and Recommendations to identify low scoring games, to  either straight back, trade or simply as a jumping off point for shortlisting games before monitoring the action live.
Strategy 1 – Utilise the Under 3.5 goal market
First, look to see if the recommendation engine has identified a game with having under 3.5 goals
Then check the correct score recommendations and ignore any which is recommending over 3 goals (E.g. 1-2, 2-1), plus the most dangerous scoreline of 1-1. 
In other words, that leaves you with 0-1, 1-0, 0-2, 2-0
If you had then backed Under 3.5 goals, you would have generated 29,62 points profit from the last 156 games, with only 19 losers (Strike Rate 88%)
---
Strategy 2 – Trade or Scalp the first half markets
Using the above strategy and applying it to the first half market. These games have averaged just 0.97 goals per game which is well below average. In fact, 60 of those games reached half time at 0-0, which is nearly 40%.
These games also average just 2.05 goals per game, which is again well below average.
---
Strategy 3 – Back / Trade The 0-0 Correct Score
As with Strategy 2, but you simply use the correct score markets instead. The pay offs are larger but do remember one goal will kill your bet or trade, where as in the Under 2.5 goals market, one goal is often not terminal to your chances.
---
Strategy 4 – Trade The Second Half
Of the games mentioned that reached 0-0 at half time (202 games), 167 of them will have 2 or less goals (83%). You could look to back Under 2.5 at half time or scalp the first 15-20 minutes of the second half.
---
Strategy 5 – Dutch The Correct Score Market At Half Time
This gets quite interesting when we have seen just one goal in the first half. If we understand the probabilities of goals in the second half we can dutch certain correct scores to generate a profit.
 – Goals In Second Half When 1-0 / 0-1 at half time
Total Games 223
0 Goals = 44
1 Goal = 64
2 Goals = 61
3+ goals = 54
From this we can easily determine that 76% of those games will have a maximum of 2 more goals. With this we can simply dutch the current score and a few additional scores around it that are within 2 goals of the current score.
You can then either let it run as a set and forget or trade out at a desired profit return at a certain point in the second half.
– Live Example 1
In this particular example, we were able to six scoreline's all within in two goals of the half time score. The match finished 3-0 to Houston and we secured a 37% return on our investment.
 – Live Example 2
It was 0-0 at half time between Atalanta and Inter Miami, we were able to secure five scoreline's and walked away with 25.5% ROI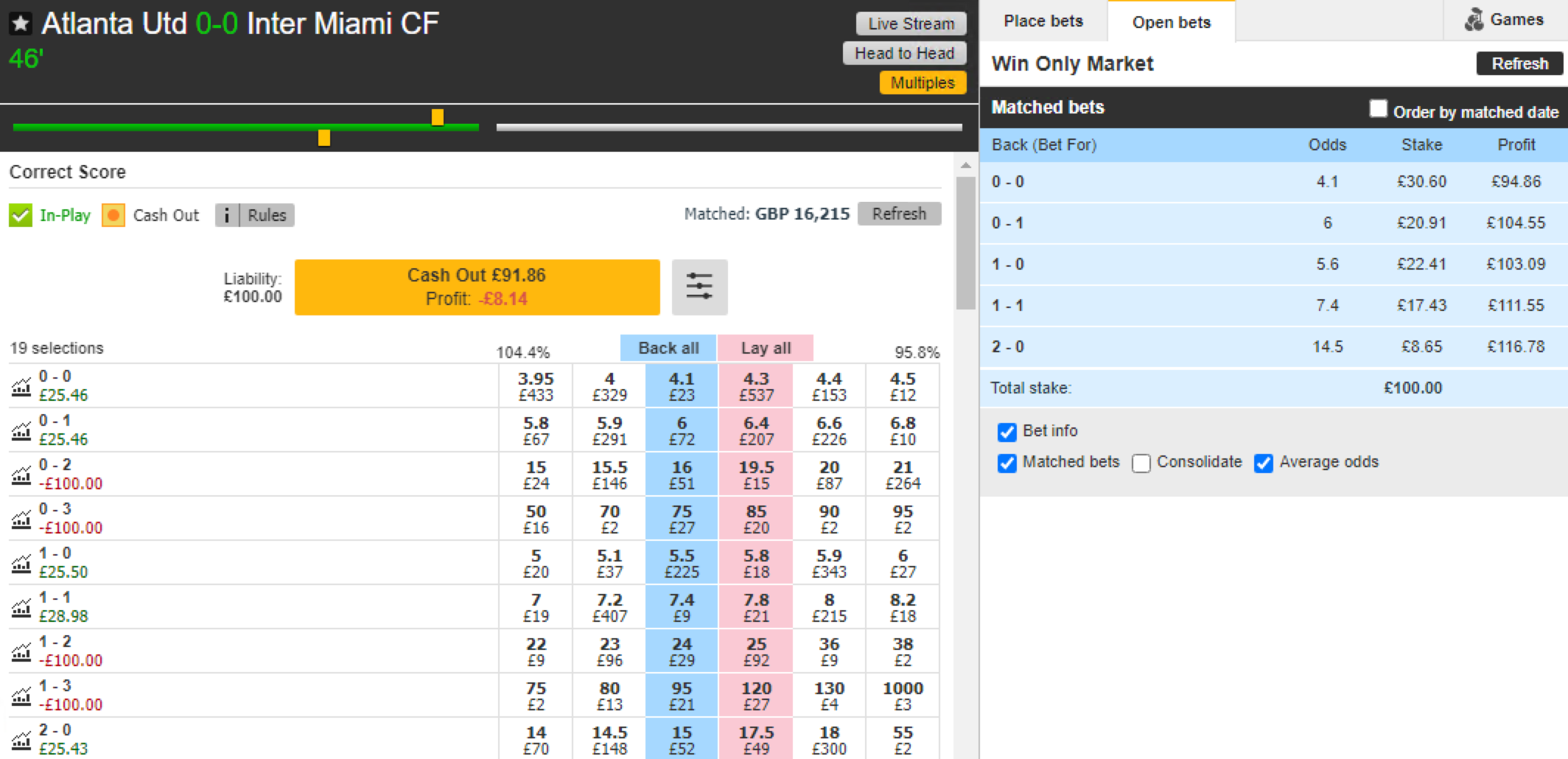 Needless to say, you can't just do this on any game at random. But by using the tools and insights provided by Predictology you can quickly narrow down your shortlist and when the right match and conditions present itself, you are ready to profit.
---
We hope you have enjoyed today's look at several advanced strategies for profiting from low scoring games and how Predictology can both help you find suitable matches, while also saving you hours of research.
Do let us know your thoughts in the comments box below and if there is a topic or market that you'd like us to tackle in future, let us know!
---
In the meantime, if you are looking for more ways that you can "Profit With Predictology". you can check out the first of Profit With Predictology posts right here.
Not a member of Predictology and want access to these AI Predictions and more? You can get started here for just $1.