A Gentle Introduction to Predictology's System Builder
From the Author:

I joined Predictology a few months ago and, probably like a lot of you, I'm still learning new ways to use the platform every day.

As I'm a writer by trade, Jon and the Predictology team asked me to share some of own experiences with Predictology, and a guide to how to use all the many tools and features through the eyes of a member.

I was delighted to this because it has given me the extra impetus to test more ideas out, while I also hope that by doing these guides, I can help other members benefit and profit more from their Predictology membership.


See my first post here and learn how I recently picked up a 77/1 winner thanks to Predictology.
---
I have an unashamed love of data analysis in sports betting. Time constraints mean I am sadly unable to develop nearly as many strategies as I would like. Now and then, I use Horseracebase.com and GeeGeez Gold to search for horse racing systems.
Imagine my joy when I discovered I could do the same for football with Predictology. The main challenge is to try to limit the amount of data I look through! In this guide, the goal is to provide you with a brief introduction to the System Builder function and show you how to use it.
---
Winning Systems Made Simple
Once you become a member, click on the 'System Builder' tab on top of the screen next to the 'Home' tab.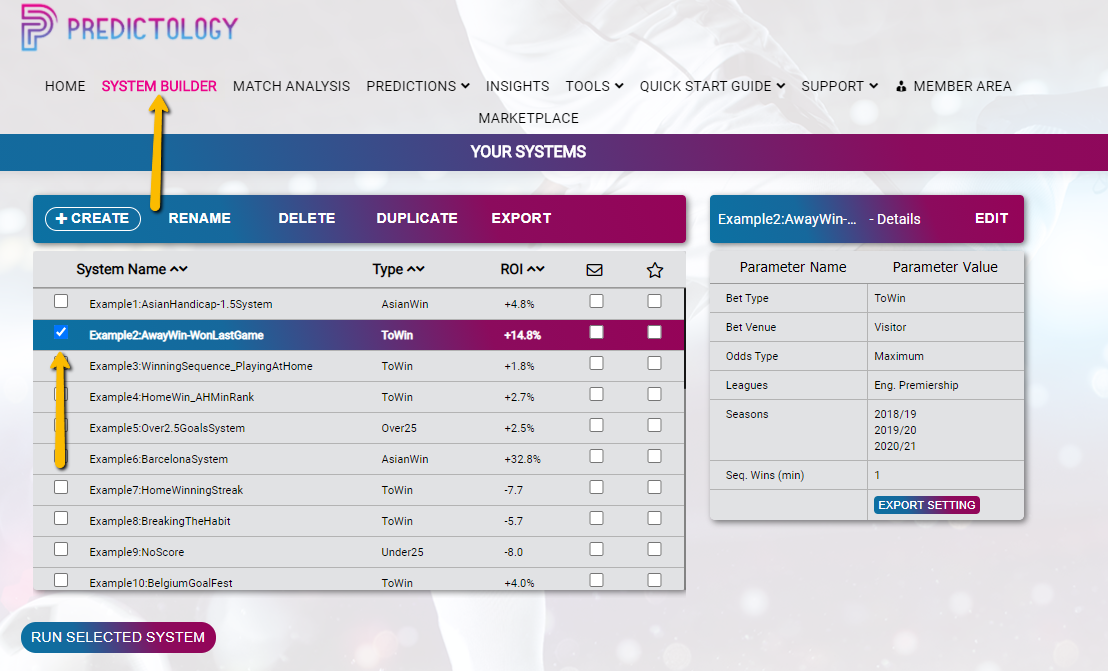 You are greeted with the above screen. Jon has put together dozens of systems for you to analyse, update, edit, and test.
Let's take a look at Example2: This relates to the record of away teams who won their last game. The pre-set version focuses on six leagues, Europe's 'Big 5' and the Portuguese league. The original parameters look at the 2014/15 and 2015/16 seasons, so it is necessary to change them as I have done above.
Click on the 'EDIT' button above the Parameter table.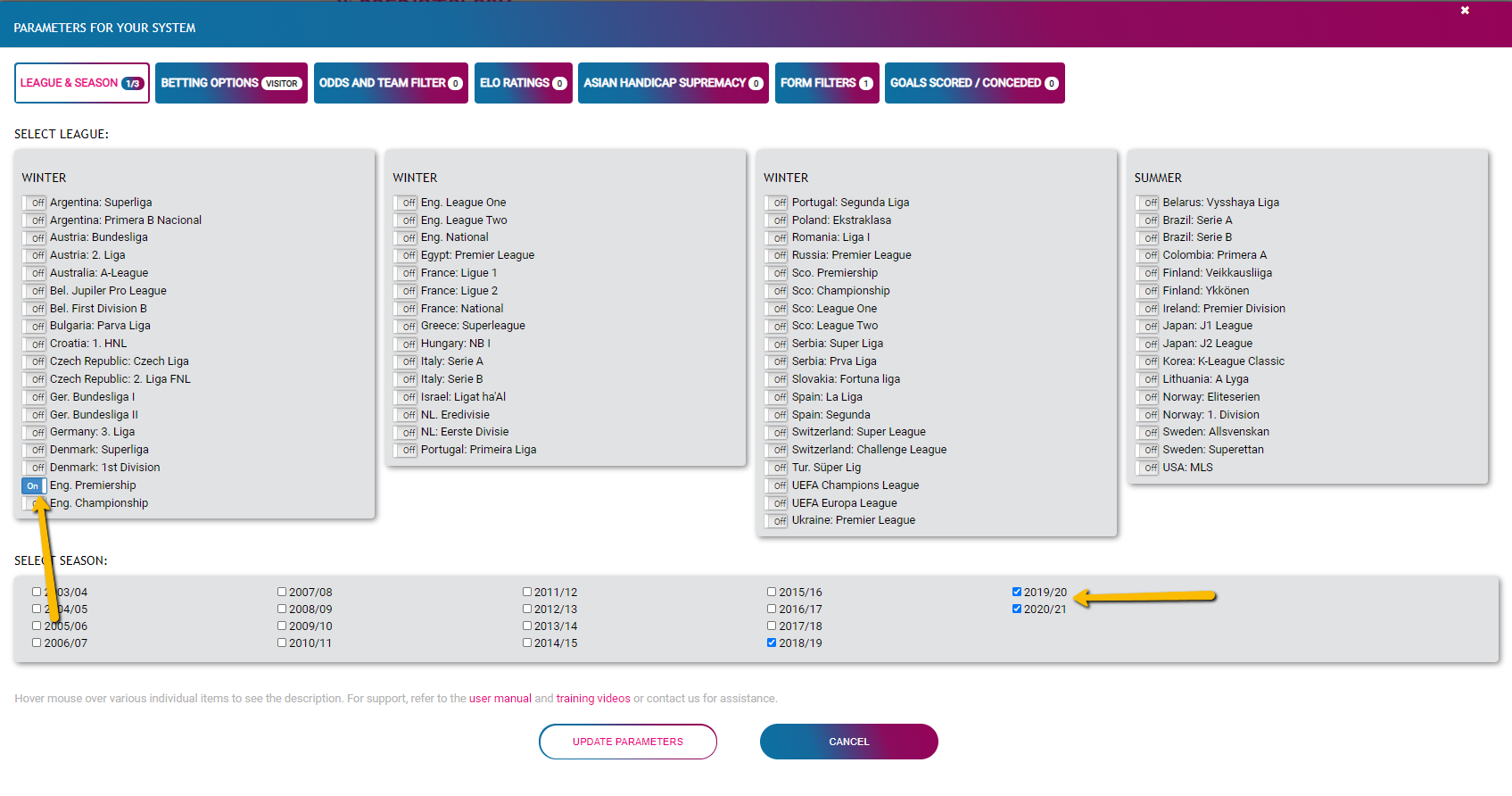 A rather substantial set of data greets you. You can include any league you want from the dozens above and go back to the 2003/04 season. There are also six other tabs, which we may focus on in future articles.
I decided to see what the data says about English Premier League teams playing away from home after a win. I also kept it simple by only going back to 2018/19.
Click 'Update Parameters' when you are finished.
When you are back on the main page, click 'Run Selected System.' Scroll down to see the results. In this case, the system provided a 43.6%-win rate, coupled with a unit profit of 51.16, and an ROI of 14.8%.
On the right-hand side, you can see a chart which outlines the growth of the profit. This visualisation is invaluable. When I create horse racing systems, I'm always looking out for large priced winners providing a false view of the system's capabilities. A 40% ROI may look impressive until you realise that three-quarters of the profit is down to a couple of 40/1 winners.
Long odds winners are always welcome and bring a great degree of joy. However, they also mask a system's flaws. You can't rely on a system that only profits due to long shots. From the graph above, you can see a few sharp upturns. One involved Wolves winning at Manchester City, which accounted for a 26-point increase.
Therefore, just one of the almost 350 bets accounts for over half the profit. With Predictology, you can analyse the graph to watch for these spikes. The ideal graph will show one of a steady upwards trend with few long-term downturns. Of course, it all depends on your risk appetite.
---
Upcoming Selections & Historical Results
Scroll down a little further, and you have the chance to see potential selections and the available odds. You can also see how bets have fared in the past. This is an excellent opportunity to determine if your system is on a hot streak or not.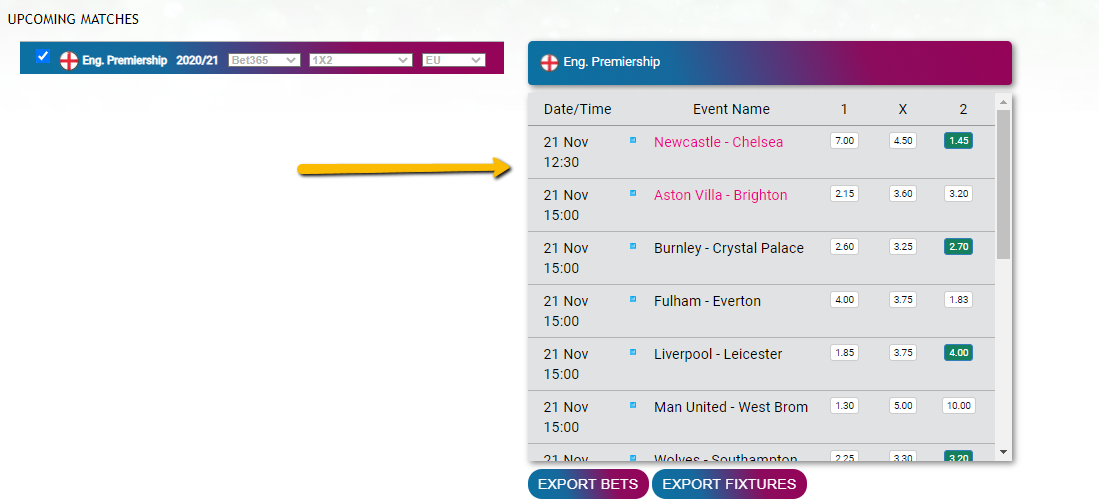 We can see that Chelsea, Crystal Palace, Leicester, and Southampton all fit the parameters. Of course, it is up to you to perform any further research, such as team form, injuries, etc. On paper, at least, each bet has merit:
Chelsea look better than they did early in the season, and Newcastle are performing poorly.
Liverpool's defence is in tatters with injuries, and Leicester have the quality to take advantage.
Burnley are really struggling, although Palace's recent form is also poor. However, 2.70 arguably represents value.
Southampton are flying at present, and Wolves are very inconsistent.
Click on the 'Export' tab to download a spreadsheet with the selections.
At the bottom of the page, you can analyse the results on a season by season basis. You also get to see the historical results as you see fit. I elected to see what has happened this season. To date, this system has yielded a profit of 26.26 units. This is mainly the result of Palace's win at Manchester United and Leicester's win at City. They combined for a profit of 18 units.
This system clearly offers the chance to benefit from a big win now and then but has lengthy losing streaks.
---
Final Thoughts on System Builder Introduction
Before using Predictology's System Builder, you need to determine your needs and expectations. Those looking for a steady bank builder must focus on a low odds system that provides a high win rate and short maximum losing streaks. Realistically, you should seek a system with a win rate of over 70%.
Conversely, individuals with a higher risk tolerance may be happy to choose a system such as the one outlined in this article. You endure long winless streaks, but the occasional big win keeps you in profit. Such a system requires the right psychology lest you get fed up and quit!
In subsequent articles, I will show you how to create a system with a high win rate. I will also look for a system to cater to punters who like a bit of risk.