A question we receive quite frequently here at Predictology HQ from members is how to incorporate league placings into betting systems.
There is some debate around whether league placings can aid or hinder your efforts in finding winning bets. For example, this excellent article from Betting Metrics attempts to tackle this particular topic head on. Conversely, the system below was created in Predictology was built focusing on Points Per Game (PPG) which in effect is a way to incorporate league placings into a betting strategy.
| LEAGUE | SEASON | PROFIT | ROI | WIN % | ODDS |
| --- | --- | --- | --- | --- | --- |
| Total | Total | 37.73 | 27.7% | 41.9% | 3.39 |
| Bel. Jupiler Pro League | 2017/18 | 10.61 | +117.9% | 55.6 | 3.82 |
| Ger. Bundesliga II | 2017/18 | 0.20 | +3.3% | 33.3 | 3.76 |
| Eng. Championship | 2017/18 | 6.50 | +22.4% | 37.9 | 3.63 |
| Eng. League One | 2017/18 | 6.80 | +30.9% | 36.4 | 3.47 |
| Eng. League Two | 2017/18 | -1.02 | -4.1% | 36.0 | 2.94 |
| Eng. National | 2017/18 | 9.48 | +37.9% | 44.0 | 3.40 |
| Sco. League Two | 2017/18 | 5.06 | +38.9% | 61.5 | 2.71 |
| Tur. Süper Lig | 2017/18 | 0.10 | +1.4% | 42.9 | 4.18 |
That said, there are good points raised in the above article and, as usual with these things, the truth lies somewhere in the middle. But the point of today's article is not whether you should use league placings or not, but rather how you can consider doing this with Predictology.
Firstly it is NOT possible to use direct league placings in the system builder, it's not a metric we have currently available in the system builder (although it is something we will consider in future. However, this is another route we can use to approach this and we feel it is more beneficial metric:
Points Per Game (PPG)
In the system builder if you look under "Odds and Team Filter" you will find an option for choosing 'Average Points' and this can be either set as your selection or their opponent.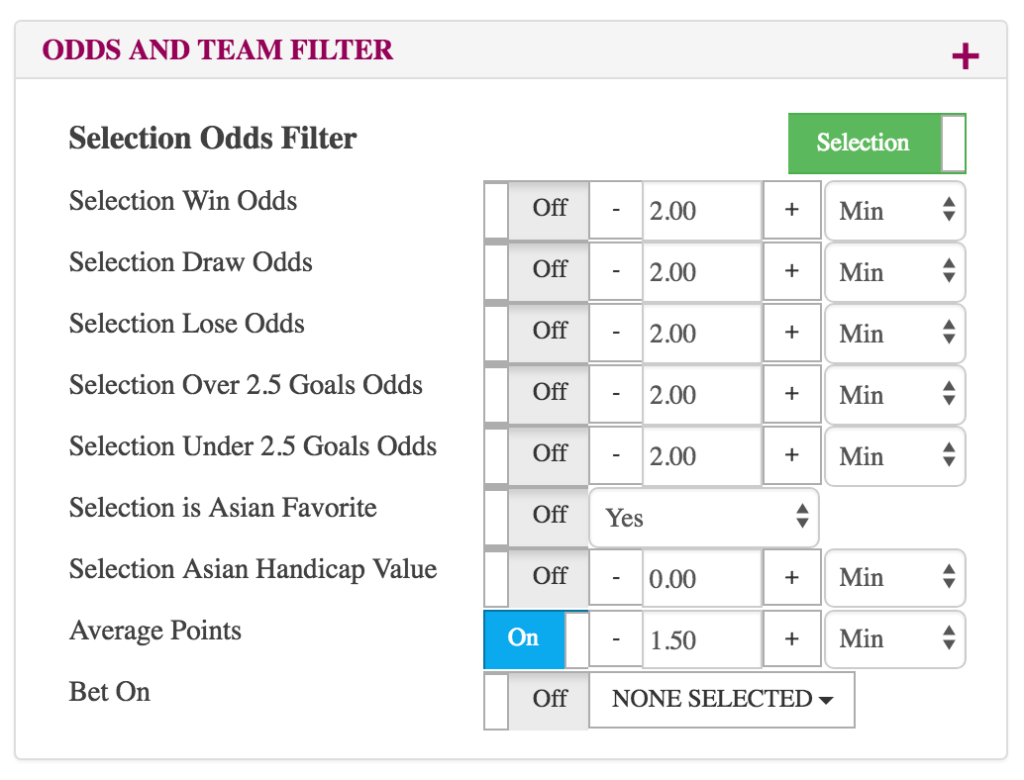 Using this feature allows you to filter teams by their average points achieved over the current season. Loosely speaking you can now filter teams by top six, mid table and bottom six.
A rough rule of thumb to use here is
Any side getting 1.8-2.00+ points plus per game is going to be top or close to the top
Any side picking up 1.0 point per game or lower on average is going to be in the relegation places or near the bottom
With those sitting between those places will be roughly in the middle of the table
English Premier League Table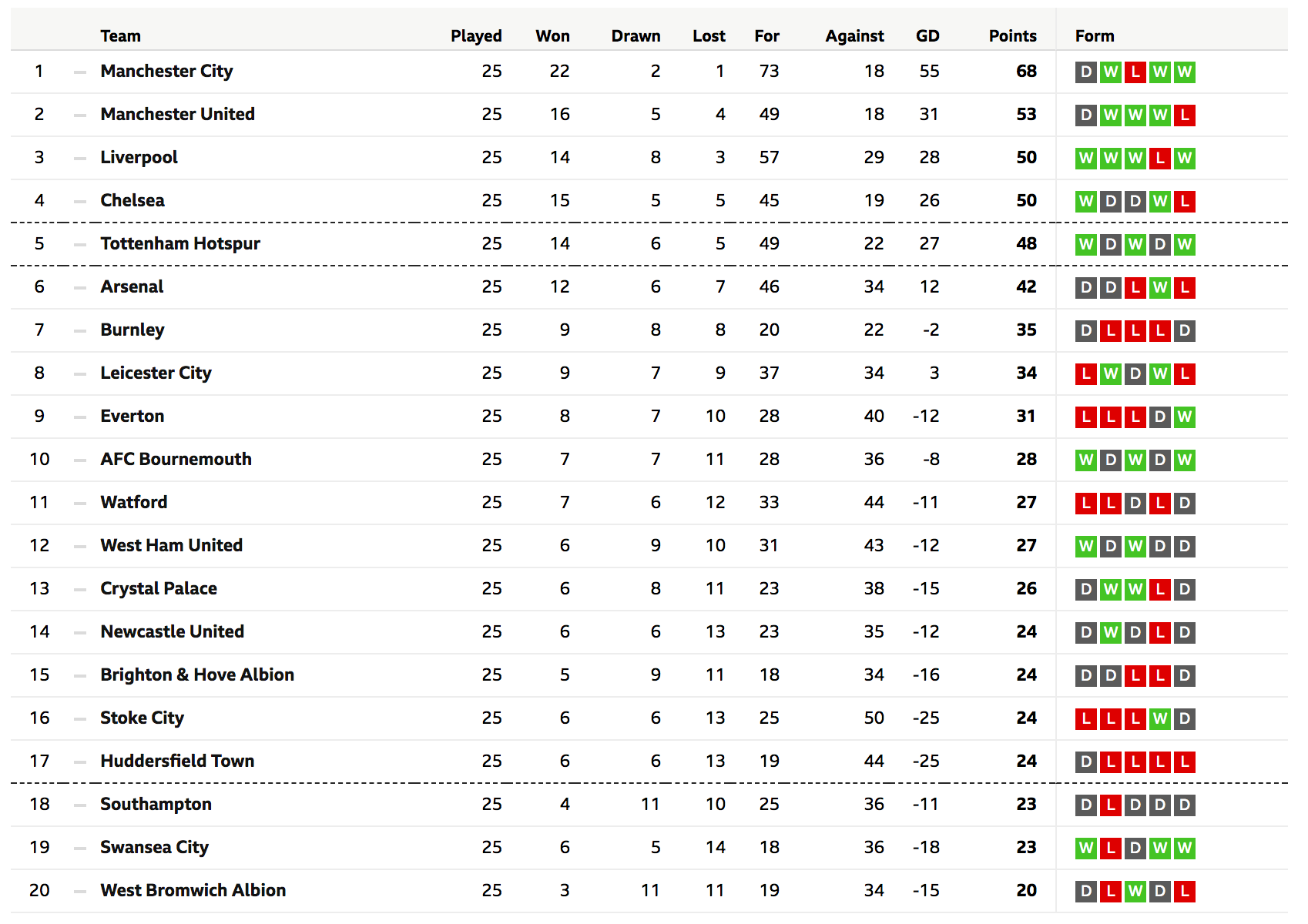 1.80 pts multiplied by 25 games gives us anyone on 45 points or higher – Tottenham to Man City
1.00 pt per game after 25 games would give us any side on 25 points or less – Newcastle in 14th to bottom placed West Brom
La Liga Table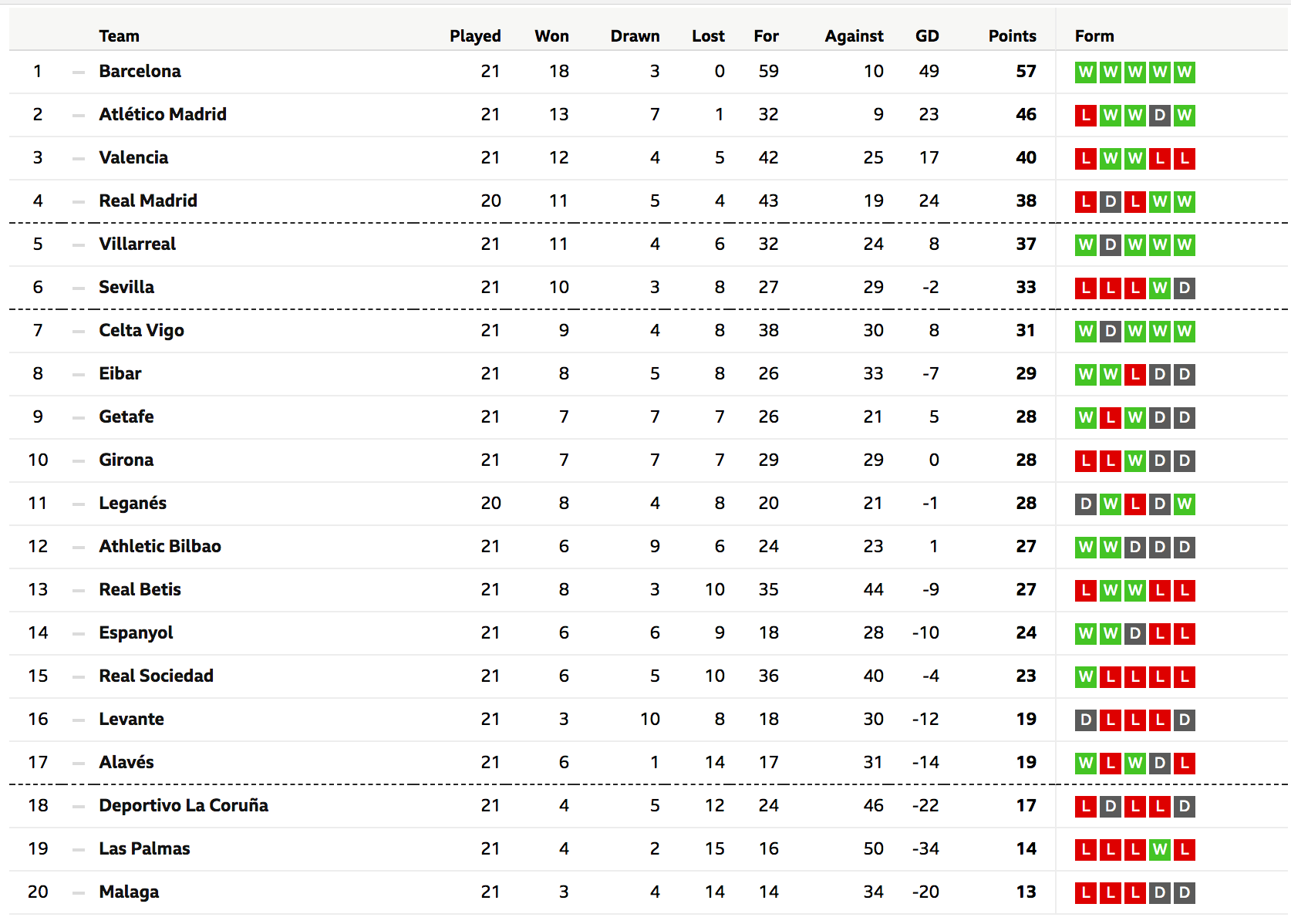 1.8pts per game gives us 3rd place Valencia and up and with a slight adjustment would also include Villarreal and Real Madrid
@1pt per game, we would see 16th placed Levante through to bottom placed Malaga
So as you can see, by using these rough Points Per Game metrics we can easily slice up the league table to identify teams by groups of league positions to include in our betting systems.
---
Predictology Q&A
We have started doing an email Q&A session regarding the Predictology platform and service, so if there's any questions you'd like to ask about Predictology, our ratings, our own betting philosophy or how you should go about building a successful betting model, or simply anything that we do in general terms (e.g. ideas, complaints, things you'd like to see, etc) then just drop us an email.
The best questions and answers will be turned in to blog post such as this one for all to benefit from. So if there's anything you've ever wanted to know but perhaps felt like it was a silly question, were being a nuisance, or didn't think we'd want to help – now's your chance, don't be shy!
We'll aim to answer 2-3 questions each week and hopefully, over time, that means we can cover a lot of ground, while simultaneously improving your experience and understanding of Predictology, Building Betting Systems and Football Betting in general.
Simply send us an email or a message on our chat system which you can find in the bottom right of this (or any) page on Predictology.
---
Predictology
We have created an incredibly powerful new betting platform which gives you all the tools you need to create your very own football betting systems!
By becoming a member of Predictology you get instant access to the following:
Over 200,000 matches and growing…
22 leagues covering 10+ seasons… and we are adding more leagues all the
time
Run and test systems in seconds with our custom built server
Assess over 100 variables, criteria to build the perfect betting system
Auto bet alerts – one email per day with all of your selections from all of your systems
1-click betting – place your bets straight from the Predictology platform
A full video guide series which will make you a system building expert in not time at all
Three custom rating models for you to use
Value tracker reports – we will tell you the matches the bookies have priced wrong every week in one simple report
10 week playbook which shares some of our own most pro table betting systems
And much, much more