Football Betting Sequences – Profiting From Hot & Cold Teams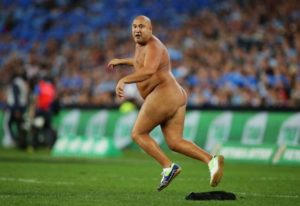 Hot Or Not – When Should You Bet?
Few elements have a bigger influence on sport than confidence. Unfortunately, no-one has found a way to bottle it yet. But the self-belief that comes from a positive run of results can create massive momentum for any team.
And momentum results in streaks of form. When a team gets on a roll, they can rack up a string of positive results, and when there is a dearth of confidence it's sometimes hard to see where the next positive result is coming from. (We're looking at you Mr Pardew)
There can be no better illustration of this principle than the recent form of Barcelona, with the Blaugrana having gone 39 matches unbeaten recently, before … being brought back to earth by, none other, than Real Madrid in the most recent Classico.
Thus, betting on streaks can really pay off in football betting systems. Once a team gets going, they often can't stop winning and scoring, and once a team is in a slump, they often rack up the defeats and the goals dry up completely.
With this in mind, Predictology enables punters to assess the prominence of streaks across a wide variety of betting categories, enabling you to tap into historical data and establish betting patterns. In this guide, we'll walk through some of the most popular and relevant streaks and sequences markets for you to keep an eye on.
We also have a full list of all the current win sequences, hot streaks and cold losing runs for you to view at any time – Our table of football betting streaks can be found here.
Winning, Drawing & Losing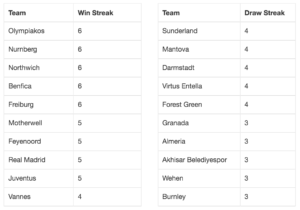 The simplest of streaks is quite simply…is a team winning, losing or drawing consecutively? These can be relatively rare, quite simply because there are three possible results in football. Whereas tennis players often rack up streaks of wins or losses, such streaks are significantly less common in football. But Predictology carries all the data across multiple divisions to enable you to identify such trends.
Winless & Unbeaten
Streaks of this nature are much more likely to happen, simply because they involve two possible results as opposed to one. Barcelona just went on a 39 match unbeaten streak before losing to Real Madrid, while teams mired at the bottom of league tables frequently go significant amounts of time without winning. Again, it is easy to recognise such streaks and predict the likelihood in the future with Predictology.
Under 2.5 & Over 2.5
These two particular streaks refer to the number of goals being scored in games involving certain teams. It should be said that under 2.5 probably rather more commonly appears in straks than over 2.5, as even the most attacking teams will struggle to continually participate in games where three or more goals are scored.
Scoring & Conceding

Some football teams have an ultra-aggressive style of play, while others play tight at the back. Thus, there can be streaks of teams scoring regularly and not conceding for some time, and again this data is all included in Predictology.
Goals & Shot Accuracy
Finally, one of the most telling categories of statistics in football is shot and goal accuracy, as the ability of teams to convert a high percentage of chances often correlates strongly with success.
This is one statistical category that is difficult to monitor without a specialist application such as Predictology, as it is extremely tricky to acquire accurate data, and it's absolutely impossible without some sort of diagnostic tool. But yet there can be strongly identifiable patterns in this category, with counter-attacking teams, in particular, prone to accumulate particularly high goal and shot accuracy percentages.
This may be a rather rare category to bet on, but can be one of the most profitable when executed wisely.
And there are many other options at your fingertips whenever you need them with Predictology as well. So this is just the first of several ways that you can assess the prevalence of streaks with this sophisticated software. In our next blog post, we'll look at another.
Ready to take your Football Betting from Punt to Investment?