Predictology – Predicting The Game
Predictology is one of the most advanced betting platforms on the planet. A bold statement? Well, this software has produced some incredibly powerful betting systems, combine that with the ability to create your own and you've got something very unique. If that wasn't enough, you can also gain access to a ready-made portfolio of profitable systems. 
Cutting To The Chase – The Deal
Normally, a membership to Predictology costs only £37.00 per month.  
For a further £97, you can then upgrade to access our 8 Premium Strategies (that's just £12.13 per system).
For a very limited time, you can access our 8 Premium Strategies AND receive 3 Months FREE access to Predictology for just a one-off £97.00 payment.
You Can Check Out All Of The Results Here
---
8 Premium Betting Strategies = A Ready-made betting portfolio
Predictology provides a whole suite of tools to help you develop profitable betting strategies BUT that is not what we want to talk to you about today.
For many, the prospect of building and managing their own strategies can be a little daunting or they simply don't have the time to sit down and come up with ideas and strategies that they want to test.
Today, we want to solve that problem by drawing your attention to an underutilised area of Predictology. 
---
"Just give me the tips"
As a Predictology member, you instantly get access to 14 profitable betting strategies.
That's right –  from the get-go, as soon as you log in, they are sitting there, ready and waiting.
You can literally be placing your first winning bets within a few minutes of signing up.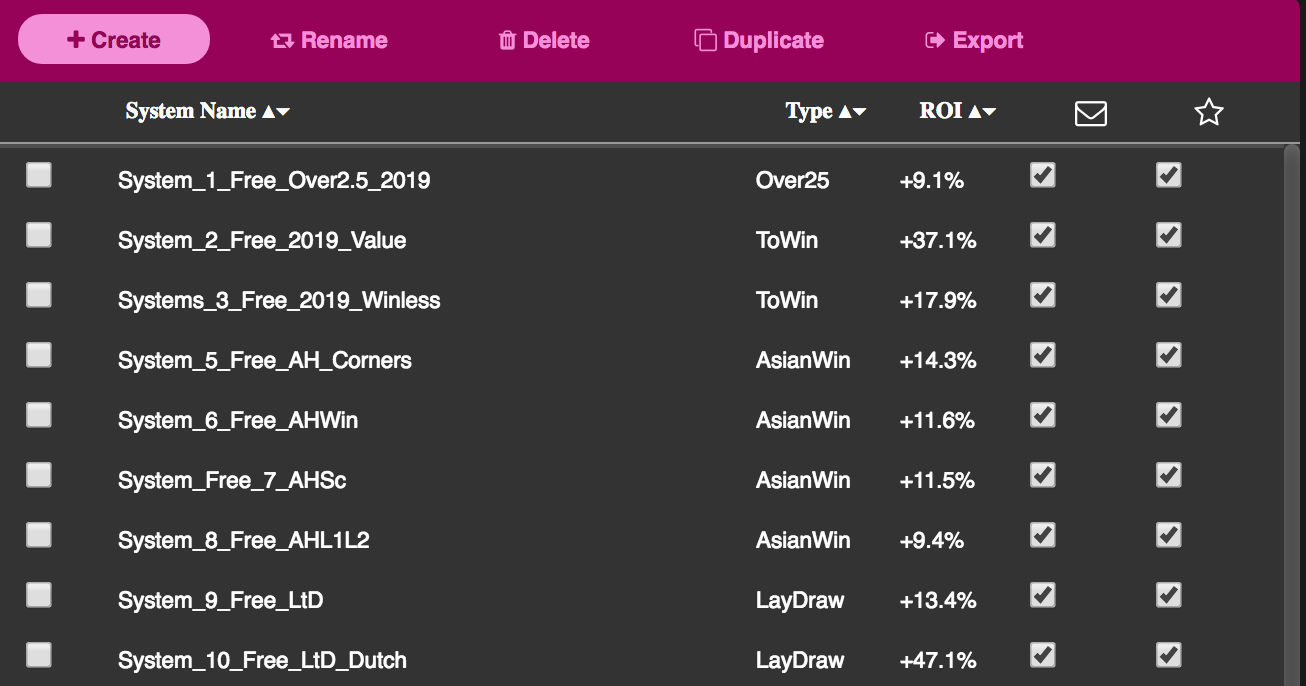 They are really easy to use and just by adding a couple of tick boxes, they will run on auto-pilot for you, delivering you the latest selections either to your members page or to your inbox: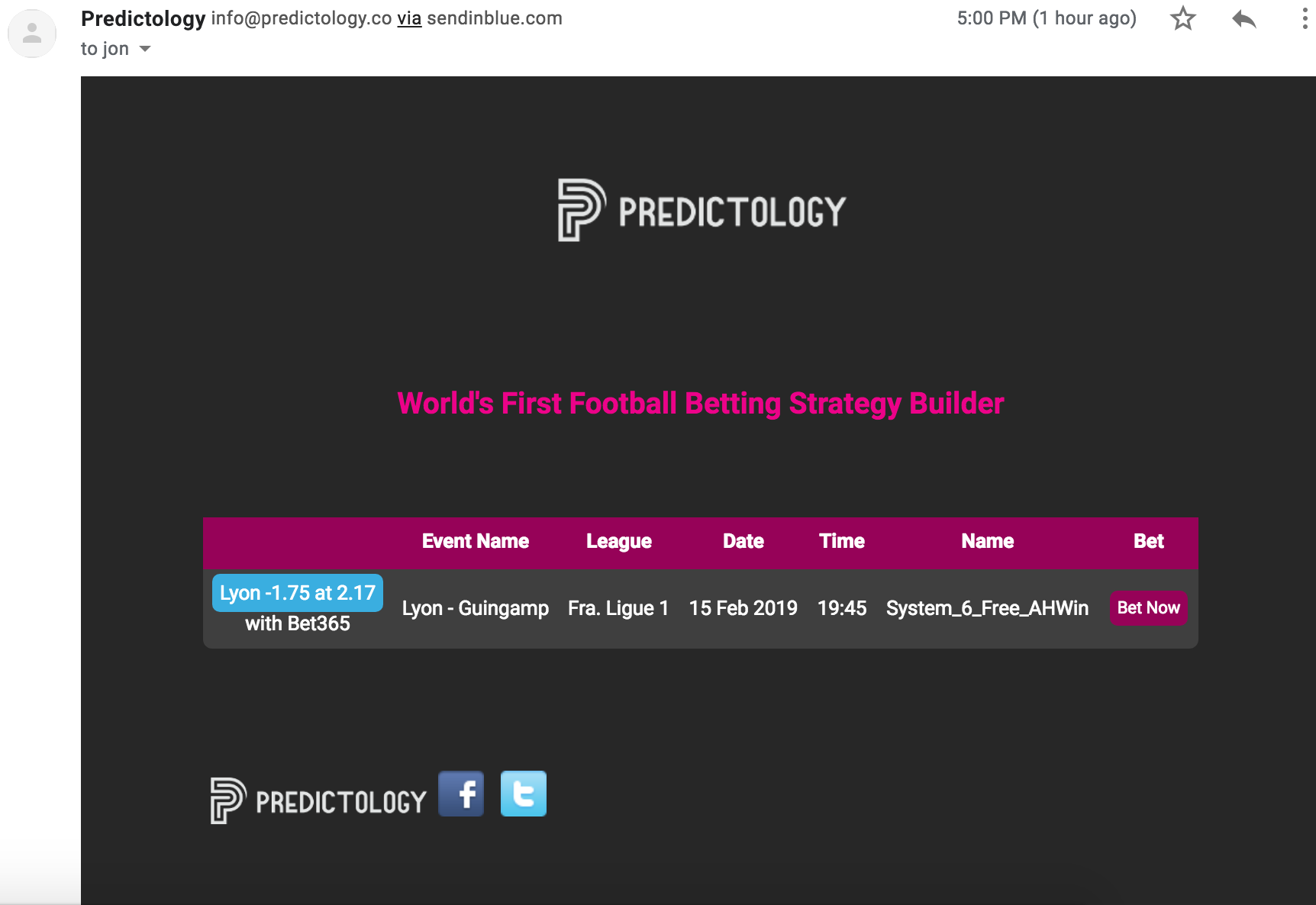 As a starting off point, these systems are fantastic value and a great thing to have in anyones betting locker.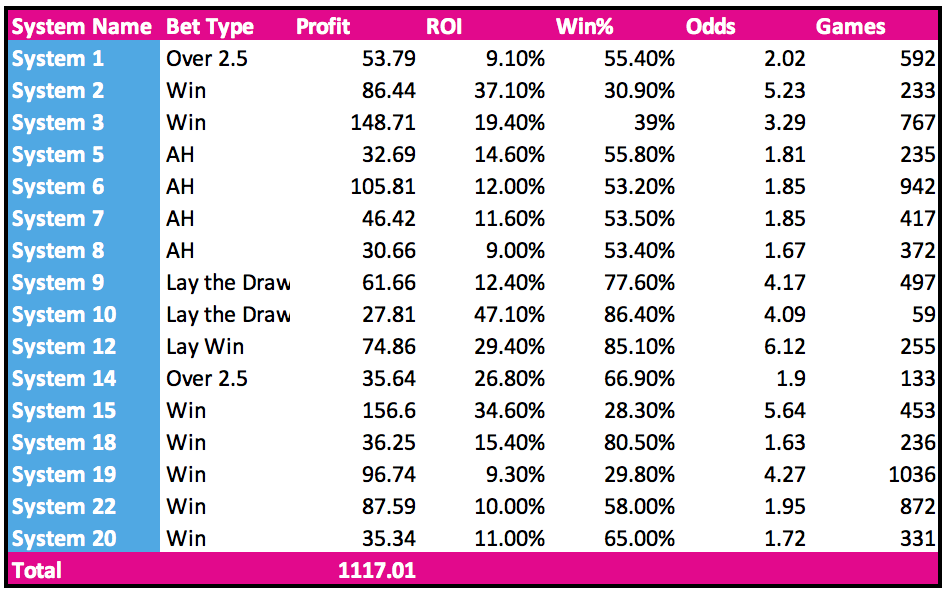 These systems are what we call "micro-strategies" which means, individually, they are profitable but produce a low volume of bets. Put them all together and you have a decent amount of action, every week. 
Go Premium – Make More Money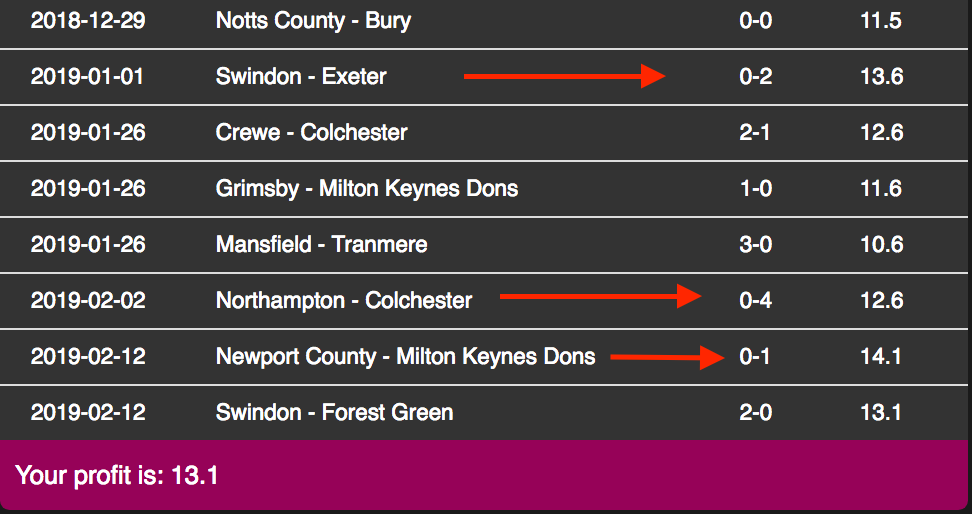 You Can Check Out All Of The Results Here
---
Predictology
We have created an incredibly powerful new betting platform which gives you all the tools you need to create your very own football betting systems!
By becoming a member of Predictology you get instant access to the following:
Over 200,000 matches and growing…

22 leagues covering 10+ seasons… and we are adding more leagues all the




time

Run and test systems in seconds with our custom built server

Assess over 100 variables, criteria to build the perfect betting system

Auto bet alerts – one email per day with all of your selections from all of your systems

1-click betting – place your bets straight from the Predictology platform

A full video guide series which will make you a system building expert in not time at all

Three custom rating models for you to use

Value tracker reports – we will tell you the matches the bookies have priced wrong every week in one simple report

10 week playbook which shares some of our own most pro table betting systems

And much, much more