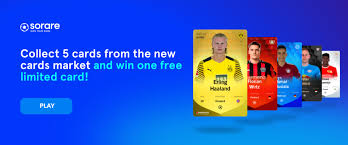 Access Live Scores, In-Play Stats and Instant Bet Alerts
Over recent weeks we have quietly launched an exciting new feature into Predictology which incorporates Live Scores, key in-play statistics, and perhaps, most importantly, bet alerts.
Bet Alerts
From now on, whenever you are anywhere within the match engine section of the site, you will have easy and instant access to your latest bet alerts.
Main Match Analysis List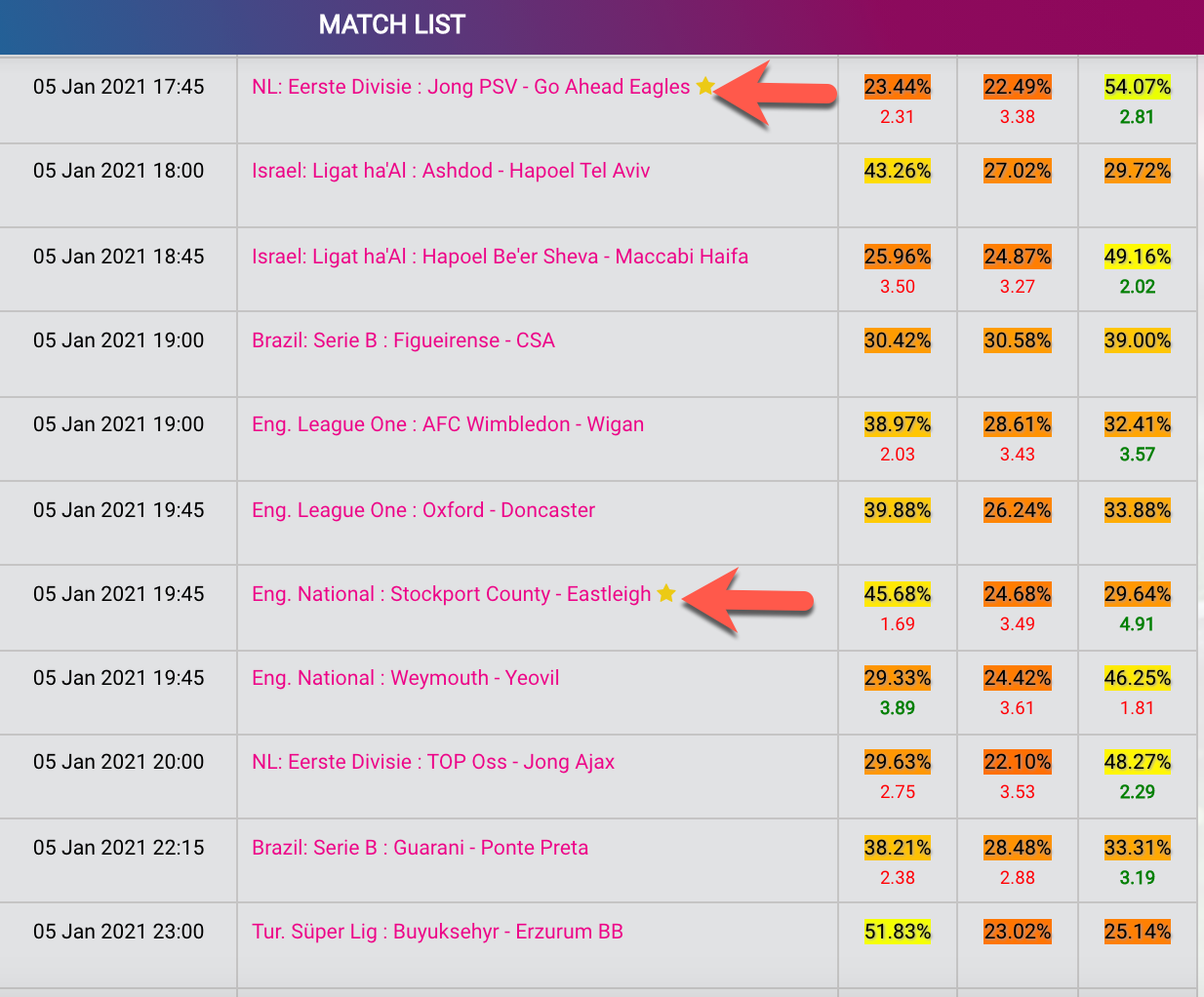 ---
Individual League Pages


---
Live Scores
---
Where ever you see the gold start, you can simply click on the match in question and it will take you to the match details page where you will three tabs (four if it is live).
On the Form Tab (Red Arrow) is where you will find your standard form information plus the AI Value Recommendations for the match.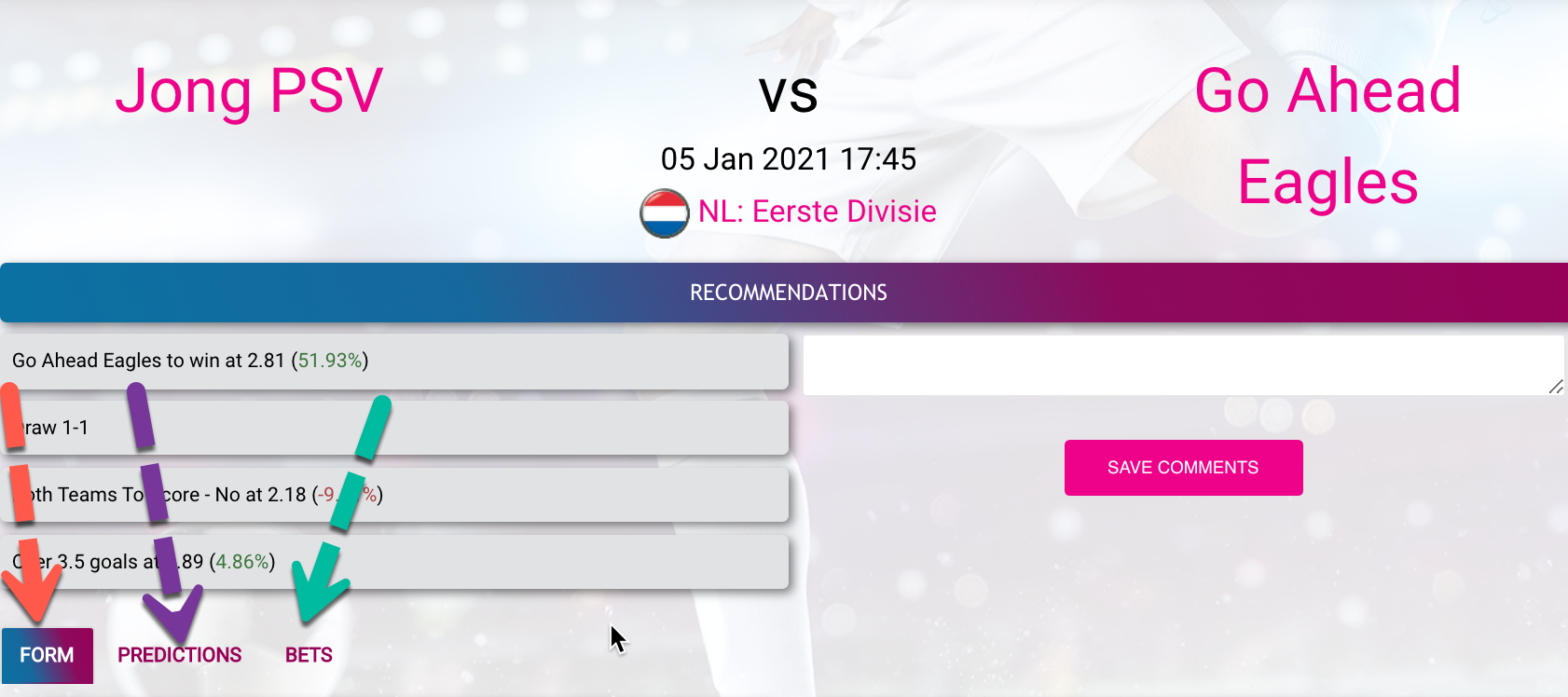 The Predictions Tab (Purple Arrow), contains all the in-depth market and goal analysis for the game.
While the third tab (green) is our new instant bet alert tab.
If one of your systems or one of the member systems we provide has got a recommendation, you will instantly be able to access it from this tab.
So as you can see in the example above, for Jong PSV vs Go Ahead Eagles, three of our systems have generated a recommendation for this game. Two have advised laying the draw, while the other system has recommend a home win. A LTD or a Lay of Go Ahead Eagles seems to be the angle here.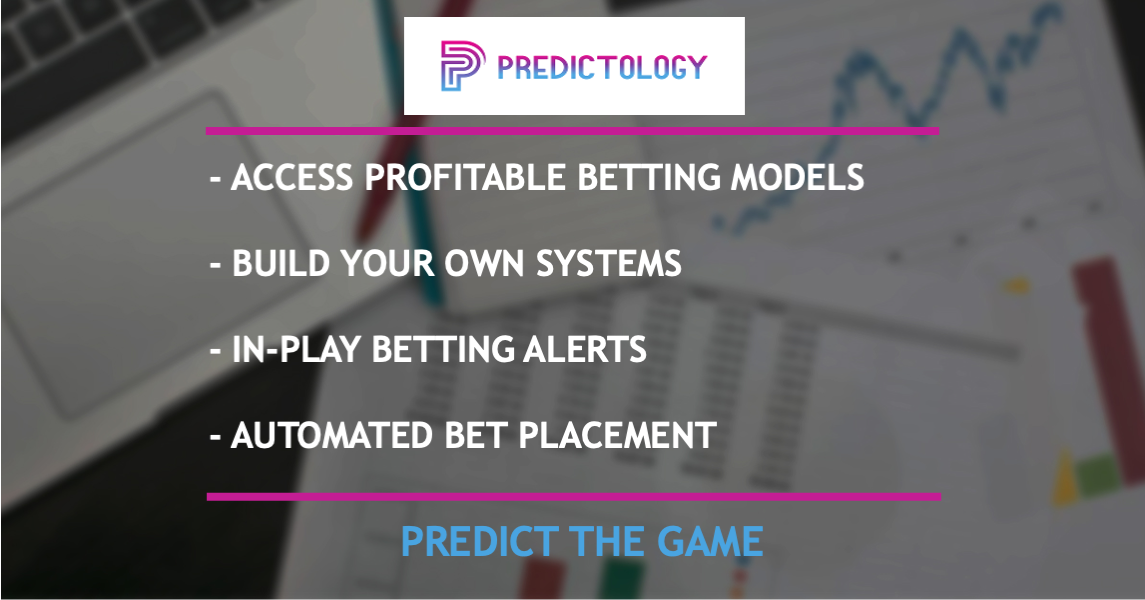 ---
Live Example
I want to show you just how powerful (and a massive time saving this can be) a feature this will be for you.
It was late in the day but I wanted to get an example for you ready for this post, so I decided to fire up Predictology to see if there were any opportunities.
I headed over to Live Scores and I could see there was a game in Argentina had just kicked off.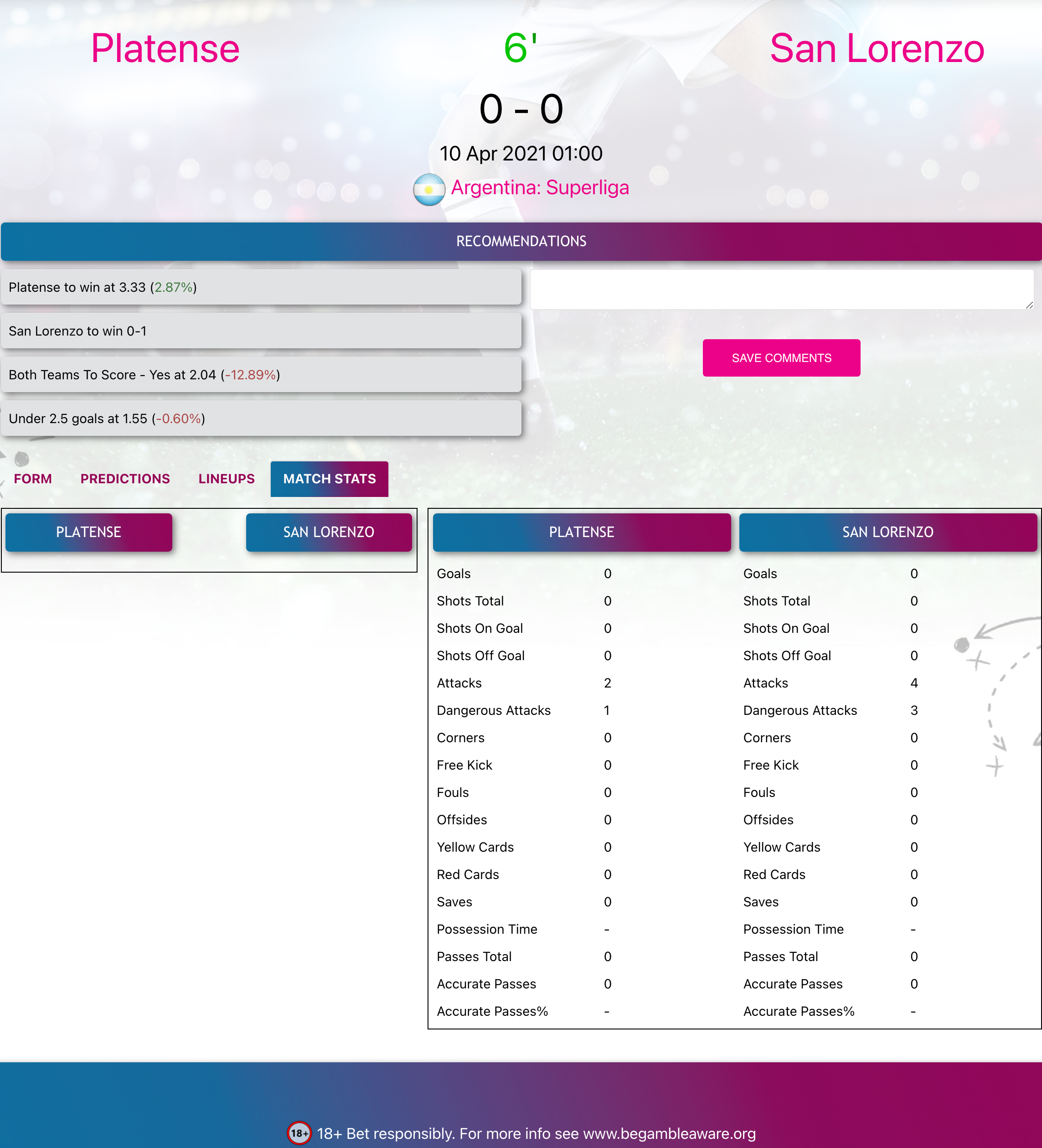 I reviewed the pre-game stats and could see that the value was with the home side Platense. By the time I'd completed my analysis, San Lorenzo had actually grabbed an early goal.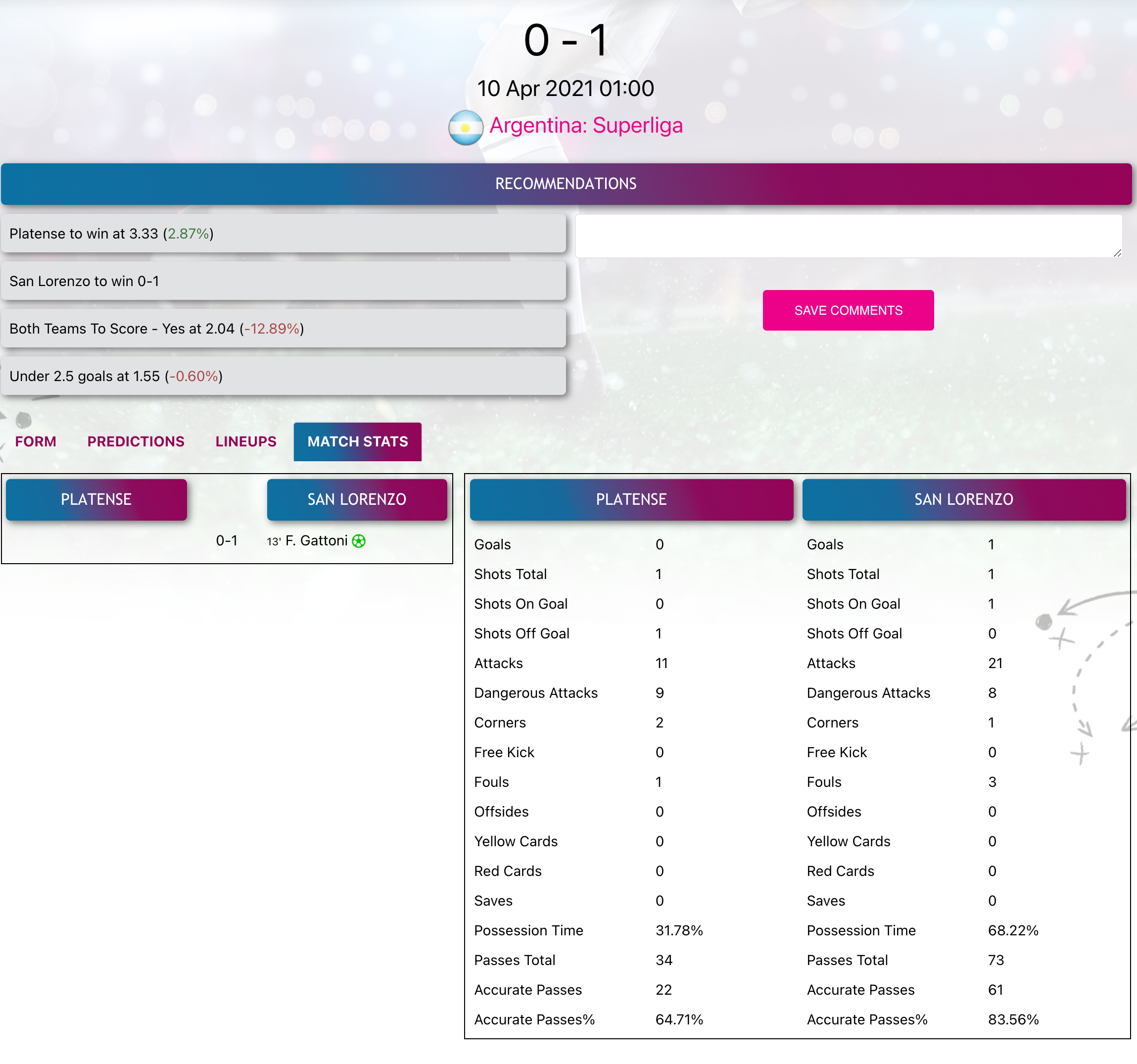 I could see that San Lorenzo had started strongest and pretty much scored with their first shot. I reasoned that if Platense were value pre-kick off then they still were now but at much bigger prices. Over the next few minutes the possession stats started to swing back towards Platense so I got in with a back of Platense and a lay of San Lorenzo for scratch on the draw.
And it did not take long for Platense to get back into the game.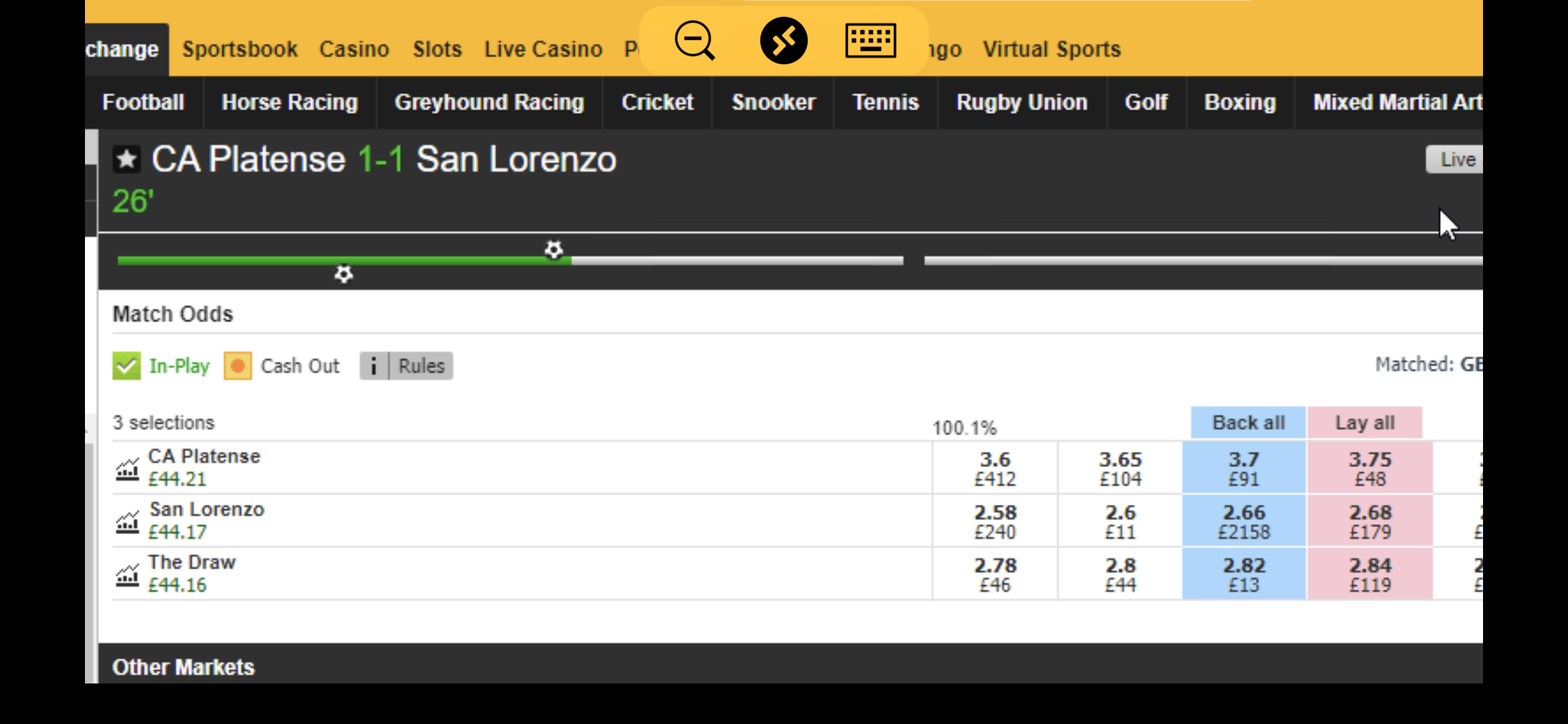 10 minutes work and a 155% ROI thanks to the Predictology AI Analysis and the Live Score portal.
---