Combining Power Sheets & System Builder
While it is interesting and fun to go through the lengthy AI Football Betting Data we've looked at in the last couple of articles, it is also extremely time-consuming. It is unquestionably worth the effort to create something that offers medium to long-term profitability. However, continually downloading the next week's fixtures, searching for angles we've found is not the best use of your time.
Thankfully, Predictology members also have access to the System Builder. You can include any interesting data you find to try and develop profitable systems. Then you can set everything up to receive email alerts when there are qualifiers. While you're still well served researching the individual matches, you no longer have to go looking.
Let's see if the angles we have uncovered in the last few weeks have real potential.
---
Combining AI Football Betting Data With The Predictology System Builder
Laying Bankers
You may remember that laying the away team when they are odds on to win, and the Predictology AI gives them less than a 40% chance of winning resulted in a substantial profit. Using this kind of system is challenging because of the sample size and difficulties in applying logical filters.
A viable option is to filter by the league and see if any specific locations pop up. With a sample size of just 122, there isn't much to report. You could go to System Builder and create a mini-system involving the Scottish Championship and a few other leagues that crop more a few times. At least you may discover if those leagues are filled with false favourites.
I quickly ran a system on the Scottish Championship, setting the parameters to lay the home side when their odds to win are between 1.50 and 2.00. I did this because I noticed that most winning wagers that were in the right range on the Power Sheet.

Unfortunately, while it was profitable in 2018/19 and 2019/20, it is operating at a loss this season.
---
Backing Under 2.5 Goals
In the most recent article, we found that after some careful filtering, making a profit backing under 2.5 goals at odds of 2.00 or better was possible. From over 1,100 bets in three months, you could make a profit of almost 10%. Can we create a useable system from this information?
This is a large enough sample size to see if we can create a winning system from it. The following leagues had a recent record of profiting from backing under 2.5 goals using our selected criteria:
Australia A-League
Belgium Jupiler Pro League
Belgium First Division B
Dutch Eredivisie
English Premiership
England League One
England National League
Switzerland Challenge League
It doesn't mean any of the above leagues are a long-term profitability option, but they are worth a look.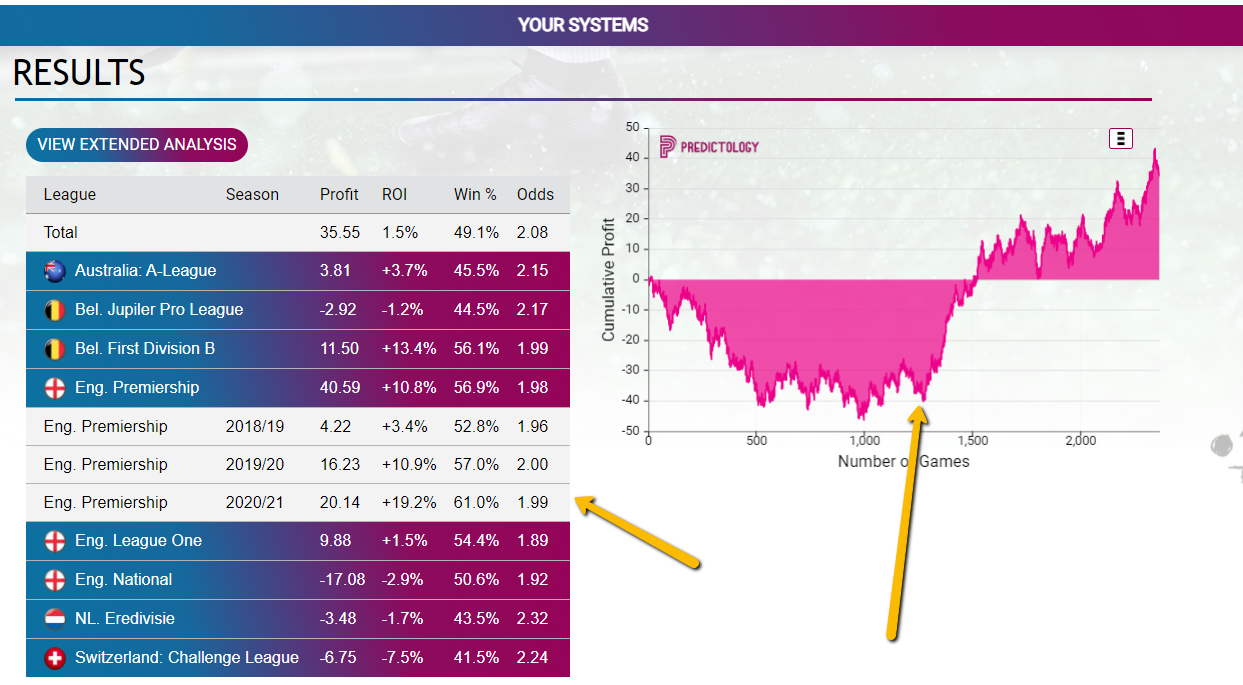 A quick analysis of the last few seasons found that historically, backing under 2.5 goals at odds of between 2.00 and 3.00 was not profitable, even when getting maximum odds. However, what's noticeable is the enormous upturn in the system in recent times. It went from -40 units in December 2019 to a profit of 35 units in about 1,000 bets.
Most of the upturn is due to the English Premier League, which has performed exceptionally well in each of the last three seasons. 2020/21 has a remarkable 61% win rate and an ROI of over 19% despite maximum odds being quite poor.

The extended analysis of the English Premier League makes for pretty viewing. The overall win rate is 57%, for a profit of 40.77 units with an ROI of 11%. It has a remarkable seven-bet winning run against five consecutive losses. Also, with 377 bets in less than three seasons, there is plenty of action.
---
Using Ideas from Power Sheets
There are so many things to do with Power Sheets and the System Builder that the main inhibitors are your imagination and time. For example, what about the leagues I removed from the under 2.5 system? If they often have lots of goals when the over 2.5 goals odds is 2.00 or less, does this phenomenon happen regularly enough to turn a profit?
I removed the following from the sheet, so I checked them out:
England Championship
Danish Superliga
France Ligue 1
Germany Bundesliga
Italy Serie A
I went to the System Builder and tried to see if backing over 2.5 goals at 2.00 or less was profitable.
At maximum odds, it was marginally profitable across the three seasons. However, none of the leagues stood out. There was a burst of profit a while back, but it has stagnated. Overall, this isn't a useful system. However, it took just a few minutes to figure out, and you can continue to look for more.
Final Thoughts on Combining Power Sheets with System Builder
Feel free to play around with both tools because you could come up with some unexpected profitable angles. For example, did you think that backing under 2.5 goals in English Premier League games was profitable when the odds were between 2.00 and 3.00?
It is marketed as the most exciting league in the world, but the glitz and glamour fool punters. It disguises the fact that many Premier League teams are inherently defensive. At least, this is what the available data tells us.

Incidentally, adding the Austria Bundesliga and the Turkish Super League helps expand the system. Adding them to the mix means our system has an ROI of almost 11% from 846 bets in the last three seasons, a win rate of 54%, and a total profit of over 80 units.  
Hopefully, this article helped you learn more about what is possible with just two of Predictology's tools. Play around with them, and see what you can come up with.