Daily Selection Reminder Emails And The Impact Of Live Odds
One of the many benefits of Predictology is our daily selection reminder emails, which allow you to get updated each morning on new potential qualifers for your systems.
We actually provide these for members in two ways:
Number 1 – Via Email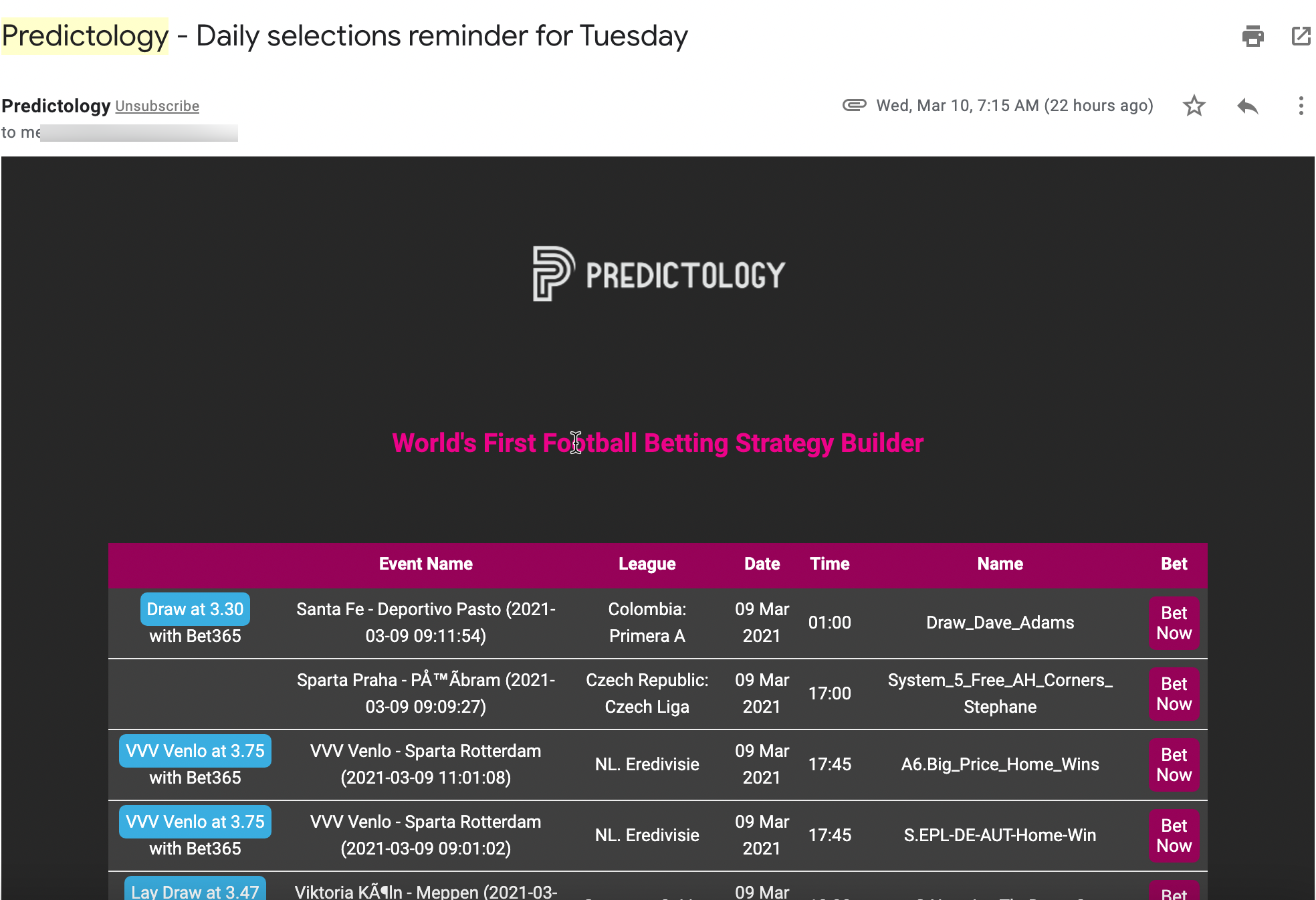 ---
Number 2 – Via the Members Hub Dashboard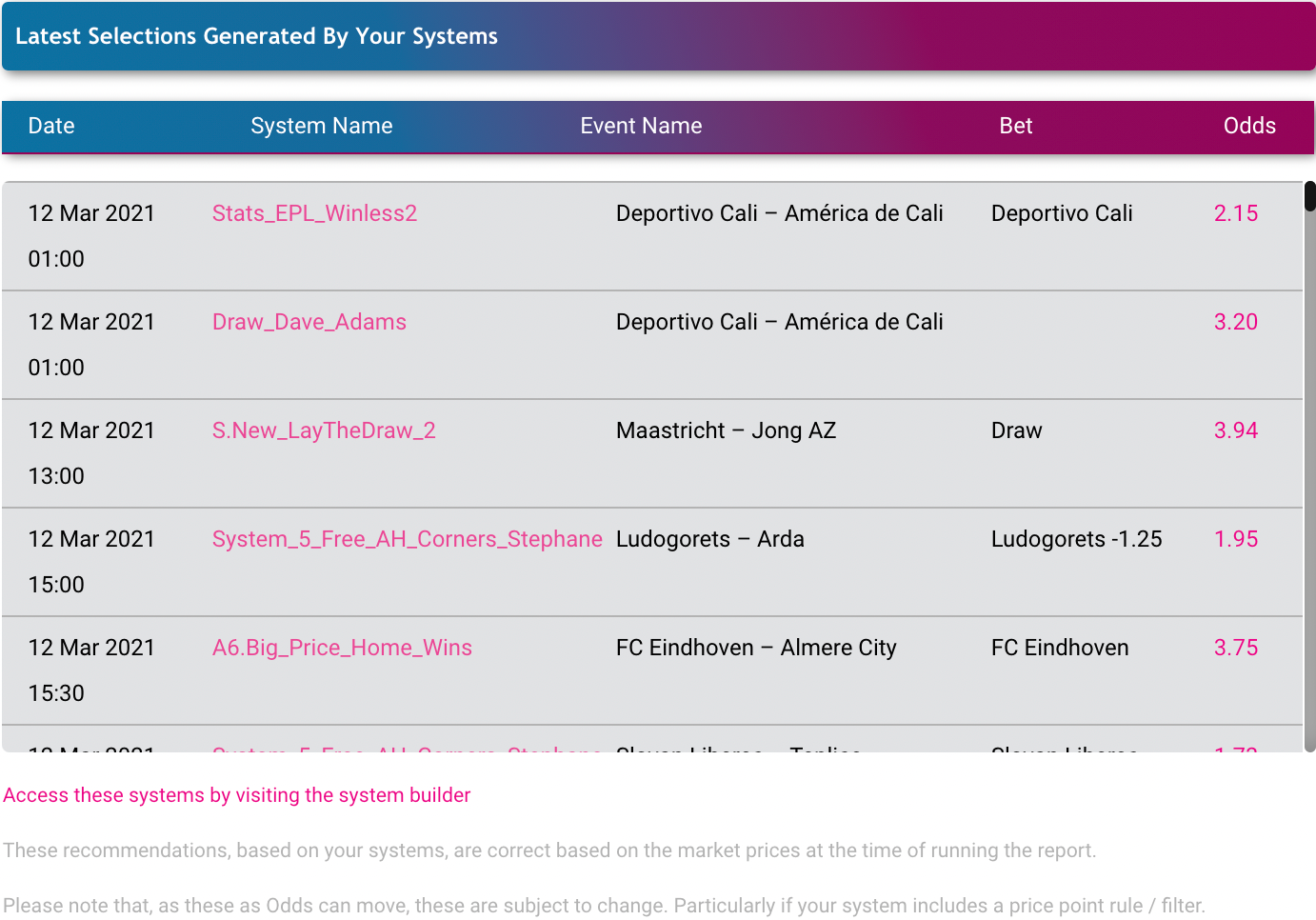 ---
How And When Are These Generated
We run all systems for all members in the early hours of the morning (UK time), usually between 2am and 8am every single day. This generates the latest selections for all activated systems for all members and will the send out the Daily Selection Reminder Emails that you receive and populate the dashboard that you see when you log in.
(Note: For the member dashboard, this can be updated at any time by manually running your system in the System Builder)
---
Why Are There Sometimes Discrepancies Between My Daily Alerts And What I See In The System Results
On rare occasions you may see a selection in your system results that was NOT advised to you by the daily email or dashboard – or in reverse, that it was advised but then not included in your results and you may be wondering why.
Well there is a very simple reason for this, which is LIVE ODDS.
As we are sure you are aware, betting odds are dynamic and changing all the time in the lead up to a game. If your system uses a "Price Filter", then it is important to understand that depending on when you look, some selections may be border line with your max or minimum price. Meaning that they come in and out of range as a qualifying bet.
There is obviously no way to predict this, particularly at the time of generating the daily selection reminder emails in the morning.
So if you are using a price rule as a filter for your system it is important to note and understand this.
---
What Can Be Done To Mitigate This?
Firstly, it is important to understand that this is likely to only effect around 5% or less of your bets – and only if you are using a price filter.
If you wish to rely on the daily selection reminder emails then you have two options that may lower this threshold further.
Option A
Accept that you may miss some bets and also bet the odd bet that by kick off had gone out of range. It is likely to be such small numbers that natural variance should even this out of over time.
This is particularly relevant for those who wish to place their bets early in the morning. 
Option B
Set a higher price threshold or range than your target and then either look to place your bets as close to kick off time as possible, manually removing any last minute non-qualifiers OR, you can use betting technology such as BF Bot Manager to use their price rules to filter out any selections prior to placing your system bets.
---
In Summary
Nobody can 100% predict price movements. If we could, we'd all be rich already.
Remember that selections generated automatically for you such as via the email, are done between 02:00 and 08:00 am. They are accurate at the time of generating but can be subject to change.
This really only effects systems that use a price rule filter. Such as Max, Min or a pricer band range.
If you are really concerned with missing selections then look to place the bets as close to kick off as possible or using betting technology to assist you.
---
While You Are Here – Introducing The New Members Hub Dashboard
This week you should see a change to your member dashboard making it even easier to access all the tools, predictions and insights on Predictology. We hope you like it !!