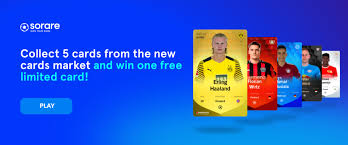 Predictology – Six Ways To Start Profiting Today
It is our goal to make Predictology the ultimate football betting toolkit.
A combination of:
Cutting edge insights
Easily identifiable betting trends
Custom football betting system builder platform
AI Match Analysis
Live Scores and In-play stats
Perhaps the notable omission from that list is betting tips or predictions and you are perhaps wondering why. Especially considering we provide members with a wealth of betting insights and tips, including:
Daily Digest – daily betting trends and tips
6+ Premium Systems for all members
AI Match Analysis and Predictions
AI Shortlists and Strategies
Our Marketplace and much more
The reason for this is that we look to cater to all bettors and winning betting tips are just one small part of what we provide for our members.
Our Predictology Philosophy is that if we give you a fish (a winning tip), we can feed you (keep you happy) for a day. But if we can teach you to fish (improve your betting knowledge and experience, as well as the ability to build countless betting strategies of your own), then you can feed yourself forever (make real, long-term, betting profits in a way that suits you).
We recently came second in Honest Betting Reviews "Best Football Betting Service – 2020" and they described us a "football betting stats engine and system builder" and we like that analogy a lot.
Our objective is to make Predictology the "Ultimate Football Betting Toolkit", providing whatever you need to make a success of your football betting and football trading. We look to provide insights, data and betting tools – as well as profitable betting strategies that you simply can not find anywhere else.

---
"I Just Want Profitable Betting Tips"
We want Predictology to be available and beneficial for all bettors and traders. So whether you are more of a DIY (build your own systems) or a Done For You type person (give me tips), you will find it on Predictology.
In the spirit of today's post, let's take a look at the ways that you can access "winning football tips" and Predict The Game with Predictology.
---
(1). Free Betting Predictions
Members and Non Members alike can access our free predictions covering the Premier League. Championship, MLS, Sweden and Japan.
>> Not a full member of Predictology yet but want the free tips? You can register for free here
Between July 1st and December 31, 2020, we handed out 248 recommendations and generated 31.73 points.
31.73 points profit
12.80% Return On Investment
134 winners
54% win rate
Those are some pretty impressive numbers – you only need to look at the double digit ROI (12.80%) to be impressed. And remember these are completely free and sent out 3-5 times per week.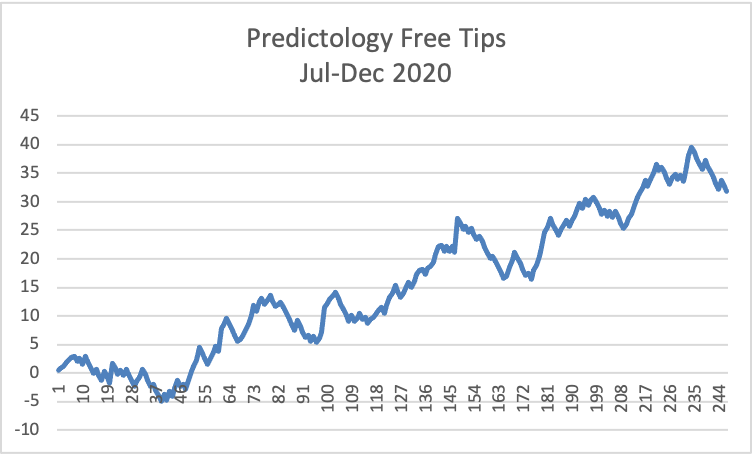 Wbile back in November, followers were celebrating within even more gusto than normal as we landed a 33/1 winner.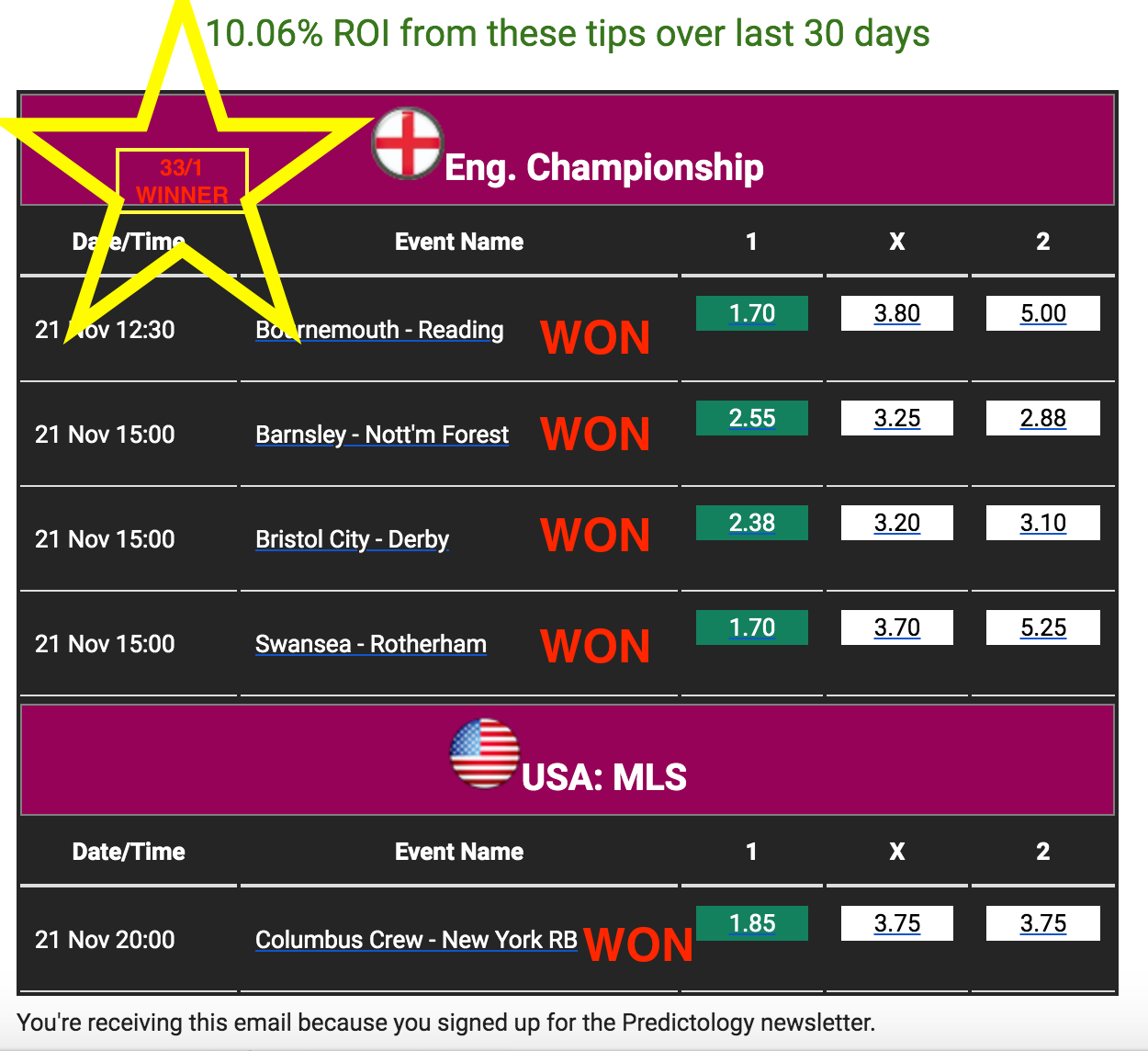 > Not a full member of Predictology yet but want the free tips? You can register for free here
---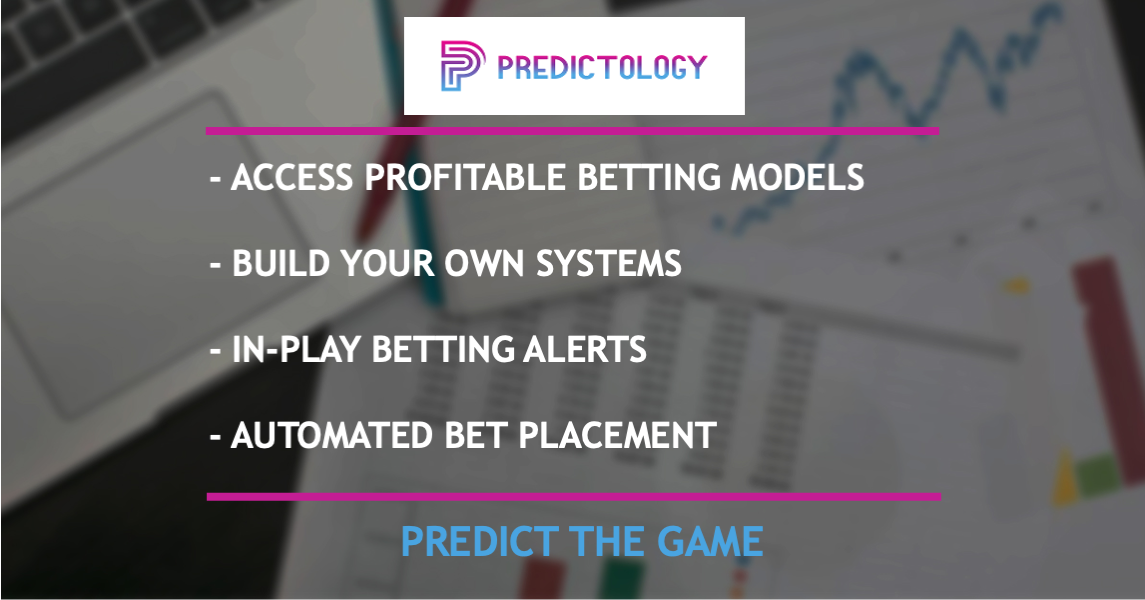 (2) Daily Digest
All full Predictology Members  receive our Daily Digest updates which is a wrap up of all the key betting tips, trends and insights for the football betting day ahead.
Captured in one place, you will find all the recommendations from the member betting systems, marketplace tips, hot and cold streaks, AI match aanlysis and recommendations and more.
Here is a quick overview of the betting models and tips that members get access to:
Low Risk Lays – odds on football lays
Back The Draw Bets
Lay The Draw Bets
Over 2.5 goals bets
Value Bets – including tips on Aston Villa to beat Liverpool (6/1) and Sheffield United to beat Chelsea (4/1)
A couple of example highlights – Our odds on football lays model has achieved a very solid return of 30+ points profit.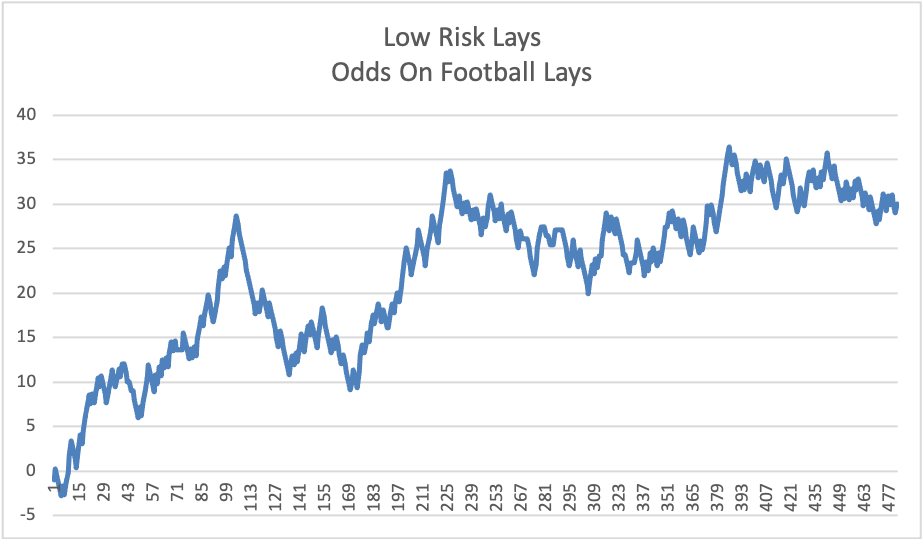 While our Lay The Draw model is rapidly closing in on 50 points profit, while averaging winning runs of 6 and as high as 11 bets in row.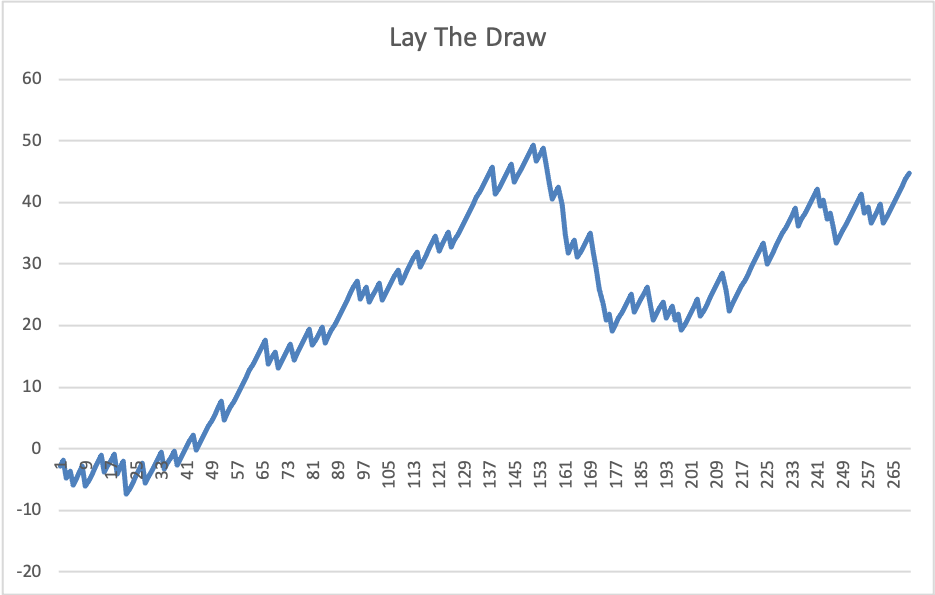 ---
(3) AI Predictions
If there is a game taking place anywhere on the planet, there is a very high chance that it is covered by our Artificial Inteligence Match Analysis Engine, which analyses 100,000's of matches, 10's of bookmakers and exchanges to predict, with incredible accuracy the key match outcomes, while also highlighting the key value bets that the bookmakers have missed.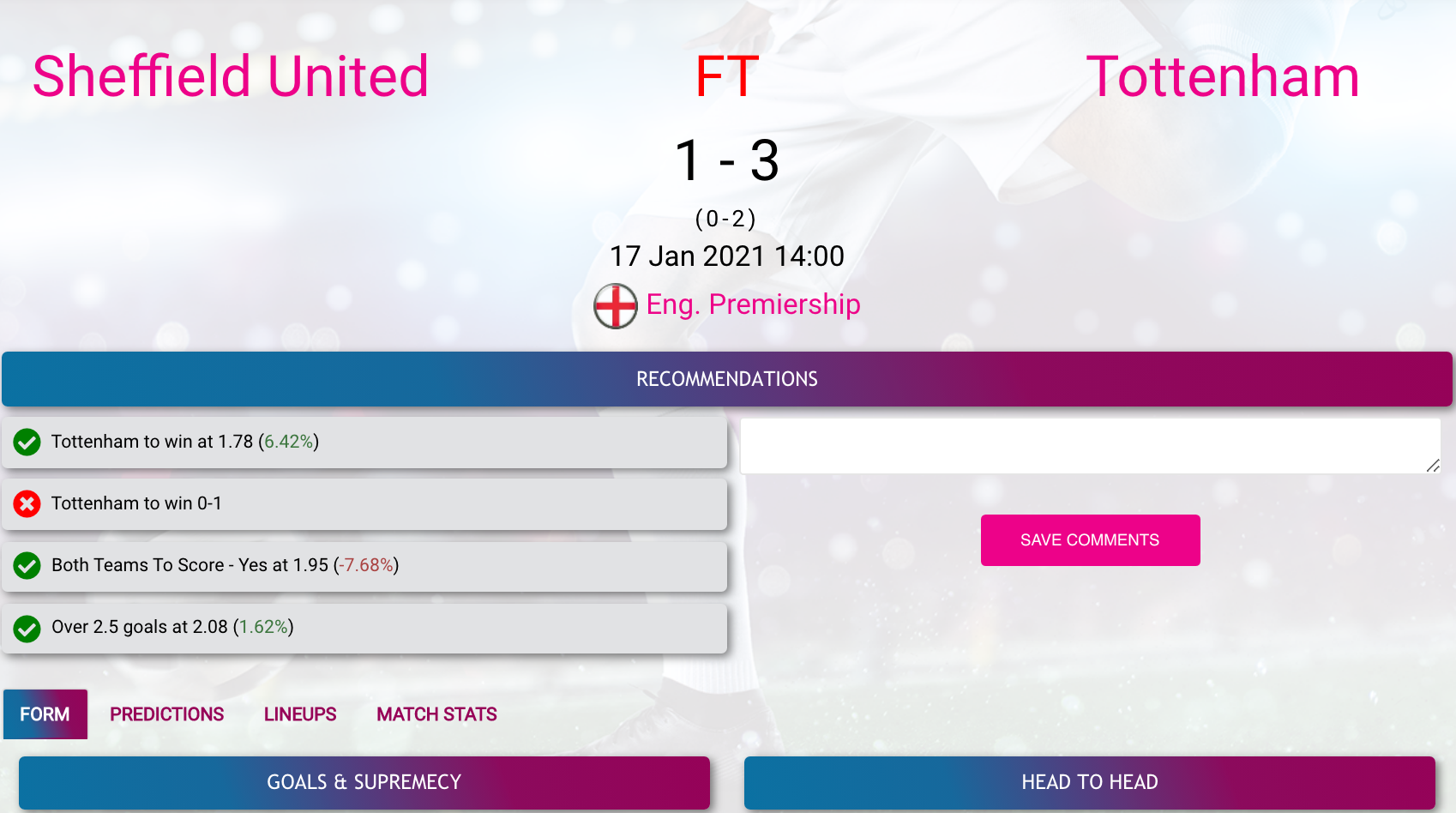 Not only that, but we have now taken our AI Predictions to a whole new level with our "Power Sheets", which puts you in control of the data, allowing you to create your own strategies.
We go into great detail on a number of ways you can find profitable bets and trades using the Predictology Power Sheets – you can learn more about this here.
Remember – everything covered so far is available to ALL Predictology Members as part of a standard membership

Not a member yet? Get started here for just $1
And the true piste de resistance is that later this month we will be adding a daily shortlist feature that will display the matches with the best potential for
First Half Goals
Over 1.5 goals
Over 2.5 goals
Over 3.5 goals
Home Winner
Away Winner
Exposed Favourites
We're super excited about this addition and can't wait to bring it to you.
---
(4) Playbooks
If all this was not enough for you already, all new members get access to our 10 week playbook course. This is a great feature as it not only shows you how to get the best out Predictology, but it also shares with you a number of profitable strategies that you can incorporate into your portfolio right away.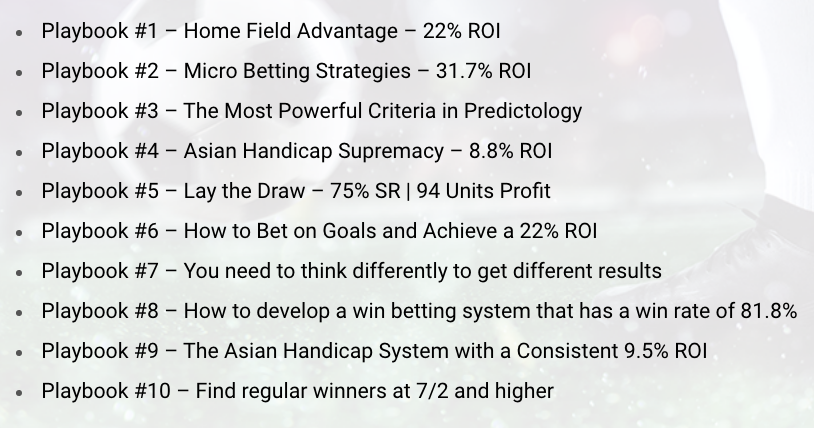 ---
(5) System Builder
And, of course, we would be negligent in the extreme if we did not mention our worlds first football betting system builder. The beating heart of the platform.
Even if you fall into the DFY – "gimme the tips" category, there is something here for you as well.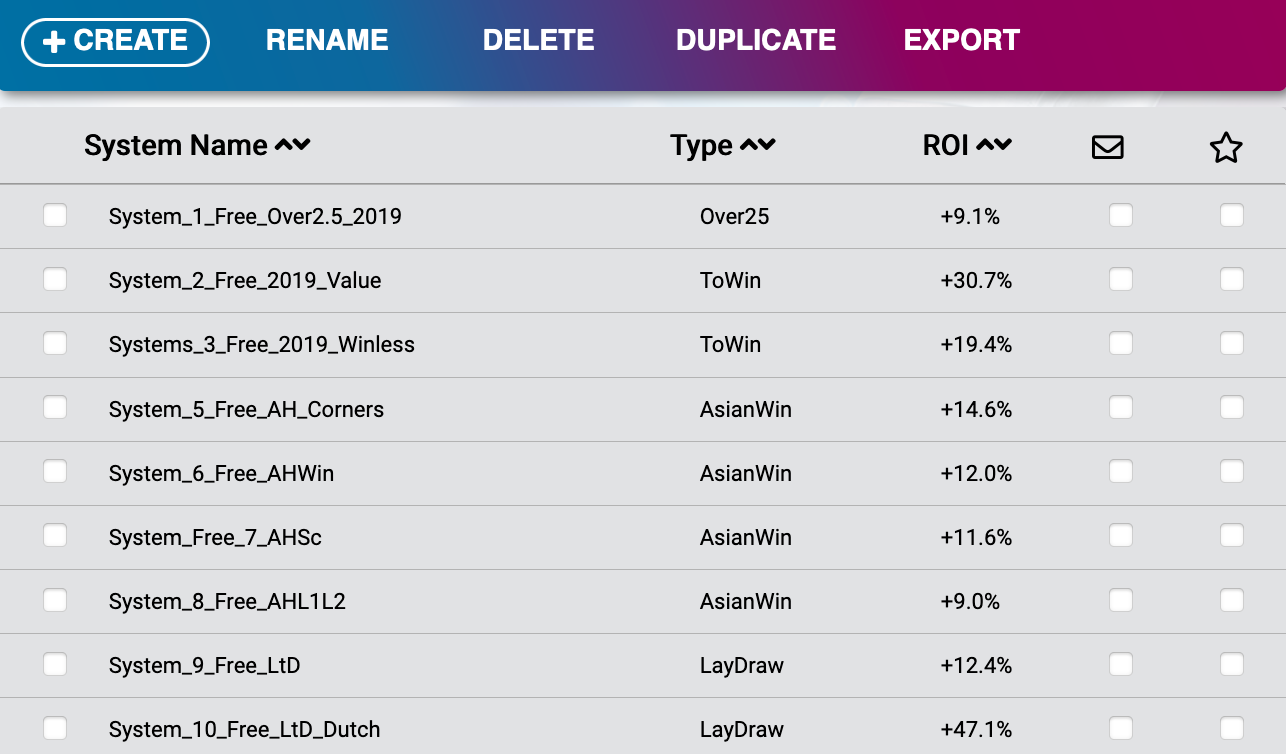 The system builder comes with 15 pre-built and profitable strategies for you to get your teeth into. Heck, you don't even need to touch the System Builder if you don't want to.
You can simply do a one time setup to alert you to qualifying bets either via email or on the members homepage,
Remember – everything covered so far is available to ALL Predictology Members as part of a standard membership

Not a member yet? Get started here for just $1
---
(6) Marketplace
Members also have full access to our Marketplace to buy, sell and even access additional free systems and strategies.
The Predictology team is adding new betting systems and strategies all the time, including this one: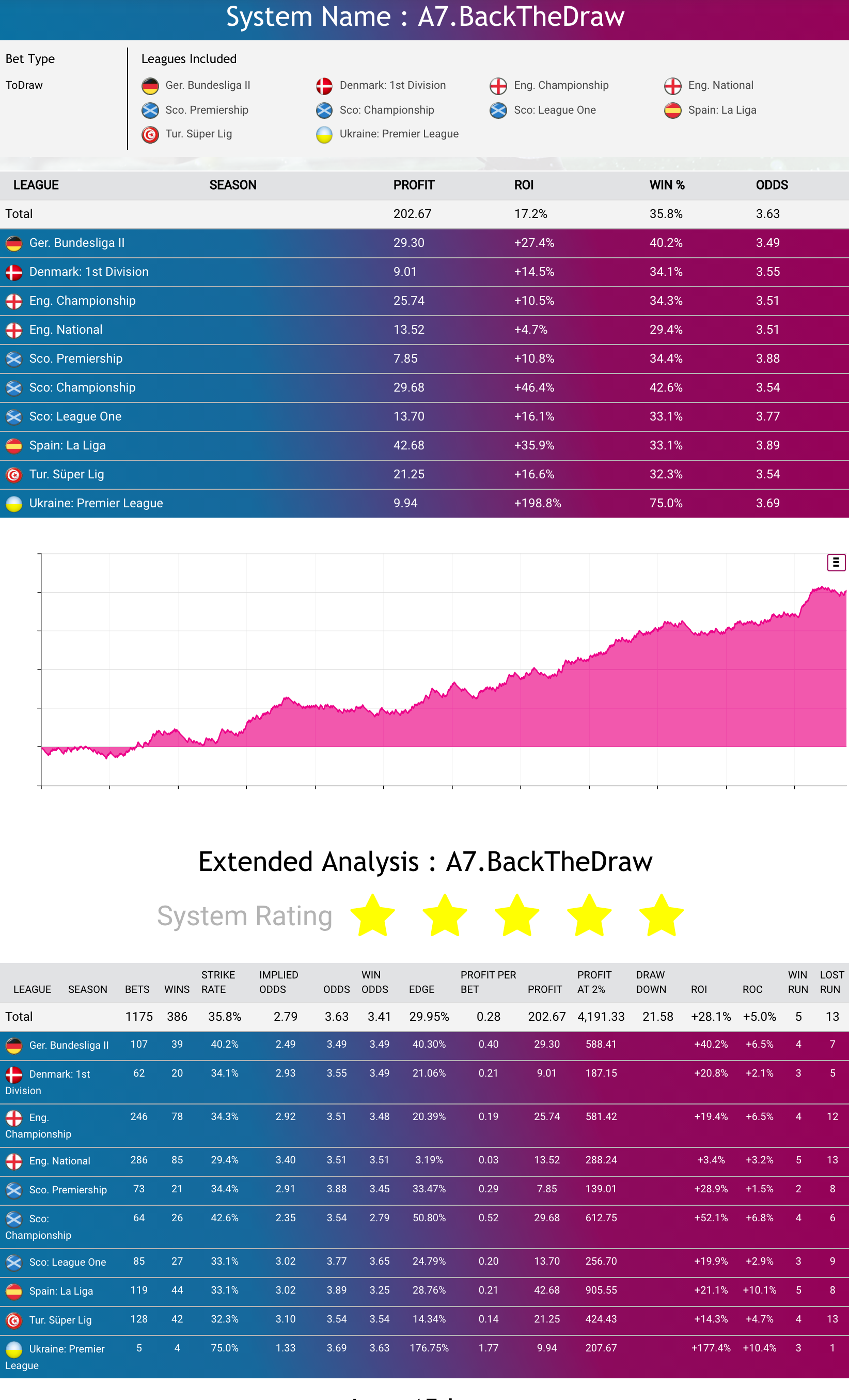 ---
In Summary
Whether you are a bettor or a trader
Whether you like to bet to win or lay
Whether you like to use Bookmakers or the Betting Exchanges
Whether you like to bet on match results or goals (or any of 40+ betting markets)
Whether you like to build your own strategies OR whether you just want profitable betting tips
We've got you covered – Predictology: The Ultimate Football Betting Toolkit
---