La Liga Betting Angles – Betting Trends – Betting Tips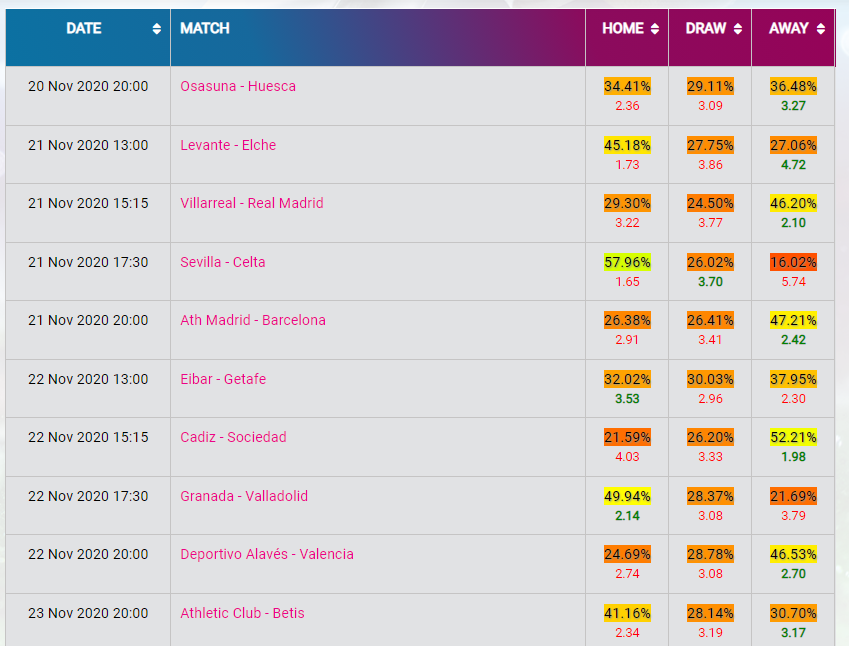 As usual, let's begin with an overview of potential value bets on Predictology. Remember, you must perform thorough research on each game before parting with your money.
Huesca to win away to Osasuna.
Elche to win at a nice price at Levante.
Real Madrid to emerge victorious away to Villareal.
A draw between Sevilla and Celta.
Barcelona to win away to Atletico.
Eibar to earn their first home win of the season against Getafe.
League leaders Sociedad to win in Cadiz.
Granada to win at home to Valladolid.
Valencia to win away to Alaves.
Betis to win in Bilbao against Athletic Club.
You probably noticed that the above represents seven away wins. Obviously, that is unlikely to happen. Instead, let's perform some research to see if there are any value bets.
---
What Teams Are Likely to Win in La Liga This Weekend?
With ten games to choose from, it is good practice to eliminate a few as soon as possible. The games involving Osasuna, Levante, Sevilla, Eibar, Alaves, and Betis don't appear to offer much in the way of value. Also, Real Madrid are not appealing at barely above Evens against a Villarreal team with four wins and a draw in their first five home games this season.
Sociedad continue to surprise us with their excellent start. An odds-on price away to Cadiz isn't necessarily alluring, though the home side have just two points from four home games. Sociedad have scored 11 in their four away games, conceding just two. Odds of 2.25 to score 2+ are appealing, as is the 5.50 for 3+ Sociedad goals. The away side is 3.60 to win with the -1 handicap.
With three wins from four home games, Granada will fancy it against a Valladolid side that has taken a single point from four away matches. The 2.14 on offer for the home side is potentially value.
Now on to the big game of the weekend, Atletico Madrid versus Barcelona. Either the bookmakers are overrating Barcelona, or else punters are piling into the away side. Barca recently scored five against both Ferencvaros and Real Betis at home.
However, playing at the Wanda against this Atletico team is a different matter entirely. Coming off the back of another ill-conceived international break, this game is potentially a grind waiting to happen. Not many teams do better in such situations than Atletico!
Barca's only three league wins this season have come against sides currently in the bottom seven of La Liga. They have already lost 3-1 to Real Madrid at the Camp Nou. While Barcelona have a good recent record against Atletico (save a 3-2 loss in January 2020), Atletico are in great form in La Liga, especially at home.
The odds of around 2.91 on the Betfair Exchange for an Atletico win are too good to pass up. Losing Luis Suarez after a positive COVID test is a blow, but the home side is good enough to overcome it. Barcelona are vulnerable, so 2.62 for 2+ Atletico goals and 6.50 for 3+ are worth a look. This is also the case for the 6.00 price on the home side with a -1 handicap.
---
Using PR Ratings to Pick Winners
As you can see, the league average is 1574, according to our final rating. This average is mightily skewed by the relative strength of Barcelona and Real Madrid. Indeed, only six of the 20 teams in La Liga have an above-average ranking.
There is an incredible 512-point difference between Barcelona at #1 and Valladolid at #20. Then again, Cadiz are over 400 points behind Real Madrid and managed to beat them away from home!
Fewer than 100 points separate the bottom 11 sides in the ranking, making for a lot of hard to call games. In any case, let's look at matches where one team has a rating advantage of over 100 points.
Atletico Madrid (1800) vs. Barcelona (1941): 141-point difference.
Villarreal (1617) vs. Real Madrid (1921): 304-point difference.
Sevilla (1653) vs. Celta Vigo (1499): 154-point difference.
We're backing the ratings underdogs in Madrid, while neither of the other games looks appealing from a betting perspective.
What's clear is that the top two will have a massive advantage over any team not called Atletico Madrid. Yet this season so far, especially in Barcelona's case, has thrown up its fair share of upsets already. Real Madrid's home loss to Cadiz will be tough to top for shock value, however.
However, for this weekend, at least, there are lots of games between evenly matched sides on paper. Therefore, it is best to stick with the three games we outlined.
---
Summary
Possible Value Bets
Real Sociedad to beat Cadiz @ 1.90 and to win with -1 handicap @ 3.60
Real Sociedad to score 2+ team goals @ 2.25 and 3+ @ 5.50
Granada to beat Valladolid @ 2.05
Atletico Madrid to beat Barcelona @ 3.00, and with -1 handicap @ 6.00
Atletico Madrid to score 2+ team goals @ 2.62 and 3+ @ 6.50