Serie A Betting Angles | Betting Trends | Betting Tips
Welcome to Part 2 of our in-depth look at the  Italy's Serie A.  If you missed Part 1, you can read it here.
---
Serie A Analysis And Value Bets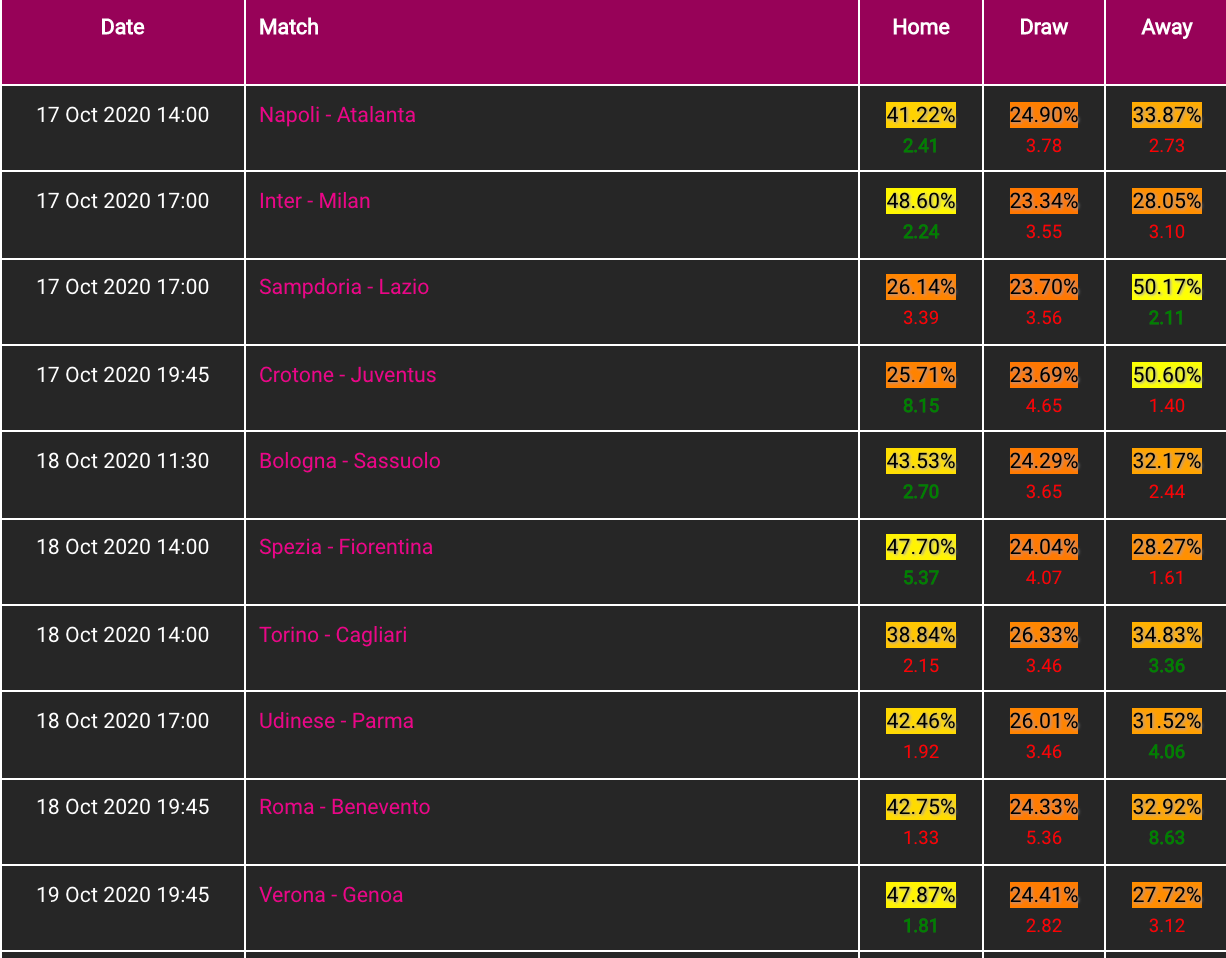 The following look like potentially value bets for this weekends Serie A football matches:
A draw in the Milan derby.

Crotone to beat Juventus.

Bologna to win at home to Sassuolo.

Spezia to defeat Fiorentina.

Cagliari to win away at Torino.

Benevento to win away at Roma.
We have to say, the odds at present are significantly tighter than what we have seen in other leagues. As always, you have to explore further to decide whether you want to place a bet. For instance, not many people will back Crotone or Benevento, given the strength of their respective opponents.
Perhaps the best game on paper is the clash between Napoli and Atalanta. Last season, the corresponding fixture finished 2-2. This season, over 3.5 goals are currently available at 2.10. A lot depends on how good you think Atalanta are. They have kept most of their players from last season and won 4-1 away to Lazio already this season.
They are 3.75 to score three, which is worth considering. 9.00 for 4+ is probably stretching the boundaries. After all, they are playing a team of reasonable quality, though Napoli lost six home matches last season. Atalanta to win at 2.60 is appealing.
AC Milan have enjoyed a solid start to the season. However, they face Inter, having lost the last four derbies. Milan are on a great run, though perhaps beating their in-form rivals is a bridge too far.
Inter have notched nine goals in their last three meetings with Milan. Over 2.5 team goals is available at 3.75. Milan's defence is proving reliable, however, and it is more likely to be a low-scoring affair this time around. We feel that Inter may eke out a victory, though many punters may feel that odds of 2.00 is too skinny for an Inter win.
A more leftfield suggestion involves newly-promoted Benevento. They began the season with a fine win away to Sampdoria. They won 3-2 after being 2-0 down. Their next game was a brush with reality as Inter won 5-2. Nonetheless, it seems as if this Benevento team may have a few goals in them.
Roma started the season with a 3-0 loss to Verona before rebounding with a 2-2 at home to Juventus, and a 1-0 win at Udinese. Even so, the new boys may fancy their chances of scoring a few. Benevento are 4.33 to score 2+ team goals in Rome.
Finally, the Crotone versus Juventus game looks a mismatch on paper, and will probably be one on the pitch! The champions won 3-0 at home to Sampdoria before drawing 2-2 with Roma. Crotone have lost 2-0 at home to Milan, and 4-1 twice away to Genoa and Sassuolo, respectively.
Juventus are 2.00 to score 3+ and 3.50 to net 4+. These look like reasonable bets on the face of it.
---
Key Serie A Betting Trends
AC Milan are in fine form with five straight wins (7 in all competitions) and 15 Serie A games unbeaten. Their last defeat came in March at home against Genoa. In that time, they have beaten Juventus, Lazio, and Roma, and managed a draw at home to Atalanta. Again, perhaps you feel that their run will end soon, or maybe you feel that odds of 3.60 to beat Inter are worth considering.
Also, Milan are on the best scoring streak of any team in Europe's top five divisions. All of a sudden, it is they that look a more attractive bet than Inter.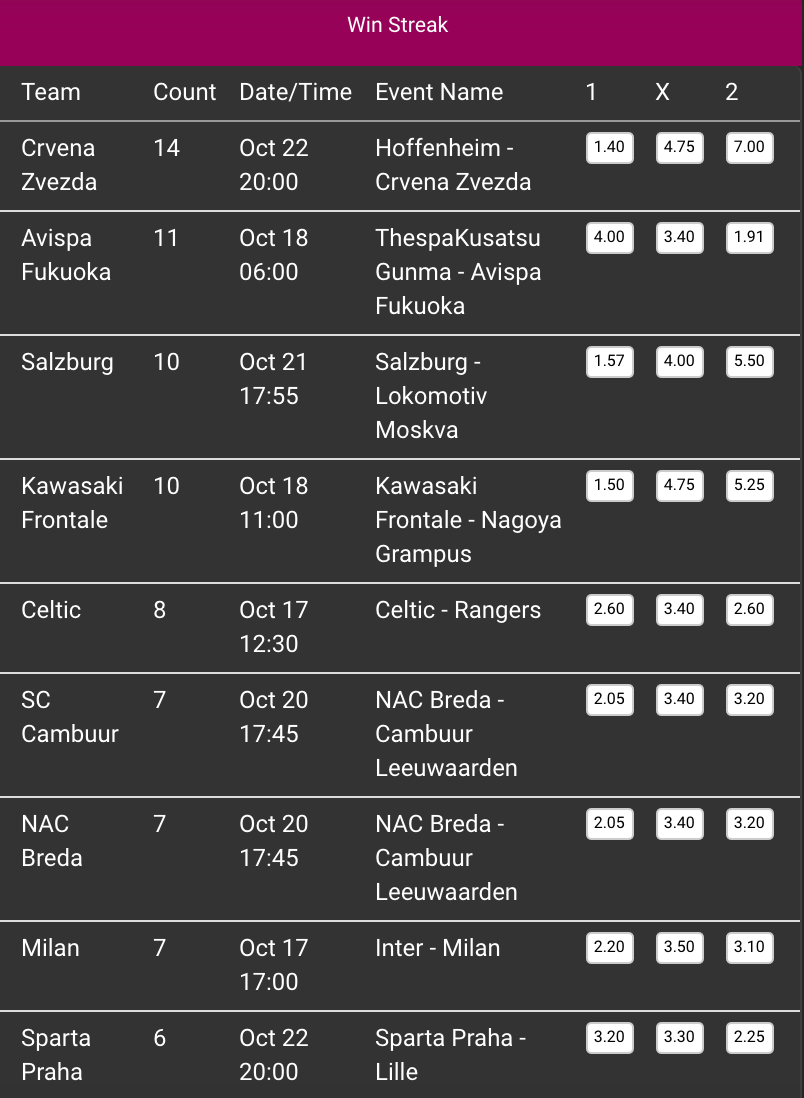 ---
Using PR Ratings To Pick Winners
Juventus lead the league in our ratings by a whopping 149 points! They have a lead of 483 points over Crotone, one of the largest gaps you are likely to see in any of the leagues we cover. Given Milan's spectacular run of form, it is a surprise that they are almost 100 points behind second-placed Napoli.
The fact that Atalanta are only in fifth is more a testament to how poorly they were ranked until relatively recently. The rankings suggest that Napoli are likely to beat Atalanta, though it is perhaps unwise to write off the fabulous attacking side that thrilled us last season.
Despite Milan's recent form, they are still behind Inter. Lazio enjoy a significant gap of almost 200 points over Sampdoria, which may make up for the fact they are away. Sassuolo are reasonably well ranked and are 90 points better off than their next opponents, Bologna.
Roma also have a massive 289-point gap over Benevento. The rest of the games feature sides that seem relatively well-matched on paper.
---
Summary
Possible Value Bets
Atalanta to win at Napoli @ 2.60. Atalanta to score 3+ @ 3.75.

Benevento to score 2+ @ 4.33.

Juventus to score 3+ @ 2.00, and 4+ @ 3.50.
---
Want more?
> How to profit on the Under 2.5 goals market

> Using Artificial Intelligence To Find Winning Bets
---
We hope you enjoyed the first in our new series of ways to "Profit With Predictology". We'll be sharing more ideas in the coming weeks and if you've found a great way to profit on Predictology, feel free to share in the comments or in our private Facebook group here.
Not a member of Predictology and want access to these AI Predictions and more? You can get started here for just $1.