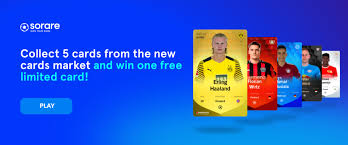 Strategies To Successfully Profit From Backing The Draw
I remember that when I was a kid, our milkman used to double as the Vernon's "The Pools" guy and he'd collect my dad's coupon for the weekends games. The traditional game was called "Treble Chance" (Now known as the "Classic Game") whereby you had to pick 10, 11 or 12 teams across the fixtures in the UK to end in a score draw.
If you could pull it off (we never did!) there some huge prizes on offer. A syndicate of hospital workers from Devizes were the first to collect a £1m pound jackpot, and as recently as 2010, Michael Elliot from Brechin won over £3m!
This is all good and well if you're happy to chuck a couple of quid in each week and hope for a big payoff one day. But as smarter punters, is backing the draw really an effective way to bet?
After all, only 23.61% of games in the 2019/20 English Premier League season ended in a draw. Indeed, only 24.62% of games in that particular league have finished with a drawn scoreline in the last 10-years. Let's check out the 10-year draw percentage in a handful of selected leagues:
Argentina Superliga: 29.29%
Austrian Bundesliga: 23.63%
Belgian Jupiler Pro League: 24.90%
Chinese Super League: 23.05%
France Ligue 1: 26.33%
German Bundesliga: 24.35%
Italian Serie A: 25.5%
Spanish La Liga: 24.24%
None of these leagues have a 30% draw rate, and a few have less than 25%. Certainly, backing draws blindly will result in a loss over a long-term period. That said, it is likely more profitable than doing the same with a home or away win. Even today, punters remain biased against draws. Whenever this happens, you will see the price for a draw increase as game time draws near.

Even so, the best way to profit from back the draw betting doesn't always involve a straight bet, which you hope ends up winning.  Today were are going to look at several ways to both identify value draw bets and how to extract the most profit.
---

Things to Consider When Backing the Draw
Find Draw Specialists
Certain teams have a penchant for drawing football matches. These are typically the archetypal 'well-drilled' teams that don't carry much of an attacking threat but have also developed the ability to dig in for a result. Usually, you need to look at 'mid-table' sides. They are generally too weak up front to fight for a European spot, but too strong defensively to get sucked into a relegation fight.
Followers of La Liga won't be shocked to learn that Atletico Madrid had the most draws in their league last season with 16 from 38 games. However, it isn't easy to find teams that routinely draw a high percentage of games season after season. Personnel and managerial changes often result in a different style of play.
---
Identify Fast Starters & Late Finishers
When backing the draw near kick-off, you need to know which teams are most likely to put you at a disadvantage early on. In La Liga, for example, Barcelona games had 23 goals in the first 15 minutes.
If you fancy such a team to draw any given match, it is perhaps worth waiting a few minutes. If there is a goal, the odds for a draw could improve depending on who scores the goal. If a weaker team scores first, you may find that the odds of a draw decrease.
Games featuring Valladolid had 30 goals in the last 15 minutes. That's some feat when there were only 75 goals in their games overall! 40% of goals in their games came in the last quarter of an hour (plus stoppage time). In such games, the wise option is to cash out if the game is drawn after 75 minutes.
---
 Strategies for Backing the Draw
Focus on Evenly Matched Teams
This seems like the most obvious tip ever, but punters still get fooled into thinking they are getting value. It is common to see a possible mismatch such as Manchester City versus Everton at the Etihad priced at odds of 5.50 or 6.00 for a draw, and perhaps 21.00 for an away win. City has drawn just nine games in the last three seasons.
The likes of City, Liverpool, and even Chelsea (due to their poor defence but strong attack) are all poor value for draws unless they play one another. Mid-table clashes are always more likely to finish in a draw, and the odds are usually rather generous.
You can also use your analysis on potential low scoring games where your modelling suggests under 2.5 goals is likely. For more on how to tackle the under 2.5 goals market, you can read this guide here.
---
Check Out the First Half Draw
The odds are obviously nowhere near as good, but there is significant potential for profitability here. Outside of last season's Top Four teams, 13 of the other 16 teams were involved in a half-time draw in at least one-third of their games. Five of them were level at HT in at least 18 of their games. If you can avoid an early goal, you could have the option of cashing out near HT if the game is still a draw.
---
Back to Lay, or Back to Trade
You have the option of backing a draw at the beginning between two sides known for being low-scoring teams or games between evenly matched teams. It is up to you to decide when to place the lay bet, but when you pull the trigger, you can do so in a fashion that gets you a free bet on the draw.
For instance, you place a £50 bet on a draw at 3.00 and later, a £50 lay bet on the draw at 2.50. Alternatively, simply cash out for a guaranteed profit.
---
Place a Bet After a Goal
This is arguably the best option in evenly matched games because the value is extremely high at this point. Depending on the timing, the odds of a draw can quickly leap from 3.00 to say 5.00 because of a goal. If there is no equaliser and no further goals, you can then lay the draw at favourable odds and effectively lock in a profit.
---
Scalping
Experienced traders often like to back the draw and get a few ticks of profit before cashing out. If you do this, you need to monitor the game and get out of the trade before dangerous situations like free kicks and corners.
---
Timing is Everything
One final option is to place your back bet at a specific time in the game. You need to be watching for this to work well because you can tell if both managers are settling for a draw late in the game. One of the most popular strategies is to back the draw at 2.00 late on and lay at around 1.70. The odds tend to move quickly at this point.
---
Pitfalls When Trying to Back to Draw
The Early Goal
This is a real kicker because psychologically, you always feel as if you have missed out on value. On the plus side, there is a long way to go, and you can still make a profit, especially if the other team scores the next goal.
---
The Second Goal
If a game goes to 2-0, there is often little point in trading out because the odds are so poor. You can still cash out for a fraction of your stake, but you are arguably better off holding on and hoping for a big comeback.
With the right teams (do your research), there can be huge value in laying the team that is 2-0 ahead in the hope of a come back. Be prepared to lose many times, but when you do win the, the profits are huge and can often easily cover your losses, as the liability on your losing bets is so low.
---
Relatively Low Win Rate
Even the best back the draw strategies will experience lengthy losing streaks. In general, only 25% of games end in draws, which means you need odds of better than 4.00 to make a profit. Bookmakers seldom offer such odds, so you need to perform thorough research to narrow the field and find value bets.
---
Time Consuming
As one goal is potentially so damaging to a back the draw bet, you must watch games intently if possible. Not many people have two hours to spare, especially if they are not staking large sums. You can get around this issue by investing in software, and pre-setting it to cash out according to different game states and timing.
You can learn much more about the right teams, leagues, and situations to target for backing the draw with Predictology, which we outline in the next article.
The below is the current performance level of one of the free prediction models provided to all members of Predictology. Not a member yet? You can get started here for just $1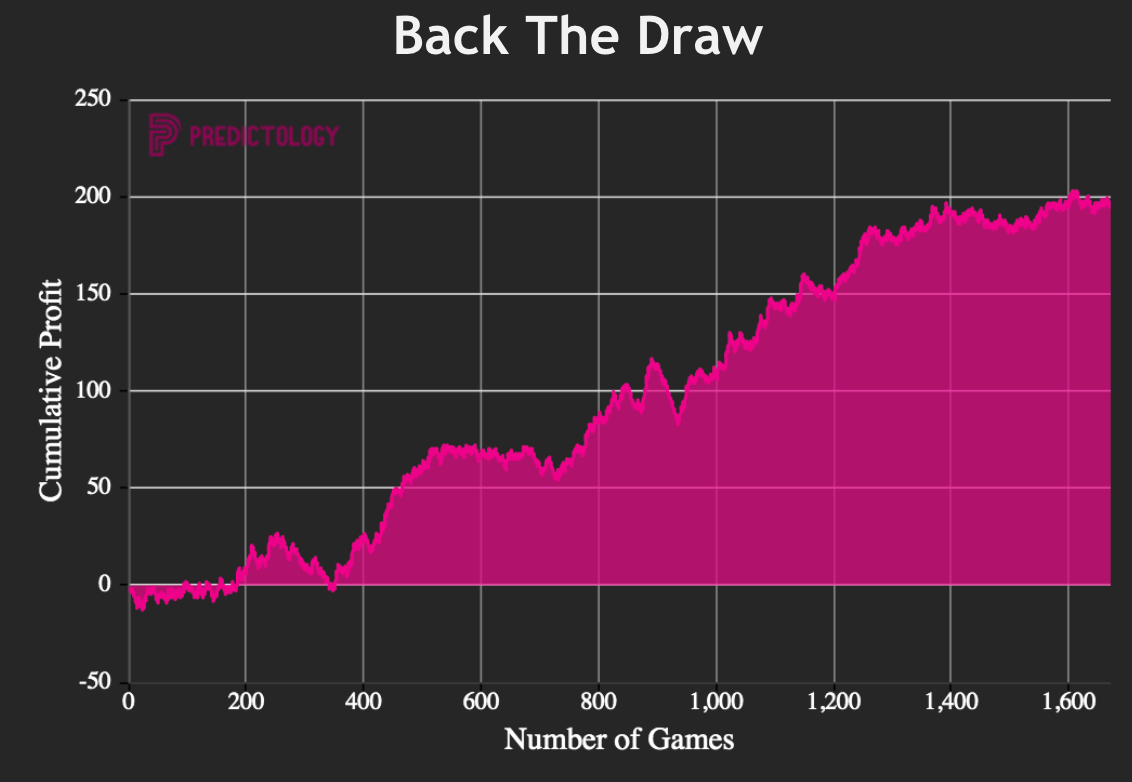 ---
Want more?
> How to profit on the Under 2.5 goals market

> Using Artificial Intelligence To Find Winning Bets
---
We hope you enjoyed the first in our new series of ways to "Profit With Predictology". We'll be sharing more ideas in the coming weeks and if you've found a great way to profit on Predictology, feel free to share in the comments or in our private Facebook group here.
Not a member of Predictology and want access to these AI Predictions and more? You can get started here