Punter Diaries: #1 – Predictology In The Eyes Of A Regular Punter
I've been betting on horses, with no little success, since shortly after my 17th birthday, which is 34 years ago now, so I consider myself an 'experienced' punter. I've also followed football since I was a boy but, more recently, I've taken more of an interest in betting on football. The main reason for this is, I must confess, to win bragging rights against my mates in the pub on a Saturday afternoon, although the prospect of a large return for a relatively small outlay is always attractive.
Our current market of choice is the Over/Under 2.5 Goals market, not least because it offers 90 minutes' entertainment, across as many leagues and matches as you care to include, for a relatively small stake. I've had some success, operating a system that I will describe in the paragraphs that follow but, more often than not, I've made the tenderfoot error of including too many matches in my bet. Seven, eight or nine winning selections out of 10 are not unusual using my system but, all too often, I'm left thinking about what might have been, rather than collecting my winnings.
Anyway, now that I've joined Predictology, as a Diamond Member, I hope to be able to build my existing system using the System Builder and analyse the results, scientifically, so that I can hone it into a system that actually records healthy profitable. I'm as sure as I can be – that is, as sure as I can be without building and testing the system – that the underlying logic is sound, but now I have the opportunity to prove that it is. I come from a scientific background, so I'm really looking forward to seeing if my system is feasible using Predictology and, if so, to seeing it in action.
For the record, I'm completely new to the Predictology platform, so it's reassuring to see that there's a user manual and a selection of excellent instructional videos to help me, if I need them.
Anyway, back to my system. From my limited experience, my opinion is that backing under 2.5 goals in fixtures in the English Championship, League 1, League 2, and National League, where the away team is clear favourite – that is, not joint favourite – but not odds-on, produces more winner than losers. In fact, my experience is limited to matches kicking off at 15:00 on a Saturday afternoon, but I don't intend to worry about that minor complication for the time being.
First Betting System On Predictology
My first impression is that the System Builder is pretty intuitive. Of course, at this early stage, I wouldn't claim to know the ins and outs of every single parameter, but building and testing a system is very straightforward. So straightforward, in fact, that I've already built a system called 'Goals in Short Supply' to test my original hypothesis, using the parameters below.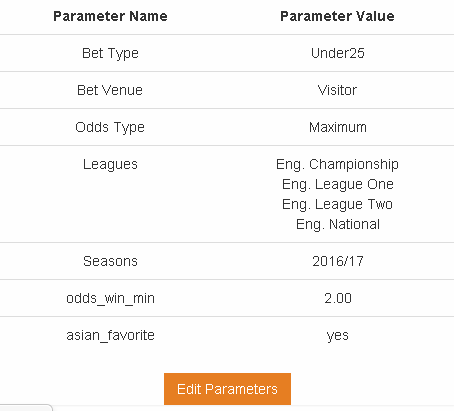 Keen-eyed readers will notice that I've restricted my first attempt to just fixtures from 2016/17. Of course, this is not really a representative sample, but serves my purposes for the time being, not least because it allows the System Builder to whip through the historical results in next to no time, while I commit my thoughts to paper.
The results of my first attempt with Goals in Short Supply are shown below.
The results appear to be quite promising, but there's obviously plenty more research to do and plenty more parameters to play with. More on that next time.